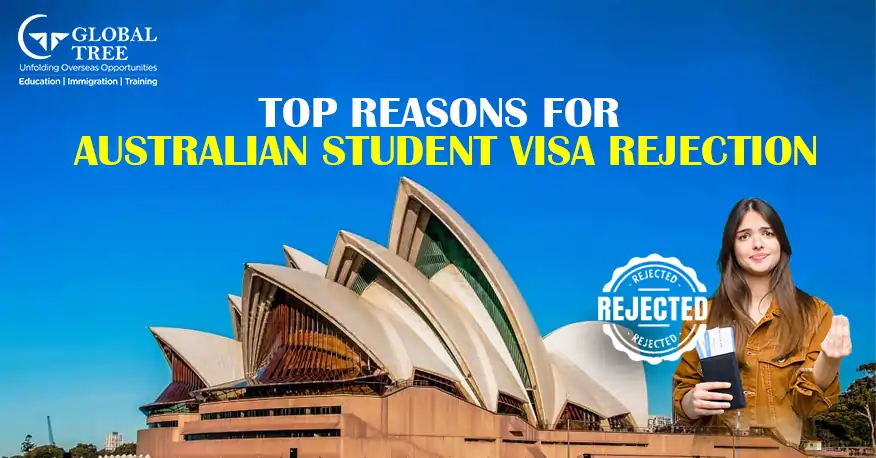 Introduction
International students who are interested in obtaining a high-quality education as well as life-changing opportunities continue to flock to Australia because of the country's illustrious educational system, rich cultural heritage, and breathtaking natural scenery. There has never been a better time to pursue a higher education in Australia, as evidenced by the tens of thousands of aspiring students who come from all over the world to take advantage of this allure. On the other hand, despite the fact that the path to obtaining an Australian student visa is replete with opportunities, it may also be fraught with obstacles.
It can be disheartening to be denied a visa, and it can be overwhelming to navigate the complicated application process. In this detailed guide, we will discuss the most common reasons for the rejection of an application for an Australian student visa, delve deeper into the nuances of each rejection factor, and provide insights into what to do if your application is rejected. We want to make it possible for you to realise your dream of going to school in Australia by providing you with the information and guidance you need to do so.
What is the Australia Student Visa Rejection Rate?
In the year 2022, Candidates who were hoping to study in Australia. The student visa rejection rate surpassed 50%, and from a pool of 900 visa submissions, approximately 3.8%, or 34 visas, were accepted.
8 Latest Reasons for Australian Student Visa Rejection
1. Not Fulfilling Entry Requirements:
The Australian government anticipates that international students will have an honest intention to study in Australia and will not use a student visa as a means to gain permanent residency in the country. The Genuine Temporary Entrant (GTE) criterion is what they use in Australia to evaluate Eligibility. In order to get through GTE, you will need to provide a statement that explains why you want to come to Australia along with your application. If you are unable to provide genuine evidence, your visa application might be denied.
Additional factors considered for GTE verification include:
Course availability in your home country
Your level of knowledge and education relevant to the proposed course
Planned accommodation
Financial stability
Immigration history
Past Australian visa statements
2. Academic Qualification Failure:
Each and every university and programme in Australia has its own set of individualised academic requirements. You are required to satisfy all of these conditions in order to be eligible for an Australian student visa. Should you fail to do so, there is a possibility that your application will be denied. If you have a poor academic background, it is absolutely necessary to submit a statement in which you explain how you intend to deal with the academic challenges in Australia.
3. Failure to Meet English Language Requirements:
The ability to study in Australia requires a high level of English proficiency. Tests of English proficiency such as the TOEFL and the IELTS are widely recognised. There is a required minimum score, which can range from 6.5 bands on the IELTS to 80 on the TOEFL-iBT. If you are unable to demonstrate that you are proficient in English through the use of these tests, your visa application may be denied.
4. Failure to Prove Financial Stability:
Applicants for an Australian student visa are required to provide evidence that they have the ability to pay for both their tuition and their living expenses. At this time, approximately 21,000 AUD is required as proof of financial stability, although this amount is subject to change. You are required to provide supporting documents if you rely on financial support from third parties such as relatives or financial institutions. These documents must include evidence of your identity and the funds as well as the relationship you have with your sponsor.
5. Invalid Documentation:
Having the right documentation is essential to having a successful application for an Australian student visa. Documents that are either missing or incorrect can make the chances of being rejected higher. Typical documents that are required are as follows:
Birth certificate
Passport identity page
Certificate of Enrolment (CoE)
Statement of purpose
Household Registration Book (all pages)
Evidence of financial stability
Qualification certificates and transcripts
Scholarship documents
Certified curriculum vitae
English language test certificate
Valid Overseas Student Health Cover (OSHC)
6. Unacceptable International Student Health Cover:
Health is a top priority in Australia, the country mandates that all international students obtain Overseas Student Health Cover (OSHC) and submit to mandatory health checks. The Overseas Student Health Coverage (OSHC) should be valid for the entirety of your time spent studying in Australia, and evidence of coverage must be provided when applying for a visa.
7. Intentions Behind Moving to Australia:
Your Reasons for Moving to Australia It is essential to provide a valid statement demonstrating your intention to study in Australia. If you want to move to Australia, you must have this intention. The authorities want to make sure that students are only coming for educational reasons, not for the purpose of working or conducting business. Be sure to mention in your application that you intend to maintain a part-time job while pursuing your educational goals.
8. Past Criminal Record:
Australia has strict regulations in place for people who have a criminal record. Even a relatively minor criminal history can result in the denial of a visa. Be truthful and include the fact that you have a criminal history in your application if you do.
What to do After Australian Student Visa Rejection?
1. Review the Rejection Letter:
You should read the rejection letter in great detail in order to gain an understanding of the specific reasons for the refusal. You will find that this is helpful in addressing the issues in your new application.
(Read More: Common Mistakes in Your Rejection Letter)
2. Consult with an Immigration Expert:
Consult with an Immigration Professional It is highly recommended that you seek the advice of an experienced immigration consultant or attorney who focuses on the acquisition of Australian student visas. They are able to assist you in comprehending your choices and offer guidance on how to improve the quality of your application.
3. Reapply with Corrected Documentation:
When reapplying for the visa, make sure all of the required documents are accurate and complete, and address any issues that were raised in the letter that denied your visa application. Be sure to conduct a thorough review of your documentation to ensure that it complies with the rules established by the Administrative Appeals Tribunal (AAT).
4. Consider Different Study Options:
If you believe that the initial program or school that you selected was a factor that led to your application being declined, you should think about changing your course of study to something that is more in line with your qualifications and goals. AAT gives you the chance to reconsider your decisions and select a program that is tailored to your individual characteristics.
5. Maintain Communication:
Maintain communication with the educational establishment that you plan to attend and keep them updated on the status of your visa. They may be able to offer support and advice on how to successfully navigate the process of applying for a visa. Global Tree can help you take care of the entire process of Visa procurement.
6. Gather Additional Evidence:
Gather more evidence to back up your claim if you believe the previous application that you submitted was rejected for an incorrect reason. It's possible that you'll need to provide additional evidence of your financial stability, academic qualifications, or documentation demonstrating your genuine intent to study in Australia.
7. Be Patient and Persistent:
The process of being denied a visa can be one that is both time-consuming and emotionally draining. However, in order to be successful in acquiring a student visa for Australia, it is essential for you to exercise patience and perseverance. Maintain your focus on the goals you've set for yourself and keep working towards satisfying the necessary requirements.
What are the Chances of Getting Australian Student Visa after Refusal?
1. Appeal to the Administrative Appeals Tribunal (AAT):
Within 28 days of your visa rejection, submit an appeal letter to the AAT for reconsideration.
The AAT will review your case based on factors such as your study reasons, immigration history, and other relevant details.
Appeal fees of 1,896 AUD (or 101,082 INR) apply, but students in financial need can apply for a 50% fee waiver.
Ensure you provide substantial information to support your case, such as previous academic qualifications, reasons for not pursuing a course in your home country, plans for returning home after studies, acceptance letter from the university, and relevance of your course to future job opportunities in Australia.
2. If the Appeal to AAT Fails:
If the AAT decision is not in your favor, you have two additional options:
Send applications to the Federal Court, but only if there is a legal error in the AAT decision.
Write a letter to the Minister requesting personal discretion to grant you a visa, citing compelling reasons. However, the success rate for such requests is decreasing.
Conclusion:
When you want to go to school in Australia, setbacks can help you grow and become more resilient. Stay true to your dreams, change when things get hard, and keep moving forward. With the right help and determination, you can get past visa rejections and start an educational journey in Australia that will be rewarding. Australia is waiting for you, ready to give you a world-class education, a wide range of cultures, and experiences you'll never forget if you dare to dream and keep trying to learn and grow.
FAQs - Frequently Asked Questions for Australian Student Visa Rejection
1. Does IELTS score affect visa in Australia?
A high IELTS score not only fulfills visa criteria, but it also improves your academic experience, language abilities, and chances of success in your selected study program.
2. Is visa rejection normal?
Visas can be denied for a variety of reasons, and the following are the most typical ones to be aware of: Application that is incomplete or inconsistent: If your visa application is incomplete or the information on your application is inconsistent, your visa application will be rejected.
3. Can a visa be rejected after biometrics?
After submitting your biometric information, your visa may or may not be denied. Your visa/permit application may be rejected or expire. Your biometrics, on the other hand, will be valid for ten years. You will not be required to supply them again if you submit another application in the future.
4. Which country does not ask for visas for Indians?
Currently, we have about 60 countries that provide visa-free entry to Indians. But make sure to read the terms and conditions of these entry as many of them are of a maximum of 60 to 90 days.