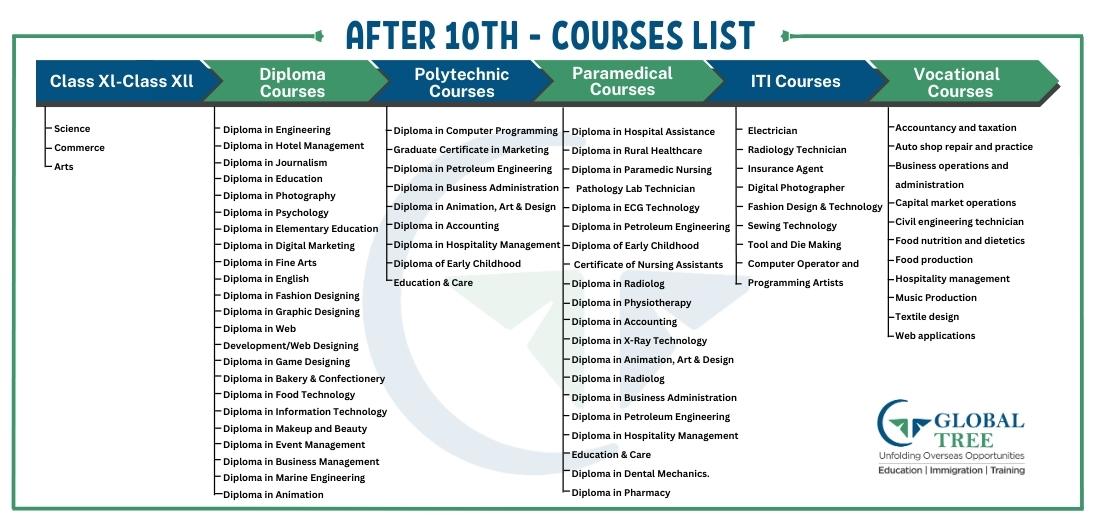 List of Courses after 10th standard
If you have just finished your 10th, now is the right time for you to decide whether you want to finish your senior secondary school, or go for skill development courses that are available after the 10th class. Many students opt for skill-development classes or training programs that can help them land jobs in their fields of interest rather than continuing to the 11th standard.
If you are struggling to choose a course, and are overwhelmed by the multiple options that are available to you, there are several steps you can take to narrow down your choices and make an informed decision.
Identify your areas of interest, whether they are in the arts, sciences, business, or any other sector.
Make a list of courses offered in the area you have selected for further study.
Compare and analyze these courses based on your interests to determine which ones will be the most academically rewarding for you.
After this process, you should be left with two or three options to consider. Compare these options based on factors such as career opportunities, potential future job prospects, and the type of work you will be doing. You may also want to consider the cost and duration of the course.
Finally, don't doubt your skills or give up on your dreams. Keep working hard and pursuing your goals.
Pathways after 10th Grade:
Diploma Courses
Polytechnic Courses
Medical & Paramedical Courses
ITI Courses
Intermediate Courses
After 10th Diploma Courses List
Diploma courses are a great way for students to gain practical experience in different fields and explore their interests. These courses are typically shorter in duration and can help individuals determine which career path they want to pursue. Additionally, because they are shorter and more focused, they allow students to switch to another discipline if their interests change.
Popular Diploma Courses After 10th
Name of the Diploma
Course Duration
for 10th pass courses

Diploma in Fashion Technology

3 Years

Fashion Designer
Costume Designer
Textile Designer
Bridal wear Designer
Fashion Stylist

Diploma in Fire Safety Engineering

6 Months

Fire Safety Executive
Fire Safety Officer

Diploma in Engineering

3 Years

Directly to B.Tech Lateral Entry or find a suitable job in a specific area of specialization.

Diploma in Ceramic Technology

3 Years

Directly to B.Tech Ceramic Engineering via lateral entry or find a suitable job as a Ceramic Engineer.

Diploma in Plastics Technology

3 Years

Plastic Part Mould Design Engineer
Project Engineer
Industrial Engineer
Product Design Engineer

Diploma in Dental Mechanics

2 Years

Dentist
Assistant Dental Surgeon
Dental Technician
Research Assistant

Diploma in Commercial Practice

3 Years

Commercial Account Manager
Commercial Executive
Business Junior Head
Branch Commercial Assistant Manager

Diploma in Hotel Management and Catering Technology

2 Years

Catering Officer
Catering Supervisors & Assistants
Cabin Crew
Hospitality Executive

Diploma in Agriculture

2 Years

Directly to B.Tech Agriculture Engineering via the lateral entry or work in an Agriculture based organization

Diploma in Cyber Security or Ethical Hacking

1 Year

A certified ethical hacker or cyber security expert

Diploma in Cosmetology

1 Year

Open your parlor
Work at big beauty chains
Become a sales representative
Work for cosmetic brands like Lakme, Color bar, Nykaa, etc.

Art Teacher Diploma

2 Years

Arts teacher
Painter
Work for Art galleries

Diploma in Stenography

1 Year

You can work in a wide range of government jobs. All the public departments have a place for stenographers.
Best Polytechnic Courses After 10th
A polytechnic diploma can be thought of as an engineering degree in general. After Class 10 or 12, candidates can pursue a polytechnic, increasing their professional qualifications. Candidates who want to major in science but want to enter the field sooner should check out the polytechnic courses list after the 10th below:
Diploma in Electrical Engineering
Diploma in Biotechnology Engineering
Diploma in Electronics and Communication Engineering
Diploma in Garment Technology
Diploma in Agriculture
Diploma in Automobile Engineering
Diploma in Computer Science & Engineering
Diploma in Mechanical Engineering
Diploma in Aeronautical Engineering
Diploma in Metallurgical Engineering
Diploma in Electronic Instrumentation & Control Engineering
Diploma in Civil Engineering
[Also Read: STUDY GENERAL ENGINEERING AND TECHNOLOGY IN ABROAD UNIVERSITIES]
After 10th Science Courses List
Diploma in Information Technology.
Craftsmanship Course in Food Production.
Certificate in Diesel Mechanics.
Diploma in Dental Mechanics.
Diploma in Dental Hygienist.
Diploma in Electrical Engineering.
Diploma in Computer Science and Engineering.
ITI Surveyor
Computer Hardware & Network Maintenance
Electronic Mechanic
Mechanic Medical Electronics
Radiology Technician
Draughtsman (Civil) Engineering
Mechanic Refrigeration and Air Conditioner
Mechanic Auto Electrical & Electronics
After 10th Arts Courses List
Diploma in Commercial Art
Diploma in Graphic Designing
Certificate Course in Spoken English
Certificate Course in Functional English
Diploma in Social Media Management
Certificate in Hindi
Diploma in Photography
Diploma in Hair Dressing and Beauty Culture
Diploma in Multimedia and Animation
Diploma in Fine Arts
Diploma in Hotel Management
Diploma in Fashion Designing
Diploma in 3D Animation
Diploma in Event Management
Diploma in Education Technology
Diploma in Travel and Tourism
Diploma in Interior Design
Diploma in Communication Design
Diploma in Foreign Language
Diploma in Digital Marketing
Diploma in Painting
Diploma in Drawing
Diploma in Script Writing
Diploma in Journalism
Diploma in Performing Arts
Diploma in Radio Jockey
Diploma in Audio Video Editing
Diploma in Kitchen and Catering
Diploma in Video Shouting
Diploma in Printing and Publishing
Diploma in Fire Safety
Diploma in Physical Education
[Also Read: FILM MAKING COURSES FOR BEGINNERS]
Diploma in commerce after 10th
Certificate Course in Tally
Diploma in Banking
Diploma in Risk and Insurance
Advanced Diploma in Financial Accounting
Diploma in e-Accounting Taxation
Diploma in Business Administration
Diploma Courses in Agriculture after 10th
Certificate in Sericulture (CIS)
Certificate in Poultry Farming (CPF)
Certificate in Poultry Farming (CPF)
Diploma in Agriculture Science
Diploma in Agriculture
Diploma in Horticulture
Diploma in Agricultural Engineering
Diploma in Hybrid Seed Production Technology/Seed Technology
Diploma in Organic Farming
[Also Read: TOP 5 UNIVERSITIES ABROAD TO STUDY MASTERS IN AGRICULTURE]
IT Diploma Courses
Diploma in Computer Application
Certificate in Social Media Management
Diploma in Hardware Maintenance
Certificate Course in Search Engine Marketing
Computer Technician Diploma
Certificate in Search Engine Optimization
Certificate in Graphic/Web Designing
Certificate Course in Programming Language
[Read More: 5 REMARKABLE BENEFITS OF MASTERS IN COMPUTER SCIENCE]
Diploma in Travel and Tourism
People who are interested in hospitality and travel can consider getting a diploma in tourism. A diploma can help students land a job right away or get them ready to pursue higher education in a particular area of tourist studies. Additionally, there are numerous certificate programs in tourism and travel:
Diploma in Hotel Stores Management
Diploma in Hospitality Management
Diploma in Front Office and Reception Management
Certificate in Tourism and Travel Management
Diploma in Airline and Tourism Management
Certificate in Aviation, Hospitality, and Travel & Tourism Management
Diploma in Tourism Management
P.G. Diploma in Hotel and Tourism Management
Diploma in Airlines, Tourism, and Hospitality
Advance Diploma in Hospitality, and Tourism, Aviation
Diploma in Aviation, Hospitality, and Tourism
Diploma in Travel Management and Airport Handling
List of Paramedical Courses after 10th
Diploma in Hospital Assistance
Diploma in Rural Healthcare
Pathology Lab Technician
Diploma in Paramedic Nursing
Diploma in Physiotherapy
Diploma in X-Ray Technology
Diploma in ECG Technology
Diploma in Radiology
Diploma in Dental Mechanics
Diploma in Pharmacy
Diploma in hearing language and speech
Diploma in Operation Theatre Technology
Diploma in Medical Laboratory Technology
Diploma in Ophthalmic technology
Diploma in Radiography and Medical Imaging
Diploma in anesthesia technology
Diploma in Dialysis Technology
Diploma in Nursing Care Assistance
Diploma in Medical Record Technology
Diploma in Sanitary Inspection
[Read More: FOR STUDY ABROAD IN MEDICINE WHICH COUNTRY IS BEST?]
ITI Courses List after 10th
Industrial Training Institute (ITI) courses are another popular option for students who have completed the 10th grade and are interested in pursuing technical or non-technical fields. These training programs are trade-specific and cover a wide range of fields, including engineering, science, arts, hair and skin care, dress designing, and jewelry making, among others. Some of the major ITI courses that are available to students after completing the 10th grade include:
ITI Engineering Courses
Tool and Die Maker Engineering
Draughtsman (Mechanical) Engineering
Diesel Mechanic Engineering
Draughtsman (Civil) Engineering
Pump Operator
Filter Engineering
Motor Driving-cum-Mechanic Engineering
Turner Engineering
Information Technology and E.S.M. Engineering
Machinist Engineering
Hair and Skin Care
Refrigeration Engineering
Mech. Instrument Engineering
Electrician Engineering
Mechanic Motor Vehicle Engineering
Mechanic Radio and T.V. Engineering
Mechanic Electronics Engineering
Surveyor Engineering
Foundry Man Engineering
Sheet Metal Worker Engineering
ITI Non – Engineering Courses
Dress Making
Manufacture Foot Wear
Secretarial Practice
Fruit and Vegetable Processing
Bleaching and Dyeing Calico Print
Letter Press Machine Mender
Commercial Art
Leather Goods Maker
Hand Compositor
[Also Read: TOP 5 TIPS THAT HELP YOU FIND RIGHT STUDY ABROAD PROGRAM!]
Vocational Courses List after 10th
After completing SSLC, students can consider pursuing vocational subjects offered by various boards. These subjects can prepare them for a job after completing 12th grade and may include options such as:
Accountancy and taxation
Auto shop repair and practice
Business operations and administration
Capital market operations
Civil engineering technician
Food nutrition and dietetics
Food production
Hospitality management
Music Production
Textile design
Web applications
These subjects can broaden your understanding of the options available after 10th grade. For students who do not want to follow the traditional route of choosing a stream in 11th grade or continuing their education, there are other options available.
Technical job-oriented programs such as ITIs, polytechnic diplomas, and paramedical and vocational courses can provide the necessary skills and make students job-ready and able to seek employment soon after completing 10th grade. These options can be suitable for students who have financial responsibilities or other reasons for not pursuing higher education.
Intermediate Courses List after 10th
The intermediate course will provide you with a general understanding of all the courses, enabling you to select any track of study for your degree. If you have strong academic credentials, you should enroll in intermediate courses because they will give you additional possibilities for a successful profession, like IIT JEE for engineering, NEET for medicine, etc. Below is the list of streams after the 10th:
Sciences:
Mathematics – Physics – Chemistry
Botany – Zoology – Physics – Chemistry
Humanities:
Mathematics – Economics – Commerce
History – Economics – Civics
Commerce – Economics – Civics
History – Geography – Economics
Commerce – Economics – Geography
Modern Language – History – Civics
Classical Language – History – Civics
Classical Language – Modern Language – History
Modern Language – Economics -History
Modern Language – Economics – Commerce
Commerce – Economics – History
Geography – History – Civics
Public Administration – Economics – Civics
Public Administration – History – Civics
Public Administration – Commerce – Civics
Public Administration – Economics – Commerce
Psychology – Economics – History
History – Geography – Public Administration
If you are planning to make your career in humanities, mathematics, economics, commerce, history, and civics, among many others will give you a great head start. Any of these combo subjects are available to you if you want to advance your career.
Short-Term Courses after 10th
Short-term courses are short academic degree courses that have a clear contribution to your knowledge, resume, and experience. They offer the opportunity to develop expertise in a specific area of interest and reap the benefits in the long term.
For some individuals, short-term courses provide a chance to learn skills that may not be accessible through other means. These types of courses also tend to be less expensive than full-time courses.
Popular short-term courses after the 10th are:
Digital Marketing Course
Short Term Course in Engineering
3D Animation/Graphic Designing Course
Web Designing Certificate Course
Stock Market Training
Cyber Security Course
Business Management Training
SEO Training Course
Fashion Designing course
Photography Courses
Data Entry Courses
Air Hostesses/Flight Stewards Training
Short-Term Certificate Program in MS Office
Certificate Course in Programming Language
Data Science Courses
Creative Writing Courses
Popular Bachelors Programs abroad in your stream
Are you wondering what stream may help you pursue a bachelor's abroad? Here's a list of all the popular courses abroad that could help you in planning an international bachelor's degree:
Popular science courses offered abroad:
Bachelor of Technology
Bachelor of Science
Medical Sciences
Mathematics
Physics & Astronomy
Engineering Management
Energy Management and Engineering
Veterinary
Homoeopathy
Clinical Research
Audiology
Popular Arts courses offered abroad:
Bachelor in English
Bachelor of Journalism and Mass Communication
Bachelor of Fashion Design
Bachelor of Hotel Management
Bachelor of Business Administration
Bachelor of Fine Arts
BA in Geography
BA in Sociology
Bachelor of Social Work (BSW)
Popular Commerce courses offered abroad:
Business administration
Business law
Accounting
Finance
Economics
Charted Accountancy
Bachelor of Commerce
Marketing
Human Resources
International business
Mathematical Research
Management
[Read More: POPULAR COURSES TO STUDY IN FRANCE]
What next after the 10th
Before making a decision, get a better understanding of what options are available after completing 10th grade. Think about what areas you excel in and which one's present challenges for you. A career assessment and a professional career counselor can help you identify the best career options and understand what steps to take after completing 10th grade.
Which field is easy after the 10th?
Students have the option of enrolling in polytechnic programs after 10th such as mechanical, civil, chemical, computer, and automobile engineering. These institutions offer three-year, two-year, and one-year diploma programs. One of the advantages of pursuing a diploma program after 10th grade is that it can be more cost-effective and lead to quicker employment.
Which is the best stream after 10th?
After completing 10th grade, students have the option of pursuing one of three streams: science (PCM/PCB), commerce, or arts. The best stream for you is the one that aligns with your interests and abilities and allows you to reach your career goals.
What is the scope after class 10th?
If you have strong analytical skills and enjoy studying science, you may want to consider PCM and become an engineer. If you choose PCB, you may pursue a career in medicine. There are also many lucrative careers with a wide range of opportunities available after studying commerce and arts, such as corporate law, banking, finance, media and mass communication, and hotel management.
Frequently Asked Questions
The common notion is that foreign universities are expensive, although with scholarships this is an exaggerated issue. What many fail to consider are time and effort. Studying in an Indian college leads to a lower average salary than earned by our western counterparts. This salary sets the tone for all future promotions since companies often look at your previous salaries during compensation appraisals. Additionally, most senior positions tend to be scooped up by individuals who have an international outlook through global exposure. Finally, studying in a foreign country is an incredible learning experience helping students get a better academic as well as soft skill development.
Canada has been one of the market leaders in education for decades. However, what currently sets Maple Country apart is immigration. Canada is wholeheartedly inviting students to study in their universities to fill job vacancies that are always growing in the country. Students who study in Canada (especially a Master's Degree) are practically assured of a Permanent Residency Visa.
A good score doesn't automatically qualify a candidate for a scholarship, however, it is one of the primary factors that the admissions department looks for in a scholarship application. There are other attributes such as a candidate's academics, extra-curricular, financial background, and application essays (SOPs).
We get this question a lot. Many candidates know which career path they want to take, but are at a loss for how to take that journey. Understanding the job role and the industry that you want to get into is the first step to picking the right university.
Carefully consider the immigration options of the country that the university that you are considering is in. This is more important when you intend to stay back in the country after the completion of your course.
Also, review the placement history of the university as well.
The first step is to list your preferences. By listing your preferences and strengths, describe your course of preference. Extensive research on the modules, software and its length for your preferred subject is necessary.
---
Recent Posts