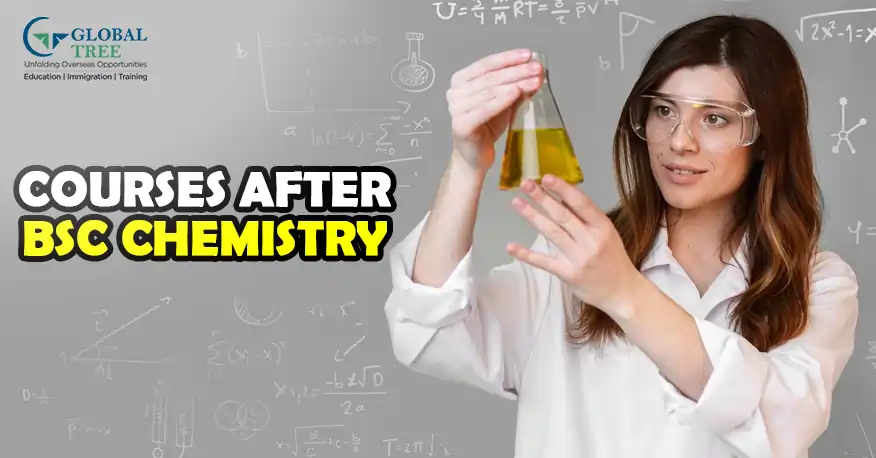 Introduction
Chemistry is an important science that influences all elements of daily life, from the launch of space shuttles to the discovery of new pharmaceutical medications. A chemistry undergraduate degree allows you to gain professional and technical abilities in core chemical disciplines.
Completing your bachelor's degree in chemistry can lead to intriguing job opportunities in both the private and public sectors. In this post, we will outline the scope of a BSc chemistry degree, explore the core subjects in this degree, list related employment prospects, and explain how you might begin your career after completing a BSc chemistry degree.
Scope of Chemistry in B.Sc.
Chemistry is a core science subject, and the scope of the BSc chemistry degree is broad. Chemistry is sometimes referred to as "the central science" because it connects Physics with other Natural Sciences topics such as Biology, Geology, and Astronomy.
Students who grasp the fundamental concepts and applications of Chemistry can follow a specialized course of study to gain a thorough understanding of this large area. The duration of these courses' spans from two to three years.
You can study chemistry abroad & work in research and development, teaching, product development, quality assurance, analytical science, and information science.
List of Top Courses After B.Sc.
Below is a curated list of all the courses you can do after your B.Sc. Chemistry. We have included PG Diploma courses after Bsc Chemistry, MSc Courses, Doctoral Courses, and courses after bsc chemistry other than msc you may be eligible for:
PG Diploma Courses
MSc Courses after BSc Chemistry
Doctoral Courses after Bsc Chemistry
Eligible Courses other than MSc

Postgraduate Diploma in Analytical Chemistry
Postgraduate Diploma in Biotechnology
Postgraduate Diploma in Nanobiotechnology
MBA in Biotechnology
MBA in Laboratory Management
MBA in Pharmaceutical Management
MBA in Biotechnology and Oil & Gas Management

MSc Molecular Chemistry
Master's in computational chemistry
MSc Environment & Green Chemistry
MSc Biochemistry
MSc Oil & Gas Chemistry
MSc Physical & Materials Chemistry
MSc Theoretical Chemistry
MSc Organic Pharmaceutical Chemistry
MSc Drug Chemistry
MSc Medical Chemistry
MSc Instrumental Analysis
MSc Analytical Chemistry
MSc Organic Chemistry
MSc Inorganic Chemistry
ME or MTech in Chemical Engineering
MSc Applied Chemistry
MSc in Chemistry
MPhil Chemistry
MSc Physical Chemistry
MSc General Chemistry

PhD in Chemistry
PhD in Applied Chemistry
PhD Biochemistry
DPhil Organic Chemistry
DPhil Inorganic Chemistry
DPhil Physical & Theoretical Chemistry

Postgraduate Diploma in Analytical Chemistry
Postgraduate Diploma in Biotechnology
Postgraduate Diploma in Nanobiotechnology
MBA in Biotechnology
MBA in Laboratory Management
MBA in Pharmaceutical Management
Diploma in Agribusiness Management
PG Diploma in print and Web, broadcast or multimedia Journalism
HCL Certified Software Engineer
Advanced Post Graduate Program in Biotechnology
Advanced Post Graduate Program in Intelligent System & Robotics
Machine Learning
Data Science
Master in Computer Application (MCA)
Bachelor in Education (B. Ed)
1. MSc Agriculture
MSc Agriculture is a postgraduate program lasting 1-2 years that focuses on agricultural development and related scientific breakthroughs. Aside from teaching scientific knowledge about agriculture and farming, the course also emphasizes agricultural machinery, plant biology, plant management, and biochemistry. Furthermore, the school curriculum includes industrial training/dissertation projects to provide hands-on experience.
Find a course in Agricultural Science abroad
2. MSc Biochemistry
MSc Biochemistry is a popular subject that follows the 1- or 2-year-long BSc Chemistry. It is a branch of biology concerned with living organisms. Through biochemical signaling and metabolism, biochemical processes give rise to the tremendous complexity of life. Furthermore, a Biochemistry study discusses the structure and functions of cellular components such as proteins, lipids, carbohydrates, nucleic acids, and other bio-molecules. Students will do experiments on yeasts, bacteria, cell cultures, and plants in order to understand data and prepare for the modern science laboratory. MSc Biochemistry will assist students in developing analytical and problem-solving skills, as well as gaining a fundamental understanding of biochemical events within living cells.
3. MSc Chemistry
MSc Chemistry, one of the most well-known courses after BSc Chemistry, is a postgraduate program that lasts two years and, in certain circumstances, four years, depending on the university. The degree program, which covers several branches of the subject such as organic, inorganic, analytical, and physical sciences, opens openings for students in a variety of research-oriented sectors, pharmaceutical businesses, government and commercial organizations, and so on. This blog will compile all relevant information about this degree program and its job possibilities.
4. MSc Microbiology
MSc Microbiology is a two-year postgraduate degree program for scientific students. This is a specialized course that includes a variety of research and project work to provide students with professional knowledge of the subjects. This course is open to anyone with a bachelor's degree in microbiology or an equivalent course.
5. MSc Environmental Science
The MSc Environmental Science programme is an interdisciplinary academic field that contains components of Biology and Physical Sciences. The curriculum of the two-year degree program not only provides students with a solid foundation in this discipline, but also equips them with the skills needed to address environmental concerns such as pollution, water depletion, waste management, soil erosion, and so on. It also serves as a venue for students to get fieldwork experience. Environmental Hazards and Management, Environment and Society, Green Chemistry, Environmental Geography, Meteorology and Policy, Agro and Environmental Nematology, and other popular specialization courses in the MSc Environmental science degree are listed below.
Study Environmental Chemistry in Australia: Check Now
6. MSc Forensic Science
Master of Science (MSc) Forensic Science is a one or two-year postgraduate degree program developed for graduates and forensic practitioners to provide theoretical and practical expertise of Forensic Science. The course begins by teaching students the principles of forensic biology and chemistry as they relate to forensic investigations. Following that, it investigates the fields of evidence retrieval and processing at crime scenes for judicial processes. Students in the master's program have access to a wide range of sophisticated facilities and laboratories. The course begins after the student completes research work, including the presentation of thesis and reports required inside the university and for external placement.
7. Medical Courses after BSc Chemistry
Doctoral programs in Chemistry equip students for research and teaching jobs in the Life, Basic, Medical, Energy, Physical, Environmental, and Material Sciences. You can also look into opportunities in numerous contemporary subfields of Chemistry as well as related disciplines such as Engineering Chemistry and Medicinal Chemistry, among others. These programs last between three and four years. The following is a list of significant PhD programs in Chemistry that aim to build analytical skills in order to conduct novel and creative scientific research in this scientific subject.
Check out Pharmaceutical Science Courses here
Can I join ISRO after BSc chemistry?
ISRO typically selects trainees/fresher candidates using GATE or their own internal exam.
Based on previous year recruitment data, the average eligibility qualification is a B. Tech/ME/M.Sc/B.Sc. As you are aware, ISRO recruits for specific positions such as technician and research scientist.
You must have graduated with a minimum of 65% from a recognized college/university.
Your age should not be more than 30 years old, and age relaxation will be granted in accordance with government regulations.
You must also take an admission examination, and your selection will be based on your performance in the exam.
As a result, if you pass the examination with good marks, you will be eligible for a position with ISRO.
How can I join DRDO after BSc Chemistry?
There are plenty of openings for people with a BSC degree in science, preferably in physics, chemistry, or mathematics. There is no requirement that only engineering graduates work at DRDO.
Surprisingly, persons with diplomas in various subjects can work at DRDO as Senior Technical Assistants
Candidates may apply once they have completed their bachelor's degree.
To be admitted to DRDO, a candidate must have passed the Centre for Personnel Talent Management (CEPTAM) entrance exam.
Is Studying Abroad for a M.Sc. a good option?
As a Chemistry student studying abroad, you can explore various opportunities that can enhance your academic and professional growth when you study abroad. Here are some potential opportunities:
Research programs: Many universities and research organizations throughout the world offer research programs tailored exclusively to graduate students in chemistry. Participating in research projects can give you hands-on experience, exposure to sophisticated techniques, and the chance to collaborate with prominent researchers in your field.
Advanced coursework: Pursuing a chemical degree abroad gives you access to a wide selection of specialist courses and advanced topics in numerous chemical sub-disciplines. You can take classes related to your research interests or branch out into new areas to broaden your knowledge.
Access to cutting-edge facilities: Many universities around the world have cutting-edge research facilities, well-equipped laboratories, and cutting-edge apparatus. utilizing these tools can help you improve your research ability and conduct experiments utilizing complex methodologies.
International conferences and symposiums: Participating in international conferences and symposiums gives you the opportunity to share your research findings, receive valuable comments, and meet with experts in your field. It also serves as a platform for expanding your professional network and staying up to date on the newest advances in chemistry.
Scholarships and funding opportunities: Various scholarships, grants, and funding opportunities are available specifically for international students pursuing higher studies in chemistry. These financial aids can help alleviate the financial burden and support your education and research endeavors.
Career prospects: Pursuing a Chemistry degree abroad can boost your employability and open the door to a variety of professional options. You can work in R&D, pharmaceuticals, chemical production, environmental consulting, academia, and other fields.
Cultural and personal growth: Studying abroad allows you to immerse yourself in a new culture, gain new perspectives, and acquire cross-cultural competences. It can help you widen your horizons, gain independence, and contribute to your personal growth and maturity.
Conclusion
Pursuing a master's degree in chemistry delivers a thrilling blend of intellectual advancement and practical application. Exploring the complexities of molecular structures and chemical interactions provides the tools to solve mysteries at the microscopic level, influencing the vanguard of innovation across industries. This scholastic pursuit not only cultivates analytical skills but also feeds an ardent interest for the natural world, from inventing novel materials with specific qualities to comprehending intricate biological pathways. Finally, a master's degree in chemistry provides doors to cutting-edge research, interdisciplinary collaborations, and the possibility to make a significant contribution to the growth of scientific knowledge and technological advances.
FAQs Frequently Asked Questions for Courses after B.Sc. Chemistry
Which field of chemistry has highest scope?
It is concerned with the composition of stuff. Analytical chemistry is concerned with identifying, quantifying, and separating compounds in matter samples. Analytical chemistry, like any other discipline of science, has a broad reach.
Which branch of chemistry has highest salary?
Medical examiners, forensic engineers, and crime lab analysts are just a few of the high-paying positions in forensic chemistry. As a result, forensic chemistry checks all the boxes for a hands-on job in chemistry that also pays well.
What is the future of BSc chemistry?
Pharmaceutical industries, chemical manufacturers, forensic science departments, plastic industries, agrochemical industries, and other businesses hire BSc Chemistry graduates. Aside from this, they are also recruited in other industries such as the oil, gas, and power sectors, as well as defense services.
What are the trending courses after BSc?
It is typically a two-year curriculum and one of the most sought-after courses after completing a BSc. An MBA after BSc Chemistry is the most sought-after employment option for graduates from all areas. Individuals with technical and scientific knowledge can gain managerial skills by earning an MBA.