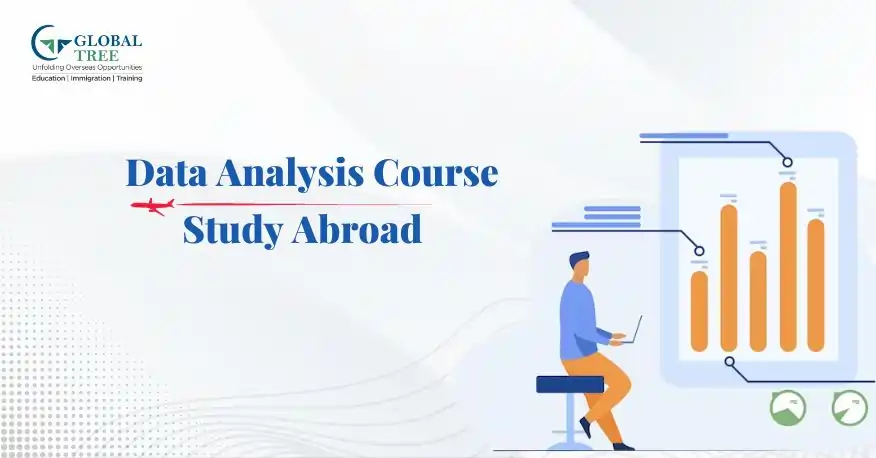 Introduction
Data analysis is the process of collecting and evaluating data to yield important insights that are then applied to decision-making. Talented data analysts have many opportunities to make a name for them because firms of all sizes and sorts now have access to a lot of data. You may be in charge of analyzing sales data, website analytics, or shipping costs and transforming them into practical business insights, depending on the organization you work for. For example, you might discover how to reduce a business's logistical costs or how to increase website click-through.
Who is Eligible to Study Data Analysis Course Abroad?
Those who are good with numbers and have an eye for pattern detection succeed at data analysis, as one might anticipate. This includes comprehending mathematical modelling, analysis, statistics, and other methods for processing data to draw forth information. You should also be able to enter precise search terms and recognize any interesting results, regardless of how little or complex they may be. Last but not least, you should have excellent communication skills and be able to turn data into useful insights for the rest of your team.
How can I become a Data Analyst after 12th grade?
Professional data analysts often need a bachelor's degree in mathematics, finance, statistics, computer science, or economics. Students can pursue the computer courses after 12th standard to pave their way into Data Analytics. The cost of tuition for this kind of degree can reach approximately US$30,000 annually, or £20,000–$30,000 annually in the UK.
Valid and current qualifications are essential in the field of data analysis. You might register in the Certified Analytics Professional or Cloudera Certified Associate Data Analyst programmes or seek programming certifications if you wish to eventually work as a data scientist.
Future scope of Big Data Analytics Abroad
Data analysis is becoming increasingly important to many different businesses outside of technology. In fact, a wide range of businesses are now heavily utilizing big data analytics, including telecoms (95%), insurance (83%), advertising (77%) and financial services (71%). Thanks to your transferrable talents, you have the choice to specialize in one of these areas or even change sectors.
The 25% predicted increase in the number of data analyst employment in the US by 2029 will provide aspiring data analysts with exceptional stability and high earnings. Consider switching to a position as a data scientist instead if you're searching for even better job chances, as these positions are predicted to rise by 28% over the following five years.
What are the Career Paths for Data Analyst Abroad?
A degree in data analysis can open up a world of opportunities. Below are a few of the career paths for Data Analysts:
Data Analyst Career Abroad
Data analysts are in charge of analyzing corporate data or market research to uncover business opportunities. Depending on how significant these skills are, data analysts may also have titles specific to their industry, such as business analyst, intelligence analyst, or healthcare data analyst. For a competitive edge, many data analysts also pursue programming and SQL training.
Computer System Analyst Career Abroad
Consider applying your data analysis abilities in the position of a computer systems analyst if you are more technologically savvy. You will be in charge of maintaining and enhancing computer systems, assessing current systems, suggesting adjustments, and making sure new systems satisfy user needs in this position.
(Read More: Pursue General Engineering and Technology Abroad)
Data Engineer Career Abroad
Data engineers work on massive datasets and streamline data analysis procedures while taking the larger picture into account. To enable faster and more precise queries, data engineers are also in charge of updating the database infrastructure.
Data Researcher Career Abroad
Many data analysts progress to become data scientists by learning machine learning and complex mathematics in order to develop data-crunching algorithms and predictive models.