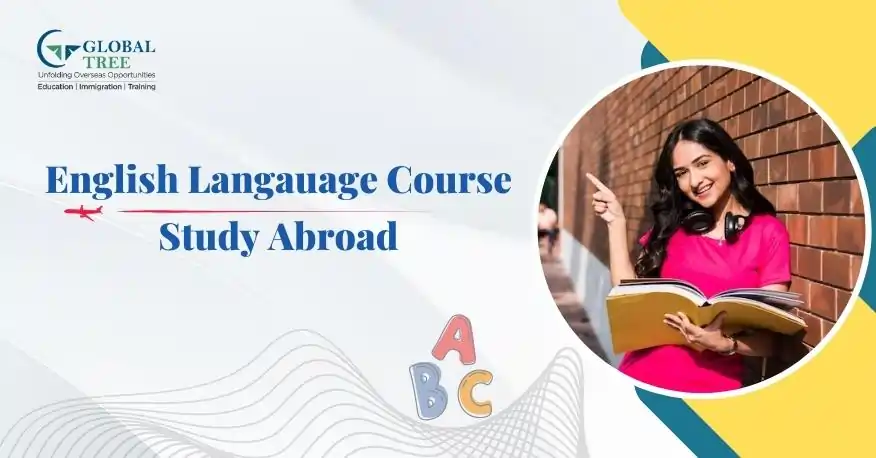 Introduction
English is a universal language, and studying this subject will enable you to evaluate its influence in both written and spoken forms. You will examine human communication via the history, diversity, and adaptability of the English language. With this degree in the English Language, you'll gain topic knowledge and competence as well as chances to put what you've studied into practice through practical application. Transferable abilities like critical thinking, creativity, research, and analysis will be acquired. Choose the Best English Language Courses & Colleges to Study Abroad.
By the completion of this program, you should have acquired strong presentation, written, and oral communication abilities. Intercultural communication, trip writing, deconstruction, language revitalization, literature and media in practice, and discourse analysis are some of the themes covered in the coursework.
Who is eligible to study English Language Course Abroad?
You must have a reasonable command of the language before enrolling in order to succeed in an English language program. Your skills and endurance as a student will surely be put to the test. You will need to practice both reading and writing consistently. A solid education in English from a recognized university will give you access to a wide range of postgraduate academic options as well as the increasingly competitive employment market.
How much does it cost to study English Language Course Abroad?
Since English is the second language that is most frequently spoken in the globe, many colleges offer English language curricula to entice more students. In addition to the standard graduate, post-graduate, and PhD programs, these provide a variety of short courses.
A bachelor's degree abroad in English normally takes three to four years to complete and costs between USD 20,000 and 30,000 in the US. The cost of the equivalent degree in the UK would be between £ 15,000 and £ 20,000 for overseas students. Entry-level positions normally require a bachelor's. However, a master's degree is typically desired for greater opportunities, such as seniority in teaching professions or writing careers. This degree typically lasts two years and costs between USD 35,000 and USD 75,000, depending on the university and length of the program. In contrast, the cost of a master's program in the UK can range from £15,000 to $35,000 each year.
With annual tuition costs ranging from £3,000 to 6,000 (about $3,800 to $7,670 for Americans) for domestic students and up to £18,000 ($23,000) for international students for the first three years, being a self-funded PhD student in the UK can be a costly endeavor. But a doctorate becomes necessary for a thorough knowledge of the language. It offers the chance to specialize in several dialects as well as other fields including literature, journalism, history, or the arts.
(Read more: Top prestigious scholarships to study abroad)
What is the Future Scope of English Language Course Abroad?
The average salary for post-secondary instructors was $80,560 per year in 2021, and the job forecast for the decade from 2020 to 2030 is 12% quicker than the national average. This indicates that the demand for workers with degrees in the English language is projected to rise quickly. And one such field that can be pursued after receiving this degree is teaching or education.
The communication abilities acquired via studying English are highly valued by businesses. Your writing, IT, and independent thinking skills will all get better, as will your ability to manage your time and be adaptable to criticism. No matter if you are already employed, volunteering, or changing careers, these are some essential talents that are highly desired in complicated businesses.
Trending Career Options in English Language Course Abroad
Students with an English language degree get access to a big and growing work market. Public administration, education, public relations, copywriting, editing, communication managers, teachers, journalists, and authors are a few possible career possibilities for someone with this degree.
Career as a Manager and Editor of Content
For magazines, books, articles, or digital media, editors edit the content. They help raise the caliber of the published work by giving content writers feedback for improvements. English majors use their excellent communication abilities to package the knowledge in a way that will capture and hold the reader's interest. Editors earn a yearly salary of $59,096 on average.
(Read more: best affordable universities to study abroad)
Career as an English Instructor
Students who major in English can work in academics as English language teachers. They can work in schools and universities with English as a Second Language teaching credentials, depending on the nation. ESL teachers make $45,546 on average each year in pay.
Career as a Writer of Digital Copy
For online consumption, digital copywriters create interesting material. They submit their content, which may take the shape of blogs, social media updates, e-books, captions, slogans, or a script for a video, on websites. To create engaging material for the target audience, a digital content writer collaborates with his clients. A digital copywriter often earns between $40,000 and $45,000 per year.