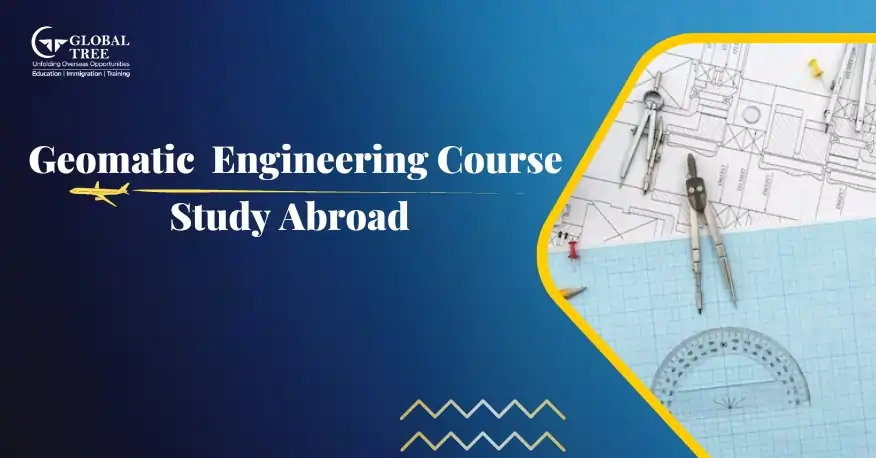 Introduction
A variety of problems are addressed through geomatic engineering: How can we monitor climate change more precisely? How can we more accurately find subsurface resources? How may the existing land planning process be made better?
Geomatic Engineering digitizes the knowledge of the physical world around us using tools and technology including GIS systems, remote sensing, and land surveying. Choose the Best Geomatic Engineering Course & Colleges to Study Abroad. We can analyze and manage geographical data with the help of these tools and technologies.
To guarantee efficient use of land, this data is utilized to design where buildings and other structures should be placed. Given that it is one of the fastest expanding fields of study, the abilities you acquire now will be in high demand in the future.
You'll encounter a diverse range of topics during your studies, including physics, computer science, design, communication, and maths. A wide range of expertise will equip you for a rewarding career in many different industries, including telecommunication, resource exploration, and land surveying.
Who is eligible to study Geomatics Engineering Course Abroad?
Geomatic Engineering covers a wide range of fields, so if you find learning new measurement techniques to be intriguing, this degree might be the right choice for you. You'll use cutting-edge tools like laser scanners, GPS receivers, and total stations while you study geodesy, photogrammetry, and other surveying techniques.
When it comes to geomatic engineering, students who are knowledgeable about technology and open to new experiences have an advantage over their contemporaries. The sector is always changing due to technology advancements, thus it is important for students to stay current with them. Graduates with a degree in geomatic engineering have a variety of intriguing career options. This industry could be your gateway to a lucrative career if you have a knack for maths and are detail-oriented.
Field surveys by geomatic engineers may frequently be required before they can compute the data in their offices. Another distinctive feature of this field is the combination of office and fieldwork.
How much does it cost to study Geomatics Engineering Course Abroad?
Since there is a large demand for workers in the subject of geomatic engineering, several different programs are offered in it. The most essential is a one-year diploma that will acquaint you with the foundations of geomatics and engineering needed to run the equipment. Typically, this degree is enough to fill technical and assistant-level positions.
Depending on the country you've applied to, a geomatic engineering bachelor's program lasts 3–4 years. In-depth coverage of both the theoretical foundations and practical application of geomatic engineering techniques is provided in this degree. A bachelor's degree in this profession costs, on average, USD36,000 in the US and AUD46,000 in Australia. Also, there are many scholarships to study abroad.
For those wishing to enter top managerial positions or academia, postgraduate level education is also offered in this area. A master's in geomatic engineering lasts 1.5 to 2 years and costs between AUD35,000 and AUD45,000 to complete.
What is the Future Scope of Geomatics Engineering Course Abroad?
Geomatic engineers' employment is now expanding as quickly as the average for all other vocations. The sector has grown by more than $43 billion in the last five years in the US alone. This growth, according to experts, will only pick up speed as accurate and precise geospatial measurement tools become more readily available. Speaking of the geomatic services market, it is growing at a startling 35% yearly rate! This makes geomatic engineering one of the most promising career options, along with the high wages of geomatic engineers.
Trending Career Options in Geomatics Engineering Course Abroad
Use your knowledge or transferrable abilities to enter a variety of Geomatic Engineering-related employment pathways.
(Read more: List of top universities in the world)
Career as a Geospatial Engineer
Experts in the measurement and administration of geographical data are geospatial engineers. In order to gather and later analyze geospatial data about various geographic regions, they design, build, and manage the systems utilized for doing so.
Career as a Geodesist
The coordinate system that underlies the map of our planet that enables navigation is kept up by geodesists. They are employed by organizations that operate on both a national and worldwide scale. This position in geospatial research necessitates at least a postgraduate degree.
Career as a Land Cadastral Surveyor
The boundaries between the properties of several parties are marked by a cadastral surveyor. They offer guidance to building companies on how to make the most of the available area and where important buildings like roads and bridges should be built for optimal usage.