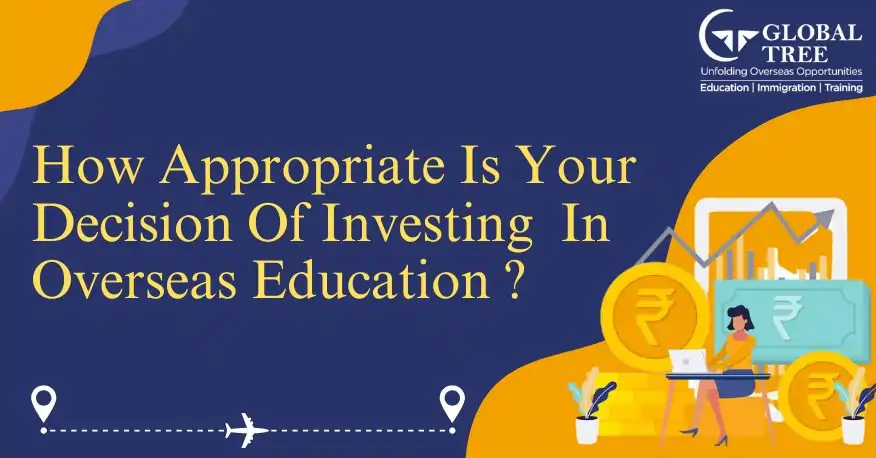 Overseas Education
Going abroad for studies is not an easy decision, neither for a parent nor for a student. Though things have changed now and if we compare the numbers of students going abroad today from a decade back, they have more than doubled. More and more students are moving abroad for their higher studies, why? Yes, it is an expensive decision but must be giving a better return that is why students are facing towards foreign lands for education. Overseas education is not an expense but is an investment, if done carefully will give you amazing results. Here we will explore the returns of investment on overseas education. There is not one reason why one should invest in studying abroad some of them are listed below:
International Exposure
One of the foremost reasons is getting international exposure. One should not limit their capacity and should move ahead to explore the world. The kind of facilities and internship opportunities available in developed countries gives you practical experience while pursuing your course. Studying abroad provides important skills that would influence your career path and gives you an edge in the employment market. Few multinational companies even prefer candidates who are internationally exposed. So would be one good reason to move to a foreign land.
[Read More: Top Universities to Study Abroad for Indians]
Develop Language Skills
Studying abroad will provide you opportunity to work on your language skills, when you are exposed to the countries where your second language is the primary language of communication. One would get more grips on their second language and could even learn a third language which is an added advantage in your curriculum vitae.
Increased Employment Prospects
Studying Abroad provides you better Opportunities of Employment. An international student has an edge over national student, as they are more exposed to latest technologies and know-how. Demand for international students is very high in the overseas employment market, apart from that, financially one land in a better position when compared to an average national student. Studying abroad provides a candidate better interpersonal skills, exposure, cross culture experience, and better managerial abilities. In the long run these traits help a candidate to flourish in his or her career. They have better opportunities, knowledge and skills than their peer group in India. It is not that the education in India is not good or not worth, but its limited and the population of our country is huge which could subsidies each student.
[Read More: Tips to Find Right Study Abroad Program for Indians]
Every student deserve to get the best education and our premier institutes like IITs and IIMs could accommodate a few thousand and some more could be accommodated in good B grade colleges and universities, but what about rest. And in these top schools of India you wouldn't be getting a quality specialized and super specialized education which requires practical knowledge along with theoretical one that is why most of the Indian students would prefer to move abroad for better opportunities. Though this is an expensive affair, but there are loans and grants that you would receive to pursue your higher qualification. It's time to rise and look high, for better performance.
For more details on overseas education, contact Global Tree Overseas Education Services who would provide you the right path for moving abroad.