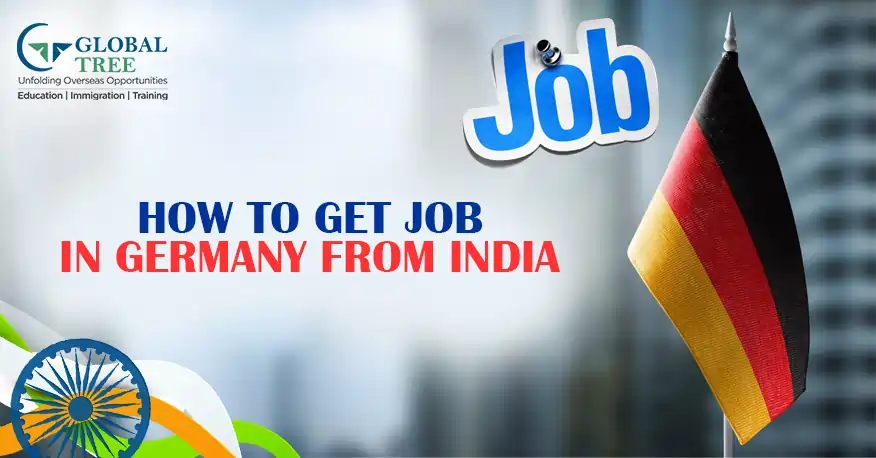 Introduction
Numerous Indian working professionals have the aspiration of advancing their careers in Germany, and this is a dream that many of them share.
Because of its thriving economy, varied job market, and dedication to technological advancement, the nation is a desirable location to live and work in. However, in order to arrive in Germany with your foot in the door of a prospective employer, your trip needs to be meticulously planned.
In this comprehensive guide, we will walk you through the step-by-step process of turning your dream into a reality. We will cover key aspects such as understanding the German job market, preparing before applying, job search strategies, applying for a German work visa, settling in Germany, and adapting to the German work environment and culture.
Steps to Apply:
Understand the German Job Market Situation
Preparation required Prior to Job Application
Strategies to Seek Employment
Process of Application for a Work Visa
Settling in Germany
Check out Below in detail
How to get Job in Germany from India? Comprehending the German Labour Market Situation
Opportunities can be found in a diverse range of fields thanks to the diverse nature of the German economy. While applying for a German work visa, The following are some of the industries that have a high demand for qualified individuals from other countries:
Information Technology (IT): Because Germany is a leader in global technology, there is a significant demand for professionals in the field of information technology. These professionals include software developers, data scientists, and cybersecurity experts.
Engineering: Germany, which is well-known for its automotive and manufacturing industries, is always looking for qualified engineers in fields such as mechanical engineering, electrical engineering, and automotive engineering.
Healthcare: There is a growing need for a variety of medical professionals, including physicians, registered nurses, and executives in charge of healthcare administration, as the population as a whole continues to get older.
Read: Eligibility Criteria for Indians Immigrating to Germany
Renewable Energy: As a result of Germany's dedication to the development of environmentally friendly energy sources, there is a growing demand for qualified professionals in the fields of renewable energy, including solar, wind, and bioenergy.
Research and Development (R&D): Research and development institutions and universities in Germany are actively seeking experienced researchers and scientists, particularly in fields such as biotechnology, materials science, and nanotechnology.
Acquiring a solid understanding of the work culture in Germany is absolutely necessary for achieving success in the German labour market. Among the most important factors to take into consideration are the following:
On-Time: The Germans place a high value on promptness and anticipate that all attendees will arrive on time for scheduled events such as conferences and appointments.
Deadlines: As a result of the German work culture's emphasis on efficiency and well-structured workflows, it is essential to meet deadlines and adhere to established procedures.
Formality: Workplaces in Germany are typically more formal than those in India, with a distinct hierarchy and specific titles for each position. It is proper etiquette to address superiors and coworkers with respect, using their correct titles and full names.
Work-Life Balance: The German culture places a high value on having a healthy work-life balance; as a result, most people do not work long hours or on weekends. When you have some free time, you should take advantage of it by getting involved in new hobbies and discovering your new environment.
Also Check: Ways to Immigrate to Germany
What is the Preparation Required Prior to Job Application in Gemany?
The key to being successful is having adequate preparation. Before you start sending out applications for jobs, you need to take the following steps:
Perform an Evaluation of Your Qualifications: Check to See If Your Education and Work Experience Meet the Requirements of the German Job Market. If necessary, think about continuing your education or getting certified.
Collect the Most Important Documents: Gather relevant documents for Germany immigration such as work experience letters and academic certificates, then compose a resume that is organised in an effective manner.
Language Capability: Devote some of your time to picking up German so you can communicate effectively. You should try to achieve at least a B1 or B2 level on the Common European Framework of Reference for Languages (CEFR) by enrolling in a German language class at a reputable institute such as the Goethe-Institut. Consider earning language credentials such as the TestDaF or the Goethe-Zertifikat.
Make Sure Your Qualifications Are Recognised Before you look for work in Germany, check to see if the qualifications you earned in India are acceptable there. This is extremely important, particularly for regulated professions like engineering, medicine, and the law. In order to facilitate this process, resources such as the Central Office for Foreign Education (ZAB) and the Recognition in Germany portal can be utilised.
Improve Your Curriculum Vitae and Cover Letter: Adapt your curriculum vitae to the German format while ensuring that it remains professional and succinct. Personalise your cover letter for each application you submit, focusing on highlighting your relevant experiences and skills. Always write in a businesslike manner, and check to see that it doesn't go on for more than one page.
How to Find Jobs in Germany from India? Strategies to Seek Employment
You can significantly improve your chances of landing the job of your dreams in Germany by employing effective job search strategies. Listed below are some useful strategies:
Utilise well-known online job search portals in Germany like the Federal Employment Agency (Bundesagentur fur Arbeit), LinkedIn, StepStone, and XING.
Building Professional Connections: Make contacts in real life as well as online. Both LinkedIn and XING are beneficial platforms for establishing connections with prospective employers as well as industry professionals. If you really put effort into learning German, It will help you adapt a lot better.
Participate in Career Fairs and Job Fairs Attending career fairs and job fairs is a great way to meet potential employers and learn about job opportunities, including events that are geared specifically towards international professionals.
Work with specialised recruitment agencies to take advantage of their connections with German employers and discover employment opportunities that are a good match for your abilities and previous experiences.
In the following paragraphs, we will discuss how to apply for a work visa in Germany, how to relocate to Germany, and how to adjust to the cultural norms and expectations of the German workplace.
The Process of Applying for a Work Visa to Germany
Getting a visa that will allow you to work is one of the most important steps towards establishing a career in Germany. As a citizen of India, you have access to a variety of options when it comes to work visas, including the following:
General Employment Visa: Appropriate for highly qualified professionals who hold a university degree from an accredited institution and have a legally binding job offer from a German employer.
EU Blue Card: Designed for Highly Qualified Professionals with a Recognised Degree from an Accredited University, a Job Offer that Meets a Minimum Salary Threshold, and Proficient Language Skills.
Job Seeker Visa: This visa will allow you to remain in Germany for up to six months while you are looking for work. You need to have graduated from an accredited college or university and have enough money saved up to support yourself during your time away from home.
How to get a Work Visa to Germany?
Obtain a Job Offer:
In order to submit an application for a work visa, you are required to have a legally binding job offer from an employer in Germany.
Are you thinking about 'How to apply for jobs in Germany from India?"
You can Opt for a free counselling session with Global Tree Experts; they will guide you through the process.
Gather the Necessary Documents Before beginning, you will need to gather all the Germany work visa requirements. These will include a valid passport, a visa application form, a job contract or offer letter, proof of health insurance, and proof of qualifications.
Make an Appointment for Your Visa You will need to make an appointment in order to submit your visa application at the German embassy or consulate in India. You should be prepared to pay the application fee for the visa and possibly attend an interview.
To increase your chances of having your visa application approved:
Make sure that all of your documents are up to date, accurate, and that they contain all of the necessary information.
Be Honest: On your visa application, provide information that is accurate to the best of your knowledge in order to avoid any potential complications.
In preparation for the interview, you should become familiar with the types of questions that are typically asked and be ready to explain why you would like to work in Germany.
How to Settle in Germany from India?
Your ability to quickly and easily make a home for yourself in Germany is a critical component of your professional development. Consider these important steps as you move forward:
Finding a Place to Stay Utilise websites to get a head start on your search for a place to stay as soon as possible. While you are looking for a more permanent place to live, you may want to consider temporary housing options such as serviced apartments or Airbnb.
Registration with the Local Authorities You are required to register your address with the local Residents' Registration Office (Einwohnermeldeamt) within two weeks of arriving in the country. At the time of registration, you are going to be asked for your passport, visa, and rental agreement.
Opening a Bank Account You should open a bank account in Germany so that you can receive salary payments and better manage your finances. Expats are served by major financial institutions like Deutsche Bank, Commerzbank, and Sparkasse.
Understanding the Culture of the Workplace and Learning to Adapt to It It is essential to comprehend and learn how to adapt to the German culture of the workplace. When interacting with coworkers, promptness, productivity, and respect are three qualities that are held in very high regard. The acquisition of German language skills will further assist you in integrating into society.
Adapting to the Work Environment and Culture: To have a successful career in Germany, it is essential to adjust to the culture and atmosphere of the workplace there. The following are some additional pointers:
Keep in mind these Etiquettes before entering Germany
Punctuality means that you should always arrive on time for scheduled events like meetings and appointments. Being on time is a reflection of both respect and professionalism.
Efficiency: Place an emphasis on efficiency in your work, keep to the deadlines that have been set, and adhere to the procedures that have been established.
Formality: Many German workplaces feature a distinct hierarchy with designated titles for each position. Respect your coworkers and superiors by addressing them with the proper titles and using their last names until you are specifically instructed otherwise.
Maintaining a Healthy Work-Life Balance The German culture places a high value on maintaining a healthy work-life balance; As a result, Weekend or After-Hours Work Is Rarely Expected. Spend some of your free time getting acquainted with your new neighborhood and indulging in activities that you enjoy.
Language Skills Despite the fact that many German businesses conduct their operations in English, learning German will significantly improve your ability to communicate and integrate within the workplace as well as the community at large.
Conclusion
The move from India to Germany for the purpose of pursuing a career is an exciting endeavour. You can significantly improve your chances of finding work in Germany if you have a good understanding of the labour market there, if you thoroughly prepare yourself, and if you use effective strategies to look for work. In addition, successfully navigating the application process for a visa, settling into life in Germany, and acclimating to the culture of the workplace are essential steps towards establishing a successful career in this dynamic and innovative country. If you put in the effort and have the right information, you can make your dream of working in Germany a reality, which will open up a world of opportunities and allow you to develop personally.
FAQS
1. If I want to look for work in Germany, do I need to know German?
Although some international businesses based in Germany operate in English, having a working knowledge of German is extremely advantageous and can significantly improve your chances of finding a job. The ability to communicate fluently in German is frequently expected, particularly in professions that employ large numbers of native German speakers.
2. What steps do I need to take in order to have my qualifications from India recognised in Germany?
The recognition accorded to Indian credentials in Germany varies according to the line of work and level of education pursued. In most cases, you will be required to provide your credentials to the Central Office for Foreign Education (ZAB) and consult the Recognition in Germany portal in order to gain an understanding of how your qualifications compare to those of others. Specific recognition processes are necessary for regulated professions like engineering, medicine, and law, among others.
3. If I am in India, where should I look for job opportunities in Germany?
You can look for work opportunities in Germany through a variety of different channels, such as the Federal Employment Agency's website, LinkedIn, StepStone, and XING, which are all online job portals. In addition to making connections through professional associations, attending job fairs and other career events can be productive ways to locate employment opportunities.
4. In order to work in Germany as an Indian professional, what kind of work visa do I need to obtain?
The type of work visa you require is determined by the qualifications you hold as well as the job offer you have received. The General Employment Visa (also known as the GEV), the European Union Blue Card (EU Blue Card), and the Job Seeker Visa are all examples of common work visa options. Your level of education, annual salary, and the specifics of the job you hold will all play a role in determining the type of visa that is necessary for you.
In Germany, work-life balance is given a great deal of importance, and it is generally not expected of employees that they will put in long hours or work on weekends. The Germans place a high value on their free time and participate in a wide variety of recreational and cultural pursuits. The culture of work in this country places a strong emphasis on maintaining a healthy work-life balance for its employees.