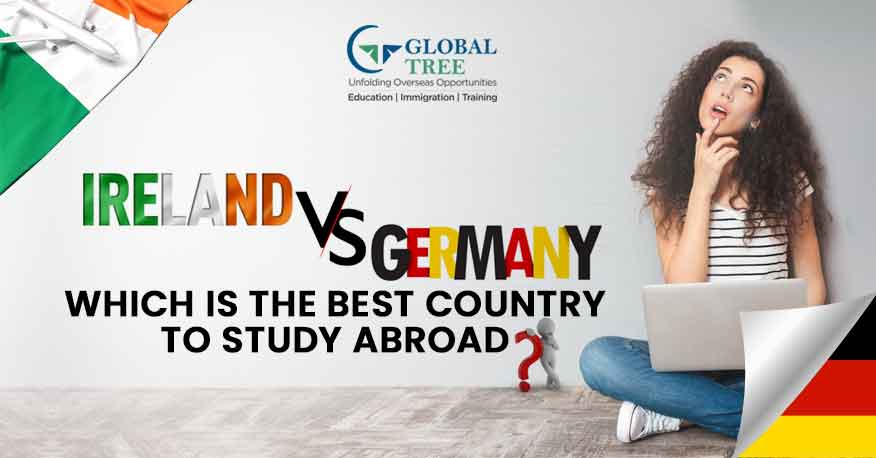 Ireland Vs Germany: Which is the Best Country to Study Abroad?
Studying in Europe is a dream that comes true for most students. When the real work starts, the biggest question is whether to study in Ireland or Study in Germany. Most of the students have this uncertainty of confusion in which needs to be chosen. We are here to clear the sky of confusion by comparing both the countries and parameters to choose the best country to study abroad.
Ireland Vs Germany: Top Universities
Top Universities in Germany with QS World University Ranking
1. Technical University of Munich - #50
2. Ludwig Maximilian University of Munich - #63
3. Ruprecht-Karls-University Heidelberg - #64
4. Humboldt University of Berlin - #117
5. Free University of Berlin - #130
Top Universities in Ireland with QS World University Ranking
1. Trinity College Dublin - #101
2. University College Dublin - #177
3. National University of Ireland Galway - #238
4. University College Cork - #238
5. Dublin City University - #439 Know
how to choose the right university in Germany
or Ireland with easy tips.
2. Ireland Vs Germany: Cost of Education
When it comes to comparison of cost to study in Ireland Vs cost to study in Germany, Germany is cheaper than Ireland. Even though the tuition fees in Ireland are free, the registration fee for Ireland universities is very high. Here are the approximate costs to study in Ireland and Germany.
Study in Germany:
Average Tuition Fees: Public Universities = INR 22,226- INR 88,907/ semester. Private Universities = INR 8, 89,070- INR 17, 78,140 / year. Average Duration: UG course = 3-4 years PG Course = 1.5 - 2 years
Study in Ireland:
Average Tuition Fees: INR 8, 75,733- INR 22, 22,675/year Average Duration: UG course = 3-4 years PG Course = 1 - 2 years
[Read More:7 Key Benefits Of Studying In Ireland]
3. Ireland Vs Germany: Cost of Living
The cost of living is an important factor for a student while studying in a foreign land. And in the complete Study in Germany process, cost of living is a key factor as most of the universities provide free education. Considering the registration fees, tuition fees, and other expenses Germany is cheaper than Ireland. Just like tuition fees,
Ireland is a little expensive than Germany
. Here is the approximate cost of living for Germany and Ireland. Germany = INR 75,570 - 88,907/ year Ireland = INR 5, 77,895 to INR 10, 66,884 / year.
4. Ireland Vs Germany: Popular Courses
Both the countries have top universities but the courses available for those universities matters. Germany has most of the popular courses for all the fields. Along with that, German universities focus on research-based education. Moreover, Study in Germany is known for its high standard of education.
Popular Courses in Germany:
BA Mathematics
IoT, Cloud Computing, AI
Mechanical engineering
BDS Dentistry and Medicine
BA LLB
BSc/MSc Computer Science
MA English Literature
BBA/MBA/MiM
MA History
BA Architecture
Economics and Finance
Popular courses in Ireland:
BA Data Science
Investment Banking
MA Architecture/BA Architecture
MA Pharmacy
Cloud Computing
Software development
MSBA Business Analytics
MA Finance
MBA Digital Marketing
Computer programming
Cyber Security
5. Ireland Vs Germany: Weather Conditions
Climatic conditions are also a parameter to consider before selecting the country to study abroad. On a short note, Ireland has moderate climatic conditions than Germany. Ireland is near to the Atlantic Ocean, most of the seasonal temperatures will be under control. And freezing nights are common in nights. This is one of the benefits of Studying in Ireland. Germany, Minimum 0oC -Maximum 24oC Ireland - Minimum 4oC -Maximum 20oC
[Read More: Best Strategies To Apply Germany Job Seeker Visa For Success]
6.Ireland Vs Germany: Post-Study Work Opportunities
Both Germany and Ireland are the most developing countries in Europe. And students who graduated from universities in these countries have great value in the job market. So it is tough to compare Germany and Ireland on this parameter. Here are the in-demand professions in Germany and Ireland.
Germany:
Telecommunications
Health sector
IT
Aviation sector
Business and management sector
Mechanical and electronics
Automobile sector
Ireland:
Software industries
IT
Finance and Marketing
Mining
Agriculture
Forestry and fishing
Pharmaceuticals
Trade
7. Ireland Vs Germany: Language
The language barrier is also a major concern when it comes to choosing the best study abroad destination. Germany has some universities which have teaching language as German. And some give options to choose English or German. But when comes to study in Ireland, English is used as the teaching language in universities. Based on all the factors, Germany is one better option to choose for Study Abroad. But at the same time, Ireland has its positive points to focus on. So choose based on your requirements. Reach out to our study abroad counselors for any guidance.