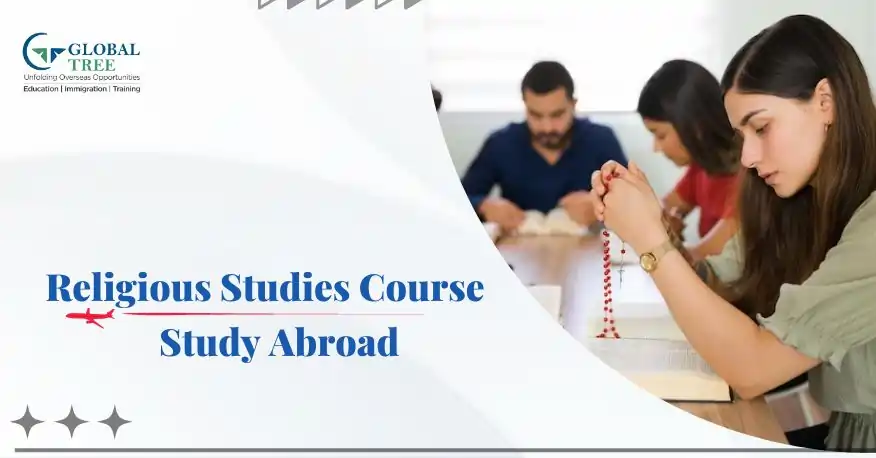 Introduction
Religious Studies is the in-depth study of how religion has influenced society and what customs, practises, and beliefs are associated with particular religions. People's lives are significantly influenced by religion, which also has a significant social and cultural impact.
Studying religion will not only improve your comprehension of how religion affects social and political interactions, but it will also develop your ability to think critically about the world. Choose the Best Religious studies Course & Colleges to Study Abroad.
This degree will instil in your abilities like critical thinking, logical reasoning, information deciphering, and presentation skills. Degrees in religious studies are renowned for their rig our and the large volumes of information that must be memorized. Additionally, this degree will help you gain an understanding of the intellectual, political, ethical, and cultural issues that faiths face.
Who is Eligible to Study Religious Studies Course Abroad?
This bachelor's degree abroad is a good fit for you if you frequently lose focus and ponder the beginning of the world, the presence of a divine creator, and the meaning of this cosmos.
For instance, if you are curious as to why Christians believe in the Holy Trinity, Sikhs visit the Golden Temple, or Muslims circumambulate the Holy Kaaba seven times, this degree will not only give you the information you require but will also assist you in developing an understanding of the role that religion plays in people's lives.
You need to be patient and have a good memory to succeed in this degree program. You must be mentally prepared to read through enormous textbooks and spend hours upon hours in the library. This can sound like a lot, but if you're passionate about it, this degree will greatly expand your options for employment.
How Much Does it Cost to Study Religious Studies Course Abroad?
Three degrees of religious studies programmes are available: a bachelor's degree that takes three to four years, a master's degree that takes two years, and a PhD that, with full-time study, takes about three to four years but may take as long as 6-7 years if done part-time.
When enrolling in a Religious Studies study, there are numerous research and specialised pathways available. Some of these disciplines include but are not limited to, literary and neurological approaches to religions, anthropology of religion, the geography of religion, history of religion, and the origins of religion.
A religious studies bachelor's degree will teach you about how religion and anthropology are related, what components of religion make us human, and how to discuss historical human experiences, or holism. In the US, the cost of a bachelor's degree is roughly $28,584 each academic year. The average cost of a master's degree, which is more in-depth than undergraduate programmes, is between $30,000 and $40,000. Finally, a PhD will equip you to use a range of qualitative methods to carry out independent studies on religious topics that catch your attention. Because of the extensive fieldwork and research requirements, the average PhD costs $38,600.
(Read more: top universities for cryptography course to study abroad)
What is the Future Scope of Religious Studies Course Abroad?
One of the main influences on politics and the economy in the modern world is religion. The demand for theologians, clergy, and social and community workers with formal education is high. Graduates of religious studies are better prepared to enrich their societies. These graduates excel in a variety of employment areas due to their open-mindedness and analytical approach.
Over the ensuing decades, it is anticipated that career prospects for theologians, clergy, and religious vocations will progressively increase. In actuality, there are 387,740 theologists working in the US right now!
Trending Career Options in Religious Studies Course Abroad
Find out what professions offer the most chances after earning a degree in religious studies.
Career as a Teacher
Your duties as a religious educator include teaching pupils about the 5Ws and 1H (who, what, when, where, why, and how) of religion as well as other core concepts. You must convey your message while respecting the student's viewpoint, which calls for patience and storytelling abilities. A religious instructor makes $43,450 on average yearly.
Career as a Missionary
A career like this requires your undivided attention because it is where you devote your entire life to spreading the faith by educating and informing people about religion. Due of the different platforms, you are invited to speak at, this position also frequently requires you to travel. A missionary's yearly salary is typically $44,566.
(Read more: know the benefits of study abroad)
Career as a Diplomacy at the UN
This is a really respectable opportunity for employment. This enables you to collaborate with both non-governmental organizations (NGOs) and faith-based organizations. The annual salary for this job is about $95,000.
Career as a Chaplain
This is the word used to describe individuals or representatives who provide religious services in settings like war zones, prisons, and hospitals for people who are unable to attend regular sermons. Chaplains make about $50,397 on average yearly.