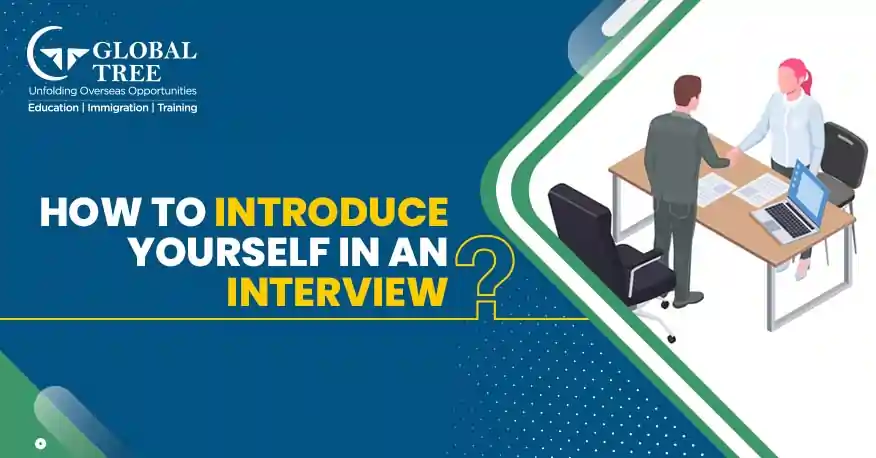 How to Introduce Yourself in an Interview?
The Very first question in any interview is "Tell me about yourself" and its significance is frequently overlooked. While asking the question" tell me about yourself," an interviewer's main goal is to quickly know about the candidate before moving on to questions concerning the job application and role.
First impressions matter and when you ace your introduction at the interview or respond to common HR interview questions before that, you will earn extra brownie points. Here are some useful tips to help you in making a good first impression in an interview.
3 Simple Tips to ace Self Introduction in Interview:
1. Dress Appropriately
First impressions are greatly influenced by appearance. In part, what you wear to an interview will reflect who you are to the people you'll be meeting. Use your clothing to express your personality when appropriate. Your clothing is an integral aspect of who you are. Try to avoid extravagant jewellery or busy prints because they may distract the interviewer's attention from your conversation.
Make sure you are comfortable in the clothes that you choose to wear when you leave the house. If you are not comfortable in your outfit, it will affect your confidence, which is one of the important tips to follow during a visa interview.
2. Start by Greeting the Interviewer
The welcome and introduction are crucial components of the evaluating process during an interview. In the initial exchanges of greetings, the interviewer can determine how confident you are. Start off by grinning broadly and shaking hands firmly with the interviewer. Keep your composure while speaking with confidence at all times. Maintain eye contact with them while nodding as needed. The introduction segment of the interview should begin with this.
Who you are?

The focus of this section of your self-introduction should be who you are as a person. You must therefore start by introducing yourself in detail and then briefly discuss your personality features. In this section of your response, don't be afraid to share your likes and dislikes because it gives your personality more depth.

Where are you from?

Include your birthplace, current address, and a little bit of information about your family history (be brief). The interviewer will have an opportunity to evaluate your cultural background from this. This aids interviewers in determining whether you'll blend in well with the corporate culture. Particularly while attending interview for Student visa, these details bring a big difference.

Mention your Education Qualification

Brief the interviewer on your educational background after introducing yourself and provide any essential information. You must provide comprehensive information about your academic background, even if you would have already discussed it on your resume. When discussing your accomplishments, be sincere about them and make sure not to seem arrogant when discussing your accomplishments.

Detail your Professional Experience (If Any)

It is important for all experienced candidates to include all the specifics of their prior work experiences, as well as everything they learnt and accomplished during that period. Tell us about the internships and workshops you have attended. When you introduce yourself, the interviewer pays particular attention to the specifics of your educational background and work experience. However, for fresher's, your school background and ECA (Educational Credential Assessment) are huge advantages.

Mention your Interests and Hobbies

Don't be scared to change the conversation's tone to one that is more informal. Be sure to highlight your interests, both personally and professionally, as well as your hobbies after outlining your experiences. Be careful to maintain the interview's formality and refrain from departing from it too much.
[Read More: All You Need to Know About USA F1 Visa Interview]
Be Ready for Any Follow-Up Questions
In an interview, be ready to answer any questions that are asked after you introduce yourself. To assess your morality and decency, these queries are done by specialists that have been hired. By responding to a series of inquiries regarding what you stated in the introduction, you can determine whether or not you were being truthful. So, when introducing yourself at the interview, try to be as genuine as you can, and be ready to respond to those questions.
Bonus: Things you Should Avoid in Self Introductions
Below is a list of things you should avoid saying in a self-interview:
A self-introduction typically includes material that is not in your resume, so you should be aware that you are not just referencing what is there.
Keep your personal details to yourself.
Don't come out as arrogant. Arrogance is often regarded as a negative indicator during job interviews.
Additionally, avoid asking the interviewer what they want to know because doing so could give the impression that you are unprepared.
Finally, keep in mind that the time allotted for your self-introduction during your personal interview round is restricted. This is one of the most important pieces of advice for a simple and concise self-introduction. Hope this helps you rock the interview and impress the interviewer. Reach our expert immigration counselors for more such tips.