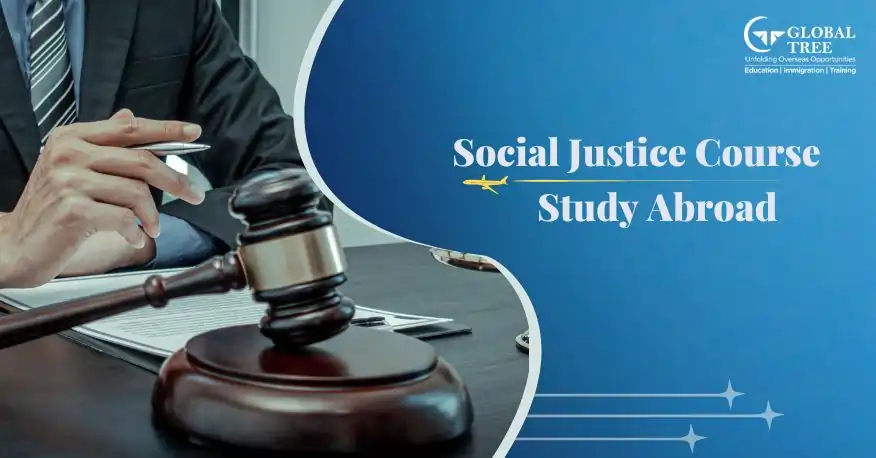 Introduction
An education in social justice focuses on how to address social injustices in human society. As they labor to combat issues like inequality, poverty, prejudice, and injustice, they gain knowledge of the political and ethical contexts of social work.
The study of social justice is available at the undergraduate, graduate, and doctorate levels. Students will interact with marginalized communities and fight for their rights during this degree, which will also introduce them to the idea of social welfare. Choose the Best Social Justice Course & Colleges to Study Abroad.
Who is Eligible to Study Social Justice Course Abroad?
An education in social justice will instill admirable traits like persistence, trust-building, open-mindedness, an appreciation for diversity, active listening, report writing, humor, communication skills, and, most importantly, empathy. Most of these abilities are applicable to the professional world and transportable.
Thus, this degree may be appropriate for students who want to improve themselves through promoting social innovation, reform, and advancement.
How much does it cost to study Social Justice Course Abroad?
A bachelor's degree is required for those who want to work in the field of social justice on a practical level. This degree, which has 4-year duration, lays the groundwork for community and social work. Social service systems, statistics for social workers, human behavior and social environment, theoretical principles of social justice, diversity and persecution in a social work setting, and social movements are among the general core courses given in this degree. Depending on the university you choose, this degree typically costs between $28,000 and $35,350 a year in the US.
Students who want to engage critically in theory and research on social justice issues may pursue a master's degree abroad in it. This program has a two-year duration and requires you to choose your area of specialization. Some of the required and elective courses for this degree include critical race studies, child welfare, rights of minorities and immigrants, sociology of gender, sexuality, and race, sociology of gender, sexuality, and race, and contemporary challenges in social justice. A unique research-based thesis will be required to get the degree. For overseas students, earning this degree at University College London in the UK will cost between $32,000 and $34,000.
The independent research on a specific area of interest to the student, followed by a dissertation, forms the foundation of the Ph.D. level in social justice. This program typically lasts three to five years. Through interdisciplinary collaboration, the diverse community of academics brings together faculty and students to strategically bring about democratic and just social change. The interdisciplinary Ph.D. program in social justice equips future researchers and activists to tackle complicated social issues and take on leadership roles in the future. Data analysis for social justice research, justice research methodology, and theoretical perspectives on social justice and criminal justice are some of the main courses that are typically offered. Depending on the university you pick, a Ph.D. degree in this field typically costs between $40,000 and $120,000 a year in the US.
(Read more: top universities to study abroad for Indian students)
What is the Future Scope of Social Justice Course Abroad?
The U.S. Bureau of Labour Statistics projects that employment in the community and social service occupations would increase by 12 per cent between 2020 and 2030, creating roughly 346,900 jobs, which is faster than the average for all occupations. This rise will be brought on by a surge in the need for social workers in healthcare facilities, households, and schools. As more people seek treatment for mental illness, drug misuse, and domestic violence, along with an ageing population that needs care, it is predicted that the need for social workers will increase.
Trending Career Options in Social Justice Course Abroad
After you successfully complete your Social Justice course, check out your job alternatives!
Career as a Journalist
Research, interviews, reporting, and writing are among a journalist's primary duties in order to inform the public about current events. Social justice-focused journalists relate the experiences of marginalized groups, call attention to injustices, and push for societal authorities to take responsibility for their actions. In the US, their yearly average pay is $48,370.
(Read more: best scholarships for Indians to study abroad)
Career as a Community Organizer
By developing programs, helping with financial distribution, and bringing the community together, community developers work with underprivileged communities. Assessing community needs, looking at regional trends, collaborating with shareholders, comprehending legal requirements, and creating plans are only a few of the responsibilities. Their yearly average pay in the US is $61,835.
Career as an Analyst
When it comes to social, economic, foreign, and other political issues, policy analysts conduct studies on regional and national trends. They are able to change political events, public policy, and public consciousness through their research. In order to assist in the establishment of new policies and the execution of new initiatives for the benefit of the community, they also assess current policies and create draught reviews based on their research. In the US, their yearly average pay is $83,380.
Career as a Social Worker
The objective of a social worker's work with individuals and families is to improve their quality of life by educating them on how to deal with abuse, unemployment, mental illness, abuse, addiction, and trauma. They make $50,400 a year on average in the US.