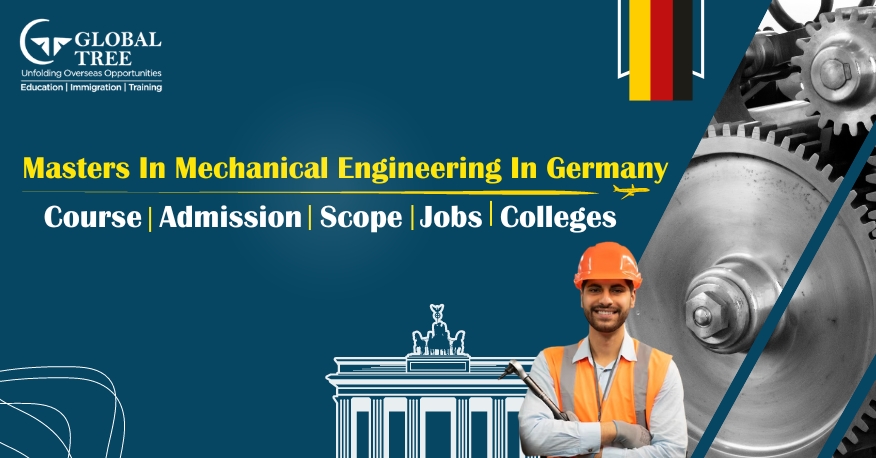 Find Top University in Germany for Study Abroad Program
Planning for masters in Mechanical Engineering? Germany is the most preferred option for study abroad students because of its industrial infra structure and collaboration with industries for research. The cars we see on the road everyday such as Ford, BMW, Mercedes Benz, Audi, Porsche, and Volkswagen are all manufactured in Germany. Mechanical engineering is one of the branches of Engineering evolved during industrial revolution and continues its winning spree becoming the most sought-after field with intervention of latest technology. Mechanical engineers should be thorough with CAD (computer aided design) and product life cycle and management dealing with design, production and operating of engineering.
Masters program in Mechanical Engineering aims at preparing the students into practicing professionals. If you are planning to study abroad masters in mechanical engineering, Germany is the best country to choose to elevate your career. Find below the advantages of your Overseas Education in Germany for Mechanical Engineering Masters.
The Education in Germany is public funded and hence cheaper.
Assistantship or Research Assistant part times can be availed according to academic performance which covers a part of the living costs.
The candidate will have entrance to world-class expertise, faculties, Labs
Ample of exposure on research and an opportunity to take part in it.
Permits the students to have broader exposure to best universities of the world
Helps the candidate acquaint with diverse set of people which in turn helps to understand the variety of needs of the instrument and machinery which triggers the invention to fulfill the needs.
The candidate will have exposure on real time projects, learning the problem solving.
TOEFL is mandatory for admission in Universities in Germany but not GRE Exam.
Employment prospects after the successful completion of education overseas is generally easy and worth it.
Germany is country with mountain ranges lakes, Alps and everything that brings a festive to the eye and joy to the soul, one can't afford to miss.
The medium of instruction is English in Masters Programs in Universities in Germany which is soothing to the ear and one don't have to learn German for the education but to live in Germany to be acquainted with little necessary phrases for communication will help.
Knowing a bit of German help students take part time jobs easily which help them cover the expenses to a certain extent.
Top Universities offering Mechanical Engineering in Germany
The Technical University of Munich is ranked as one of the top universities in Europe and best among the universities of the world. It is committed to research and teaching, promoting young scientists into the promising world creating opportunities in and out. Masters programs are specialized as following
Automotive
Energy
Process Technology
Aerospace
Materials
Mechatronics
Medical Technology
Production
Logistics
[Read More: Best Tips to Select Right Univerisity in Germany]
RWTH Aachen University is ranked among the best universities for the students to study abroad. The University is committed to innovative excellence, partnering with world's research best industries, spreads its wings beyond borders to Belgium and Netherlands apart from Germany. RWTH is leading ahead in external funding. The following are the specializations available in RWTH Aachen University.
Automotive Engineering
Management and Engineering in Computer
Aided Mechanical Engineering
Management and Engineering in design concepts and structural Engineering of Industrial facilities
Technical University of Berlin has the essential characteristics of research and teaching leading to a broad spectrum of features. Ranked as 48th among the European Universities it offers many courses in UG and PG for local and international students who choose to study abroad. The following programs are available for Masters in TU.
Aerospace engineering
Global production Engineering in Manufacturing
Global production Engineering in Solar Technology
Space Engineering
[Read More: Best Scholarships to Study in Germany]
Karlsruhe Institute of Technology (KIT) is largest research and Education University for study abroad which is public funded and was established as National Nuclear Research Center in 1956. The research is a real time practical where, the student has a complete exposure to theory under practice. The following Masters programs are available here.
Euro photonics
Optics and photonics
There are other Universities ranking high and offering Masters in Mechanical Engineering in Germany. Students ought to Study abroad in Germany as it is the manufacturing hub with World-Class labs and Expertise, which boosts up the career and impacts life time. To know more about the admission process and visa approach Global Tree Overseas Education and Immigration Consultants for best guidance, expert advice and counsel through certified immigration and overseas education experts. Call us now for free consultation.