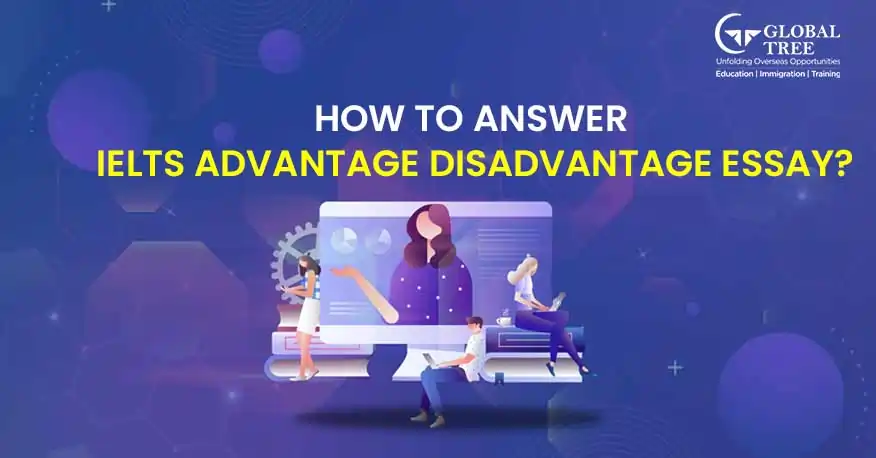 Introduction
The advantages and disadvantages IELTS essay is also known as argumentative essay and the discursive essay are the two types of essays that are included in the IELTS writing module. The discursive category is where you'll find the essay about advantages and disadvantages. On the IELTS exam, this form of essay is one of the most frequently asked for overall. In this particular essay, the candidate will be expected to evaluate and describe both the positive and negative aspects of a specific matter or subject.
In this blog post, we will offer you with a comprehensive guide to the advantage and disadvantage essay that is part of the IELTS. In this lesson, we will go over a variety of parts of the essay, such as comprehending the question, analysing essay structures, making an outline, and writing the essay.
5 Best Tips to Answer Advantages and Disadvantages IELTS Essay
Check out these top Tips to Answer the Advantages and Disadvantages of the IELTS Essay
1. Having an Awareness of the Concern in IELTS Essay
It is essential to have a solid grasp of the issue at hand before beginning work on the essay. The IELTS advantage/disadvantage essay is a type of IELTS Academic writing task 2 that often adheres to a predetermined format, in which the student is required to explore both the positive and bad elements of a specific topic. Nevertheless, the question could be different depending on the subject matter as well as the kind of positives and negatives that need to be debated.
1.1 Example Advantage/Disadvantage Questions
1. What are some of the benefits and drawbacks of going to school in another country?
2. Discuss both the positive and negative aspects of incorporating technology into educational settings.
3. When it comes to young people, what are the advantages and disadvantages of using social media?
4. Conduct a comparative analysis of the benefits and drawbacks of living in a large city.
5. Can you please explain the benefits and drawbacks of doing your shopping online?
2. Essay Structures for Advantage/Disadvantage IELTS Essays
When writing an essay about the advantages and disadvantages of something, you have the option of using either of two distinct essay structures. The first format is a discussion of both the benefits and the drawbacks, which should each be presented in their own paragraph. The second format is one in which you describe both the benefits and the drawbacks of the topic within the same paragraph.
2.1 Essay Organisational Structure 1
In the introduction, introduce the topic and provide some background information.
Advantages
- Talk about the good elements of the problem. - Give some instances and details to back up your claims.
Disadvantages
- Explain the problematic facets of the matter - Give some illustrations and additional information to back up your claims
In conclusion, briefly discuss the positive and negative aspects of the argument, and then restate the thesis statement.
(Read More: Things to be aware of while preparing IELTS exam)
2.2 The Second Structure of an Essay
In the introduction, introduce the topic and provide some background information.
Advantages and Disadvantages
- Within the same paragraph, discuss both the positive and bad elements of the topic at hand. - Give specific examples and details to back up your claims.
In conclusion, briefly discuss the positive and negative aspects of the argument, and then restate the thesis statement.
3. Planning Your Advantage/Disadvantage Essay
It is imperative that you plan out your essay before you begin writing it in order to achieve the goal of creating a well-structured essay. This will assist you in organizing your ideas and thoughts and ensuring that you cover all of the essential themes in the discussion.
3.1 Determine the Important Words and Phrases
Carefully read the question, then underline or highlight any words or phrases that stand out as particularly pertinent to the discussion. This will assist you in maintaining attention and preventing you from veering off the subject.
3.2 Put Your Thoughts in Order
Make an outline of your essay, separating your thoughts into the various sections that you've created. This will assist you in preserving a flow of thoughts that is logical and will ensure that your essay is simple to read and easy to comprehend.
3.3 Identify Vocabulary
Determine the most important words and phrases associated with the subject, then check that you have used them appropriately in your essay. You will be able to demonstrate your command of the language and make an excellent impression on the examiner by doing so.
4. Writing Your Advantage/Disadvantage Essay
After you have completed the preliminary stages of planning your essay, it is time to begin writing. An introduction, many paragraphs that make up the body of the essay, and a conclusion make up the typical essay structure, which is followed by the advantage/disadvantage essay.
4.1 General Discussions
The introduction should consist of a thesis statement that summarises the key ideas of your essay as well as some background information about the issue.
4.2 Paragraphs That Make Up the Main Body
In the body paragraphs, you ought to talk about both the positives and negatives of the subject matter. Use examples and supporting details to illustrate your views. It is crucial to keep a balance between discussing the benefits and the drawbacks, making sure that you do not favor one side over the other. Ensure that you do not favor one side over the other.
4.3 The Final Words
Both the primary ideas discussed in the body of your essay and the thesis statement should be restated in the conclusion. You are also welcome to share your thoughts and opinions on the matter, as well as offer a concluding proposal or suggestion.
5. Samples for Advantage/Disadvantage IELTS Essay and the answer
Let's have a look at an example of an advantage/disadvantage essay on the subject of "The impact of social media on young people." This will help to further illustrate the aspects and also help you in enhancing IELTS Writing Task 2 Essay.
Advantage/Disadvantage Sample Essays
Sample 1#
Introduction
The use of social media has rapidly become pervasive in today's culture, and the implications of this shift for today's youth have been the subject of much discussion. There are those who believe that young people benefit from using social media, yet there are others who believe that it is harmful to their development. This article will analyse the benefits as well as the drawbacks that young people experience when using social media.
Advantages
Young people are able to connect with their peers and establish new acquaintances thanks to the social media, which is one of the most significant benefits of these platforms. Young people have a forum in which to share their experiences and make connections with other people who share their interests, thanks to the availability of social media platforms such as Facebook, Instagram, and Snapchat. In addition, due to the abundance of educational resources available online, social media platforms can be a very useful tool for one's educational pursuits. Teenagers have access to a variety of learning resources, including articles, blogs, and videos, which can assist them in expanding their knowledge and improving their abilities.
Disadvantages
For young people, the use of social media comes with a number of serious risks in addition to its many benefits. The risk of developing an addiction and losing productivity is one of the most significant drawbacks associated with it. The platforms of social media are designed to keep users engaged and have the potential to be addicting. This can result in decreased levels of productivity and poor academic achievement. In addition, young individuals using social media may be subjected to cyber bullying and other forms of online harassment, as well as improper content. These unfavourable events can have an effect on their mental health and well-being that is both short-term and long-term.
(Read More: A List of Idioms with Examples)
Conclusion
To summarise, the use of social media by younger generations is associated with both positive and negative outcomes. In spite of the fact that it facilitates social connection and education, it also has the potential to result in addiction, cyberbullying, and improper content exposure. As a result, it is absolutely necessary to make use of social media in a responsible manner and in moderation.
Sample 2#
Introduction
The widespread adoption of mobile phones has brought about a sea change in the modes of communication and social interaction that we engage in. Although there are a great number of benefits associated with mobile phones, there are also a number of significant drawbacks. The benefits and drawbacks of using mobile phones will be discussed in depth throughout this paper.
Advantages
Mobile phones enable us to maintain relationships with our loved ones and friends, which is one of the most significant benefits offered by these devices. We are able to communicate with individuals all around the world by making phone calls, sending text messages, and sharing photographs and videos thanks to mobile phones. In addition, mobile phones are a fantastic tool for emergencies because they provide access to emergency services in the event of a medical emergency or an accident. In addition, cell phones have made banking and other financial activities simpler, and a growing number of financial institutions now provide mobile banking services.
(Read More: How to score an 8 band on IELTS?)
Disadvantages
Mobile phones, despite the many benefits they offer, are also associated with a number of severe downsides. One of the most significant drawbacks is the fact that they have the potential to become a distraction and reduce our level of productivity. Mobile phones, with their persistent notifications and message alerts, have the potential to divert our attention away from vital work and to lower our levels of productivity. In addition, excessive use of mobile phones is linked to the development of addiction and might have an impact on mental health. The blue light that is released by mobile phones has the potential to interrupt our natural sleep patterns, which can then lead to diseases related to sleep, such as insomnia.
Conclusion
In conclusion, mobile phones are not without their share of benefits as well as drawbacks. In spite of the fact that they make it easier for us to keep in touch with the people we care about and give us access to emergency services, they also have the potential to disrupt our concentration and reduce the amount of work we get done. As a result, it is vital to make responsible use of mobile phones and to limit the amount of time spent on them in order to minimize the adverse effects that they can have on our mental and physical health.
We hope that the above article has given you detailed information about IELTS advantages/disadvantages essay. As mentioned above, plan and structure the essay. Use vocabulary, figures of speech to make your essay more attractive. For an expert guidance on IELTS exam, attend the IELTS training classes. The tutors will guide you through out the exam preparation and help you ace the test.