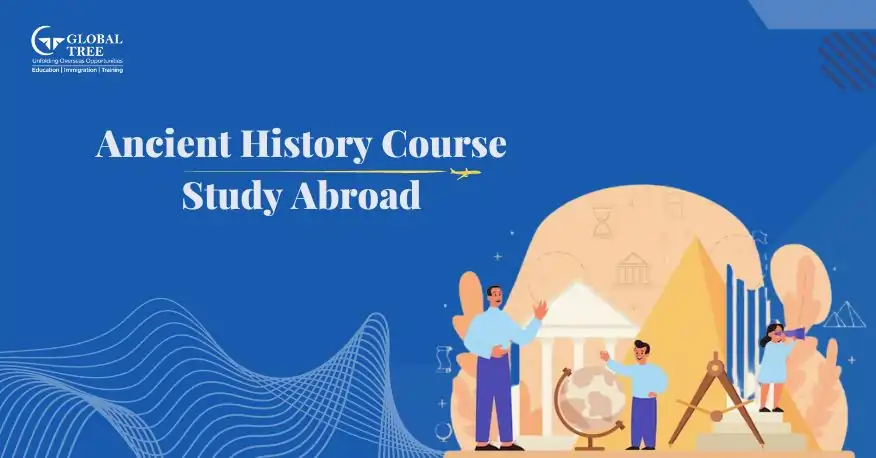 Introduction
The study of ancient history includes the civilizations of the Greeks, Egyptians, Mesopotamians, and Romans. In order to understand the events that led to the development, rule, extent, and demise of these empires, students studying ancient history must first understand their chronological chronology. Their socioeconomic situation, governmental structure, and culture are all explored as well.
The study of ancient history is available at the high school, undergraduate, graduate, and doctoral levels. Biochemistry, anatomy associated to anaesthesia, pharmacology, haematology, physiology related to anaesthesia, physics related to anaesthesia, and pathology are typical course modules that students might anticipate taking.
Who is eligible to study Ancient History Course Abroad?
Ancient history can be a suitable fit for you if you're a student with strong analytical and research abilities who can memorise knowledge and collaborate well with others. Students that have a keen interest in the past and want to learn more about it are encouraged to study it. Additionally, this subject is a good fit for those who enjoy learning new skills, such as enhancing their critical thinking or learning a new language. Choose the Best Ancient History Course & Colleges to Study Abroad.
How much does it cost to study Ancient History Course Abroad?
At numerous academic levels, as was already indicated, students can study ancient history. After graduating from high school, you can pursue a Bachelor of Arts in Ancient History degree. This programme lasts for three to four years and begins with foundational courses like "Introduction to History and world civilizations" and "The History of Dynasties and Classical Mythologies." Courses on the rise to power of the Ancient Egyptian, Roman, and Greek empires may be offered at higher levels.
The coursework also covers comparative historiography and the history of colonialism. For a bachelor's degree in history, local students typically pay $4,300 to $5,600 in tuition each year, whereas overseas students pay $21,000 to $25,000 on average.
Students can follow this subject at the master's level after receiving their bachelor's degree; the length of this degree will vary based on the university you attend. The program often entails taking seminars and lectures regarding your preferred specialty in addition to a credit-based system. However, the course material frequently includes Latin and Mediterranean history, Roman architecture and topography, Islamic legal theories, and Greek and Roman history. In the US and the UK, master's degrees abroad cost between $20,000 and $27,000 annually.
Additionally, students have the option of pursuing a doctorate (Ph.D.), which is a full-time, three-year program focused on research and a dissertation. Students conduct research in all areas of classical studies, including visual culture, philosophy, and reception as well as Greek and Latin literature, ancient history, and historiography. For international students, the cost of a Ph.D. in the US is approximately $25,000–30,000.
What is the Future Scope of Ancient History Course Abroad?
The US Bureau of Labour Statistics projects that there will be an increase in employment for historians and anthropologists/archaeologists of 5% and 7%, respectively, with an expected total of 1,100 new job openings each year, making this topic worthwhile of further study. There are several job options for historians in historical societies, consulting firms, museums, and the antique industry. A degree in ancient history can help you find intriguing professional paths with lots of room for advancement both vertically and horizontally.
(Read more: What are the Options after Majoring in History?)
Trending Career Options in Ancient History Course Abroad
Employ your knowledge or transferrable abilities to pursue a variety of job opportunities in the Ancient History Museum Curator and Archivist fields.
The historical artifact collections housed in various institutions are often overseen by archivists and curators. They also supervise the process of inventorying the objects and restoration. They make $50,120 on average per year in the US.
Career as a Historian  
Professional historians gather data from documents and artifacts, connect historical occurrences, offer preservation advice, and write books or reports on certain subjects. They even travel a lot and frequently specialize on particular eras and regions. In the US, their yearly average pay is predicted to be $74,158.
Career as an Archaeologist  
A historical site's discovery, excavation, and upkeep are all assisted by an archaeologist. They dig up items, human bones, and buildings, then analyse them to establish what era they come from. Their yearly average pay in the US is $63,223.
Career as a Professor of History
Universities employ history professors to guide undergraduate and graduate students through their academic careers. University professors conduct their own research, unlike history teachers who teach in high schools. They make about $76,135 a year on average in the US.
(Read more: best study abroad programs for better future career)
Career as a Historical Manager
Museums, landscapes, monuments, and historical sites are all managed and conserved by heritage managers. They guarantee that the locations are open to the general public and tourists. They oversee and train the employees who work for them in addition to managing the institutions' budgets. To promote the areas of expertise of their institutions, they can also be asked to raise funds and finance outreach initiatives. Their yearly average pay in the US is $68,371.
Career as an Anthropologist  
They research how societies and cultures have changed over the course of history. Every civilization that is researched has an environmental, socioeconomic, political, and linguistic component that you would need to concentrate on as a history student. Their yearly average pay is $66,130.