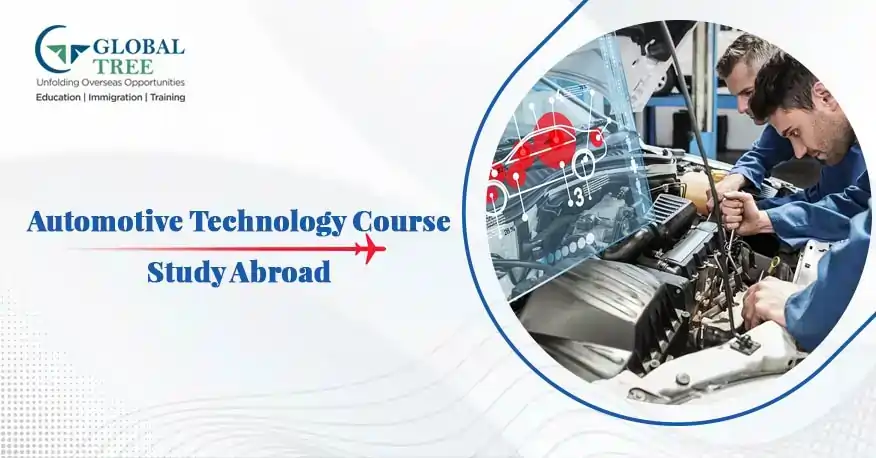 Introduction
Automotive technology is the study of devices or vehicles that can move on their own. That holds true for a variety of vehicles, including ordinary cars, sports cars, tractor-trailers, and boats. Students in this discipline will learn how to build engines, use fuel and ignition, brakes, power trains, electronic equipment, and diagnostic tools, among other things.
Studying automotive technology focuses on the technology and mechanics that power today's automobiles. Choose the Best Automotive Technology Course & Colleges to Study Abroad. You will discover what it takes to maintain automobiles on the road and operate smoothly, from the fundamentals to advanced diagnostics. And when you're finished, you'll have the cutting-edge skill set you need to earn a career in automotive technology, which is in great demand.
Advances in radar technology, computer systems that can be operated electronically, and alternative fuel sources have transformed what mechanics see when they raise the hood today. In reality, during the past few decades, cars have undergone such significant change that the position of the mechanic has been replaced by that of the technician. Automotive technology can help with that.
Who is eligible to study Automotive Technology Engineering Course Abroad?
Consider getting a degree in automotive technology if you enjoy solving problems, have a passion for cars, and want to help develop the technological capabilities and efficiency of vehicles.
With the development of more complex machines thanks to technical advancements and inventions, the field of automotive technology is getting more and more broad. Automotive technology plays a crucial role in every aspect of our everyday lives, from how consumer goods are transported to how people commute to work; from the equipment that enables public transport to the highly specialized industrial vehicles.
(Read more: list of top technology courses to study abroad)
Prior to enrolling in an automotive technology program, you are not required to have any special training or education. The certified training you received includes all the information you need to become a mechanic. Numerous associate and bachelor's degree courses provide students with practical training at nearby partnering auto dealerships. When learning on the job, students can practice the skills they learned in the classroom, get advice from specialists, and learn more about the jobs of auto mechanics and salespeople.
How much does it cost to study Automotive Technology Engineering Course Abroad?
Students interested in pursuing a career in automotive technology can select from a variety of certificate, diploma, associate, and bachelor's degree programs.
A certificate or diploma can be pursued by students who want a formal introduction to the fundamentals of automotive technology. There are differences in the length of certificate curricula between Automotive Technology schools. In rare instances, full-time students can complete a certificate in 1-2 semesters. Other programs, particularly for part-time students, can go up to 24 months. The course offers a fundamental understanding of how automotive electrical systems work. The tuition and fees for certificate studies in automotive technology range from $6,000 to $10,000.
Associate degrees in automotive technology educate students for technical, mechanical, and managerial positions in the sector. The typical length of these programs is two years. Intermediate algebra, an introduction to electrical systems, and powertrains are typical associate program courses. The average cost of an associate's degree program in automotive technology is between $10,000 and $20,000.
The study of automotive technology at the bachelor's degree level is more in-depth than at the associate's and certificate levels. These four-year degrees often combine classroom instruction with practical experience and may include courses in project management, automotive customer relations, and vehicle safety and security systems. Depending on the institute, the total cost of this program ranges from $28,000 to $48,000.
(Read more: List of highest paying jobs abroad for Indians)
What is the Future Scope of Automotive Technology Engineering Course Abroad?
In general, there are many of employment openings and possibilities for you to learn and advance your career in the automotive technology sector. The electronic and mechanical systems of vehicles, such as those found on motorcycles, cars, trucks, aviation, industrial, and marine vehicles, are the subject of careers in automotive technology.
The U.S. Bureau of Labour Statistics (BLS) estimates that there were around 756 600 employment for automobile repair technicians and mechanics in 2019. The majority of these specialists worked in vehicle dealerships and maintenance and repair facilities. Others held positions in local government, auto parts shops, and petrol stations.
According to the BLS, demand for automotive service technicians and mechanics is anticipated to increase roughly as quickly as the average for all occupations throughout the 2019–2029 decade. With more automobiles on the road, there will be a greater need for technicians. The number of people who are of driving age and the number of vehicles per family will both boost the demand for technicians to perform services like brake pad replacement and oil changes.
Additionally, because automobiles are lasting longer, more repairs and maintenance will be required. This clearly shows that there is a growing demand for professionals in this area.
Trending Career Options in Automotive Technology Engineering Course Abroad
Students who want to pursue a career in automotive technology have a variety of employment possibilities to select from.
Career as a Technician for Automobiles
Technicians that work on cars examine, maintain, and fix them. These knowledgeable people are capable of mending a car's gearbox, tires, brakes, and air conditioner. Any issue impacting a customer's car can be resolved by a qualified mechanic. According to the Occupational Outlook Handbook published by the U.S. Bureau of Labour Statistics (BLS), the median annual pay for this position is $41,000.
Career as a Repair of Auto Glass and Body
You'll develop expertise in replacing, refinishing, and restoring car bodies, frames, windscreens, and window glass in this specialized field. Sometimes mechanics will outsource specialized tasks since their dealership or shop does not provide body or glass repair services. According to the BLS, automotive body and glass repairers make an average salary of $45,000 per year.
Career as a Management and Sales of Automobiles
A profession in sales is thrilling and certain to get your heart rate up, whether you're selling vehicles at a well-known dealership or parts at a retail store. The BLS estimates that the median annual wage for parts salespeople is $31,000.
Career as a Technicians that Works on Mobile Equipment and Heavy Vehicles
Equipment utilized by farmers, construction workers, and specialists in the transportation sector is closely tended to by heavy vehicle and mobile equipment service personnel. Bus, train, and other vehicle repairs are their area of expertise. The BLS estimates that the median annual pay for heavy vehicle and mobile equipment service technicians is $50,000.