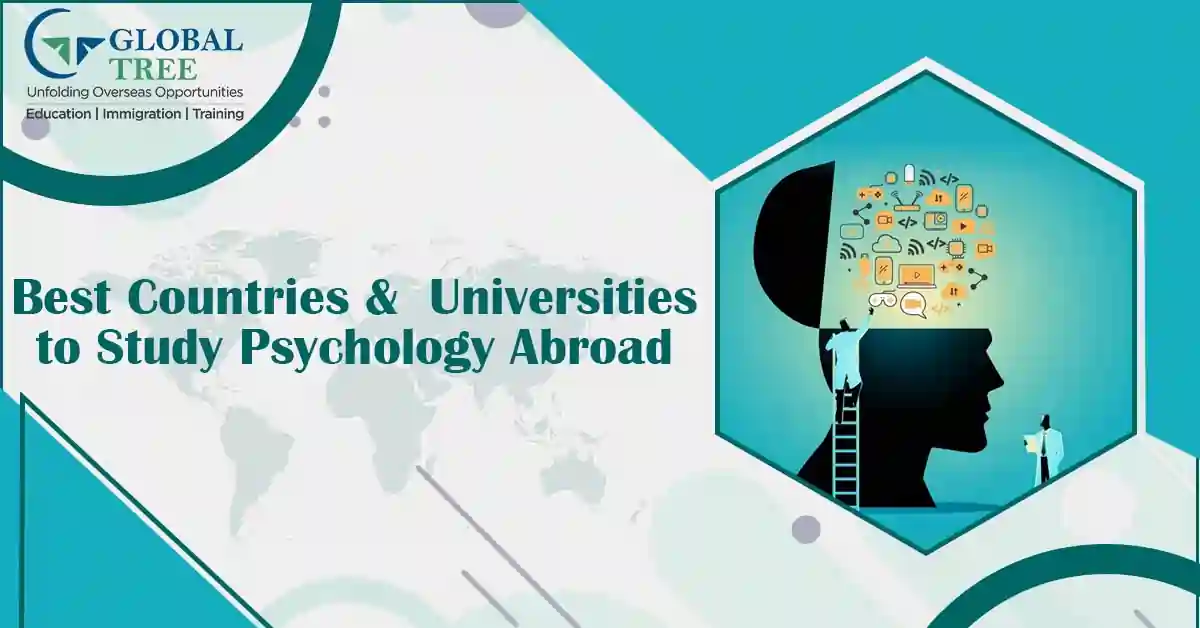 Study Psychology Abroad
The new workplace has seen an increased demand for psychology-related professionals. Psychology mainly deals with the scientific study and understanding of an individual's mind and subsequent behavior. When a student picks up psychology as their major then they learn about how different parts of the brain function, behavioral patterns, mental processes, and how to deal with all of them. One could say that psychology is a mix of medical and social sciences.

Millennials and Gen Z have raised a lot of issues and concerns regarding mental well-being. Psychologists and therapists play an important role in the uplifting of mental health. There is a lot of scope in the field of psychology as there are more people coming out of their shells and actively seeking help for their trauma. This field of study has quite a few top universities that provide world-class psychology education, but it is important to choose the one that fits your needs the most.
Branches of Psychology
Before a student chooses a top university for studying psychology abroad, let us take a look at the branches of Psychology. Getting a deeper knowledge of the branches of the particular subject will help you tweak your interest and career path.
Clinical Psychology:
This branch deals with moods and personality disorders from childhood to adulthood. It studies the different areas of the brain and focuses on the hippocampi particularly as this section is directly related to a person's learning and memory. They also study how there are different reactions to similar stimulants based on the sex of a person and life span. This branch also addresses human behavior adaptation to life-threatening disorders.
Cognitive Psychology:
If a student is more inclined towards experimentation and making model-based analysis for decision-making, perception, memory, and language then they should dig deeper into cognitive psychology. It deals with understanding how our mind processes memories and holds us tethered to the material world. It would be great for students who have a thirst for understanding how we all perceive the same things and experiences differently.
[Read more: Study Cognitive Sciences Abroad & Service to the Society!]
Behavioral Neuroscience:
It studies all the major and minor factors that influence the plasticity of a person's behavior and the brain. It also focuses on studying the neurobiology of cognitive control while also considering factors such as the sex of the person and life span.
Developmental Psychology:
This particular branch in psychology, as the name suggests, deals with developmental changes in the brain. It factors in genetics, thinking skills, and language and assesses the person's capacity to critically think and analyze. It also finds patterns in how children grow and become aware and understanding of their own situation and their surroundings. Students can also deal with topics such as morality and philosophy in this area of psychology.
Social Psychology:
Social psychology is one such branch of psychology where it does not focus on one individual; rather it focuses on a whole group of people. It studies groups, communities, countries, etc. It studies the influences on the group's behavior, perception, and judgment. It also tries to understand what motivates people as a group, the emotions felt together, decisions made for the greater good, etc.
Top Universities to Study Psychology Aboard
Psychology has become a big field with pressing research questions and innovative breakthroughs. Every student wants a seat in the most promising universities across the globe. Given below is a list of the top universities for psychology majors. The list contains eight first-world countries to study psychology abroad which can provide a host of new opportunities and thought-provoking peers to learn and work alongside.
S.No.
Name of the University
Location
Cost (Approximate)
1
Harvard University
USA
INR 18.56 to 44.56 lakhs*
2
Stanford University
USA
3
University of California, Berkely
USA
4
UCLA
USA
5
Yale University
USA
6
University of Cambridge
UK
INR 20-50 lakhs*
7
University of Oxford
UK
8
University College London
UK
9
The College at Brockport
Austria
INR 84,000 to 50 lakhs*
10
University of Vienna
Austria
11
Sigmund Freud University
Austria
12
Ecole Normale supérieure, Paris
France
INR 264,646 to 35 lakhs*
13
University of Kent
France
14
Université Grenoble Alpes
France
15
University of Amsterdam
Netherlands
INR 480,892 to 16,02,975*
16
Erasmus University
Netherlands
17
Leiden University
Netherlands
18
Australian Institute of Psychology
Australia
INR 17.20 to 27.11 lakhs*
19
Macquarie University
Australia
20
University of Melbourne
Australia
21
University of Toronto
Canada
INR 9.5 to 28.3 lakhs*
22
University of British Columbia
Canada
23
McGill University
Canada
24
University of Freiburg
Germany
INR 56,122 to 641,403 lakhs*
25
University of Wuerzburg
Germany
26
Ludwig Maximilian University of Munich
Germany
If you are planning to study abroad, you should definitely consider USA as the best country to study psychology. The USA is one of the most sought-after countries to study psychology abroad. They have recognized the importance of mental health and promote mental wellness for people living there. The scope to grow as a psychologist or a therapist is quite high in the USA.
[Read more: Top Mistakes to Avoid When You Study In USA]
Students who are lucky and competent enough to graduate from these universities are sure to get a head start in their careers. They will already have exposure to bright and inquisitive minds and be equipped with hands-on learning in a real workspace. The faculty will rain them to be open to all sorts of situations and possibilities that can arise in the workspace. The graduates from these top-ranking universities are bound to be a class apart.
If any student wants to get more information about which country to pick for psychology or if they want help streamlining their career in psychology, reach out to our overseas education experts. They have vast experience with regard to educational and career counseling. Students will easily be able to focus on their goals without getting distracted by short-term plans.