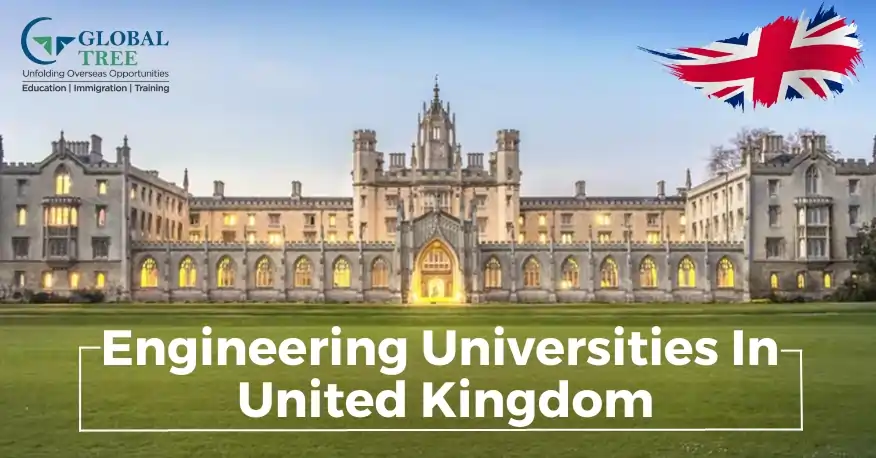 Introduction
Are you Choosing between the best colleges for engineering in UK? Before that let us understand its significance. An engineer is a technical expert. He or she is in charge of supervising the design, manufacturing, and construction processes, as well as other technical personnel. The engineer's job is to investigate, create, and develop equipment, gadgets, and other machine, building, or software components.
11 Top Ranking Universities to Study Engineering & its Cost in UK
Below are 11 best university for engineering UK:
| Sr.No. | Name of the University | Tuition Fees (GBP)approximately | Tuition Fees (INR)approximately |
| --- | --- | --- | --- |
| 1. | University of Cambridge | 32,200 | 33.57 Lakhs |
| 2. | University of Oxford | 30,300 | 31.80 Lakhs |
| 3. | Imperial College London | 35,700 | 37.46 Lakhs |
| 4. | University College London | 32,100 | 33.69 Lakhs |
| 5. | University of Manchester | 26,000 | 27.29 Lakhs |
| 6. | University of Edinburgh | 30,400 | 31.91 Lakhs |
| 7. | University of Southampton | 23,720 | 24.89 Lakhs |
| 8. | University of Bristol | 34,086 | 35.78 Lakhs |
| 9. | University of Sheffield | 25,670 | 26.94 Lakhs |
| 10. | University of Nottingham | 27,200 | 28.55 Lakhs |
| 11. | Queen's University Belfast | 23,100 | 23.26 Lakhs |
Latest Eligibility Check to apply for UK Universities for Masters
The eligibility conditions for Studying in UK each course differ depending on the university. However, the following are the most usual requirements:
Universities require a minimum of 60% in high school with Physics, Chemistry, and Mathematics as core subjects for undergraduate admission. Students with less than 60% can enroll in foundation courses.
Most colleges accept students with a minimum of 55% in their bachelor's degree, while some may even accept students with 50%. Students who score less than 50% may enroll in pre-master courses.
We recommend that you thoroughly examine the eligibility conditions with the selected institution before submitting your application. Let's know more about top options for universities for graduate, and postgraduate.
11 Top Universities for Studying masters in engineering in United Kingdom
1. University of Cambridge
The University of Cambridge, founded in 1209, is one of the world's most prestigious and well-known academies. According to the academy's website, it is once again among the top ten academies sought after for graduate placement by Britain's largest firms. The academy is located in the center of Cambridge. By 2020, 70 graduates will have received Nobel Prizes. As of 2019, Cambridge scientists, academics, and graduates had earned seven Turing Awards and eleven Fields Medals. Cambridge guarantees primary component graduates' college-owned accommodation for a maximum of three years.
Are you too looking to Study in UK without IELTS?
2. University of Oxford
Oxford institution, the world's leading English institution, is one of the most visible colleges for study abroad. It is a unique and prestigious organization. Oxford University's IndOx recognizes several aspects of India and the Indian subcontinent. In 1579, Father Thomas Stephens of New College became the first known Englishman to visit India, kicking off a long association between Oxford and India. Oxford University Library is the largest academic library in the United Kingdom.
3. Imperial College London
Imperial College London is a model technological institution. In conjunction with our friends and colleagues in Engineering, Medicine, and the Faculty of Natural Sciences, the Business School seeks to produce the greatest science and apply it for the greater good of society. They are one of only a few business schools in the world to be triple accredited: AACSB (Association to Advance Collegiate Schools of Business) AMBA (Association of MBAs) EQUIS stands for European Quality Improvement System. They were also honored with a Bronze Athena SWAN award for our efforts to reduce gender disparities in higher education.
What is the application Process to Study in UK?
4. University College London
One of the top 20 universities in the world, University College London has held its ranking for ten years. The admissions process at University College London is extremely selective, with an acceptance rate of only 48%. Rabindranath Tagore and Mahatma Gandhi, two well-known Indian alumni of UCL, are well-known in their native country. The campuses of University College London are dispersed throughout Bloomsbury, Archway, and Hampstead. Every campus is warm and distinctive in its own way. Every overseas student is given a room at University College London. Both full-time undergraduate and graduate students are given equal priority for housing at UCL.
5. University of Manchester
The University of Manchester, a member of the esteemed Russell Group of universities, is the biggest single-site university in the UK and has the largest student body. Manchester's city center is where the single-site campus is located. Manchester's stellar reputation for cuisine and drink is hardly surprising given the diverse ethnicities that coexist there. You can get food to suit any taste and budget in almost every culture. For international students who meet the requirements, we guarantee housing. The university's website lists single occupancy and mixed sex occupancy options.
6. University of Edinburgh
Edinburgh institution is a leading research institution in Scotland, United Kingdom. According to the QS World University Rankings, the University of Edinburgh is among the top 20 universities in the world. The University of Edinburgh provides guaranteed on-campus housing to help newcomers feel at ease. The confirmation is accomplished within the university's deadlines. All utilities, including laundry and internet access, are provided in the residence halls. The same is true for postgraduates, and the information deadline for receiving confirmed housing is July 31. Edinburgh University offers merit-based UK scholarships and bursaries. 30 The Edinburgh Global Research Scholarship is awarded to PhD applicants based on their academic performance to cover the difference between domestic and international expenses.
Check Mechanical Engineering Course in UK
7. University of Southampton
The University of Southampton is a global leader in research and higher education in the United Kingdom. A student at this university can live on one of seven campuses: five in Southampton, one in Winchester, and one in the Malaysian city of Iskandar Puteri. The campus has 9 housing halls suitable for international students. According to a recent High Fliers report, the University of Southampton is placed 17th by Graduate Market on the list of Universities Targeted by the Largest Number of Top Employers in the United Kingdom in 2017-2018.
8. University of Bristol
The University of Bristol blends academic quality with an independent and forward-thinking culture, and it is well-known for its outstanding teaching and research. In its 36 residential halls, the institution provides on-campus housing for both undergraduate and graduate students. The accommodation for UG and PG students is completely separate. The University of Bristol's residential facilities are all reserved for a 42-week period. An overseas student at the University of Bristol can expect to pay monthly rent for off-campus housing in advance. The University of Bristol has announced a GBP 3 million investment in the Think Big Scholarship Program, which provides worldwide scholarships to qualified students.
9. University of Sheffield
Sheffield is a dynamic, friendly city that is also one of the cheapest in the UK, with living costs that are 10% lower than the national average and 25% lower than London. On-campus housing is provided to 92% of first-year full-time students.
International students can apply for merit-based UK scholarships at the University of Sheffield
The top 18 performing students at the International College will each get a progression scholarship worth 1,000 GBP.
International Merit Undergraduate Scholarship (valued at 50% of undergraduate tuition)
International Merit Postgraduate Scholarship is worth 50% of postgraduate tuition.
Aside from university scholarships, there are a variety of external funding organizations that offer financial assistance to international students to help them meet the cost of attendance.
10. University of Nottingham
The University of Nottingham is the oldest and largest public research university in the United Kingdom. University Park Campus is the main campus of the university in the United Kingdom. There are 13 self-catered residence halls at University Park and two halls on Jubilee Campus, two graduate residence halls (Melton and Cloister Hall), and five catered residence halls. Students at the Royal Derby Hospital Medical School and the Lincoln Medical School have access to additional housing. The University of Nottingham offers a limited number of scholarships to international students. Indian students have been given nine scholarships (undergraduate and graduate) for the academic year 2022-23.
11. Queen's University Belfast
According to THE World University Rankings, Queen's University Belfast is one of the most prominent universities in the United Kingdom, ranking #200 in the world. Queen's institution Belfast is the ninth oldest research-intensive institution in the United Kingdom and is ranked eighth in the world. The university campus is located in Belfast, a vibrant metropolis. Northern Ireland's capital city offers a dynamic atmosphere as well as a rich culture. The institution is investing 700 million GBP during a 20-year capital development program to provide students with cutting-edge facilities. The large campus, which includes the award-winning McClay Library and Naughton Gallery, is one of the ten most attractive historic university campuses in the country, affording students reasonable housing.
List of 5 Best Engineering Colleges in UK for Undergraduate Programs This Year
Here are 5 universities you can study at UK after your 12th as an Indian Student:
| Sr.No. | Name of the University | Tuition Fees (GBP) | Tuition Fees (INR) |
| --- | --- | --- | --- |
| 1. | University of Bristol | 34,086 | 34.56 L |
| 2. | Queen Mary University of London | 24,255 | 24.60 L |
| 3. | University of Surrey | 30,688 | 31.13 L |
| 4. | Swansea University | 21,200 | 21.35 L |
| 5. | Loughborough University | 27,250 | 27.44 L |
Conclusion
Studying Engineering is a great opportunity, may it be your Bachelors or Masters. To know more about engineering courses and about how to Study Abroad get in touch with Global Tree at Begumpet, Hyderabad, one of the Best Abroad Education Consultants in India having more than 12 branches all over India for helping you with your Study Abroad Process.
Frequently Asked Questions about Studying Engineering Colleges in UK
Is UK a good country for engineering?
Universities in the United Kingdom are one of the most popular and greatest countries for engineering studies, with several specialties available such as Chemical Engineering, Electrical Engineering, Computer Engineering, and so on.
Is engineering a high paying job UK?
It is a well-paying profession, with engineers who wish to work in UK, they are among the top five highest-paid employees in the UK! The average engineer pay is roughly £50,000 per year, and it varies depending on where you work and what major you select.
Which engineering is in demand in UK?
Construction, manufacturing, technology, and engineering jobs grew strongly in 2017, with mechanical, electrical, industrial, and civil engineering occupations among the most in-demand in the UK.