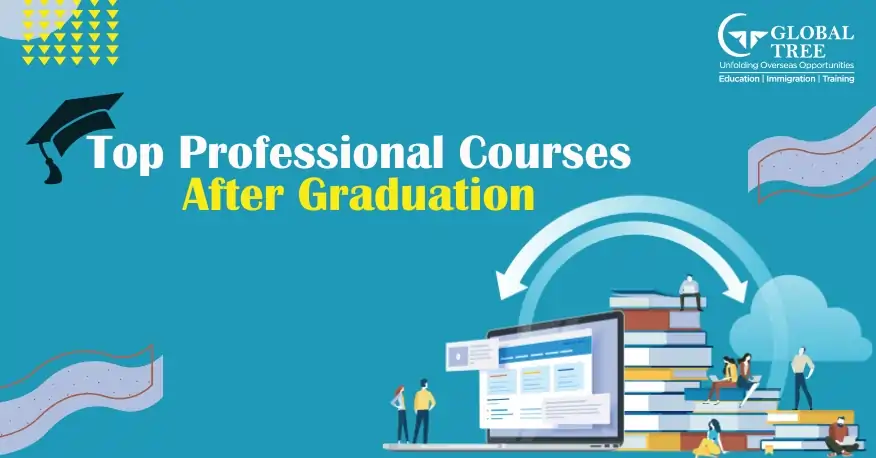 Introduction
In an era marked by rapid technological advancements and ever-evolving industries, the significance of pursuing professional courses after graduation cannot be overstated.
This article comprehensively explores the multifaceted advantages that such courses offer to graduates, extending beyond traditional education and propelling careers to new pinnacles.The contemporary job market is dynamic, where a mere degree might fall short.
Practical skills and adaptability are the key to success, and professional courses serve as a strategic bridge between academic theory and real-world application. Graduates who enroll in these courses gain specialized, industry-relevant proficiencies that distinguish them, making them highly desirable to potential employers.
Today, an undergraduate degree provides limited opportunities in terms of salary and job prospects, prompting many students to pursue the path less traveled, i.e. enroll in a professional course. A professional course/certification allows you to go further into a certain industry rather than becoming a jack-of-all-trades.
These courses provide students with the correct combination of technical knowledge, skill development components, and industry orientation, preparing them for a specialized profession of their choice.
If you just finished your bachelor's degree and are looking for professional programs, here is a thorough list of some of the most popular professional courses after graduation.
Top 10 Post-Graduation Professional Courses
After graduation, you can pursue a variety of job-related short-term courses and degrees. However, selecting the best school for advancing your profession might be difficult. So, here is a list of the top ten finest courses to take after graduation:
PG Diploma in Management (PGDM)
MBA (Masters in Business Administration)
MTech
PGD in Hotel Management
PGPM
Certification in Finance and Accounting (CFA)
Project Management
PG Diploma in Digital Marketing or Business Analytics
Business Accounting and Taxation [BAT Course]
Masters in Data Science or Machine Learning
Learn how to Pursue Higher Studies Abroad
Short Term Professional Courses After Graduation
Job-oriented short-term courses are incredibly helpful for graduates and working professionals since they allow students to go further into numerous topics of interest and find a suitable specialty to launch a career in
Post Graduate Diploma in Management (PGDM)
Business Accounting and Taxation (BAT)
Certified Financial Planner (CFP)
Data Visualization
Diploma in Digital Marketing
Certificate Programme in Data Science
Other Short-term Professional Courses after Graduation
Short-Term Professional Courses After Graduation in Arts
Short-Term Professional Courses after Graduation in Commerce
Short-Term Professional Courses After Graduation in Science
List of Professional Courses after Graduation Stream wise
Arts:
The arts provide graduates with a larger range of job opportunities. After completing undergraduate degrees in fields such as history, psychology, and economics, for example, one can easily apply for professional courses to launch a successful career. While the aforementioned degrees are the most job-oriented and high-paying courses available after graduation in all disciplines of study, choosing the appropriate specialization for your industry is equally important.
Science:
Following graduation in the Science stream, there are various professional degree programmes offered, including a Master's degree in Science, MTech, Engineering Management, and Educational Technology, to name a few. Science is a discipline that gives pupils more job opportunities in a variety of industries. After completing undergraduate degrees in topics such as BTech, BSc, and so on, one can simply apply for any of the postgraduate courses listed below to develop a successful career.
Study in USA after 12th , Know here how!
Commerce:
Looking for the best job-related course to take after finishing your B.Com, BBA, or BMS? Commerce is a broad field of study that encompasses many other subjects and yields several specializations! Commerce is a field that offers pupils a larger range of job opportunities. After finishing undergraduate studies in business, economics, or a related field, one can simply apply for the professional courses indicated below to launch a successful career.
Arts
Science
Commerce

Master of Business Administration (MBA)
Master of Arts (MA) or Master of Fine Arts (MFA)
PG Diploma/Masters in Journalism and Communication
Bachelor of Education (BEd)
Bachelor of Library Science
Masters/PG Diploma in Digital Marketing
LLB
Foreign Language Courses
PG Diploma in Management (PGDM)
PG Diploma in Business Analytics (PGDBA)
PG Diploma in Digital Marketing
PGDEMA

Master of Science (MS/MSc)
Master of Technology (MTech)/Master of Engineering (MEng)
Master of Computer Applications (MCA)
Master in Computer Science
PG Diploma in Business Analytics
Paramedical Courses
PG Diploma in Hospital Management/Hospital Administration
MBA (Master of Business Administration)
Financial Engineering Courses
Mobile App Development Courses
Robotics Engineering Courses

Chartered Accountancy (CA)
M.Com
MBA
MCA
PGDCA (Post Graduate Diploma in Computer Applications)
Chartered Financial Analyst (CFA)
Business Accounting and Taxation (BAT)
Tally Course
Masters in digital marketing
PGDM in Finance
PGDEMA
Certification Courses for Commerce Students
Certificate in E-commerce,
Certificate in Banking
Certificate in Accounting, etc.
List of Professional Courses after Graduation in Arts :
After earning your B.A., you have the option of pursuing a number of degrees, including those in the fine arts, business management, analytics, and IT, as well as degrees in graphic design, interior design, fashion design, content writing, and advertising.
Top Professional Courses after a BA
Master of Arts (MA)
Master of Business Administration (MBA)
Master of Journalism and Mass Communication (MJMC)
Master of Fine Arts (MFA)
Masters/PG Diploma in Digital Marketing
LLB
Bachelor of Education (B.Ed)
Creative Writing Courses
Graphic Design Courses
Fashion Design Courses
Visual Arts Courses
Foreign Language Certifications
Photography Courses
Event Management Courses
Professional Courses Available After a Post Graduation
A few other certification programs are taken into consideration in addition to the degrees and courses mentioned above.
These programs offer stimulating professional options as well as chances to advance to senior management and executive roles.
At top-notch institutions worldwide, a wide range of professional courses are offered, including those in Data Science, Machine Learning, Engineering Management, Public Policy, and more.
Courses with an industry concentration are offered in additional study abroad nations than the United States, Australia, the United Kingdom, and Canada, including France, China, and Russia.
The courses below require a bachelor's degree in a certain topic for some, while experience is required for others.
To find out more about the prerequisites and course requirements, it's also advised that you visit the institution's official website that provides your chosen degree.
Top Professional Courses after a Post-Graduation
MSc Forensic Science
MS in Engineering Management
Masters in Mass Communication
MBA in Fashion Designing Postgraduate
Diploma in Computer Application
Event Management Courses
Masters in Artificial Intelligence
Perfusion Technology Courses
Masters in Social Work & Library Science Course
Actuarial Science Course & Banking Courses
Choose which Multimedia course suits you the best
Best Institutions for Professional Study Abroad After Graduation
Students all over the world typically have access to professional courses. A graduate degree is typically necessary.
However, several other esteemed organizations or institutes around the world require additional credentials or a certain number of years of experience.
Students must verify these minor facts before applying to any university to pursue professional courses. For the complete examination of the applicants, some of the most esteemed universities that grant professional degrees are listed below.
| S.No. | Name of the University | Location | Degree | Course | Duration | Annual Tuition Fees in INR |
| --- | --- | --- | --- | --- | --- | --- |
| 1. | Stanford University | California | Data Science | PG Program in Data Science | 2 year | INR 20-25 lakhs |
| 2. | MIT Sloan School of Management | Cambridge | MBA Business Analytics | Master of Business Administration in Business Analytics | 2-year | INR 5- 15 Lakh |
| 3. | Columbia University | New York city | Data Science | BCA Data Science | 3 year | INR 22-28 Lakh |
| 4. | The University of Warwick | Coventry | MBA | Project Management | 2 year | INR 15-18 Lakhs |
| 5. | Auckland University of Technology | Aukland, New Zealand | Management | PG Diploma | 2- year | INR 10-17 Lakh |
| 6. | Cambridge University's Judge School of Business | Cambridge, England | MBA | MBA Marketing | 3- year | INR 18-20 Lakh |
| 7. | ESSEC Business School | France | MBA Business Analytics | MS in Business Analytics | 2-year | INR 20 to 80 Lakhs |
| 8. | The University of Queensland | Australia | Management | PG Diploma | 3 year | INR 48 to 30 Lakhs |
| 9. | London School of Business | London | Management | PG Diploma | 3 year | INR 54-96 Lakh |
| 10. | Stanford University's Graduate School of Business | California | MBA | MBA Finance | 2-year | INR 25-36 Lakh |
Professional Courses are a great way to concentrate your career on a specific field. Any professional degree or certificate must also be earned over time and with great perseverance.
We hope that this blog, which lists professional courses you can enroll in after graduation, has helped you learn more about the various options open to you.
Let's say you want to enroll in professional training, but you are concerned about how well they will be received or your career prospects.
In that situation, AECC can assist you in selecting the right courses depending on your preferences and areas of interest. In this manner, you can decide on a successful future.
All about mathematics course to Study Abroad
Conclusion
The benefits go far beyond skill acquisition. Professional courses cultivate a culture of continuous learning, fostering a mindset of staying current with the latest industry trends and technologies. This inherent adaptability ensures that graduates remain resilient and capable of navigating unforeseen challenges. What sets professional courses apart is their ability to cater to a wide spectrum of career aspirations. Whether one envisions a future in data analytics, digital marketing, healthcare, or sustainable energy, these courses offer a tailored approach that resonates with individual ambitions. This personalization not only enriches graduates' understanding of their chosen field but also ignites a sense of purpose as they embark on their professional trajectory.
In conclusion, the post-graduation phase emerges as a pivotal juncture where careers take shape. The decision to embrace professional courses stands as a transformative choice for graduates, empowering them to carve distinctive paths within their chosen industries. By amplifying skill sets, expanding knowledge horizons, and nurturing adaptability, these courses lay a robust foundation for a gratifying and triumphant career journey. As industries continue to evolve, the pursuit of further education beyond the conventional degree emerges as a definitive stride towards perpetual professional excellence.
FAQs Frequently Asked Questions for Professional Courses after Graduation
Which course is best during graduation?
Bachelor of Science (BSc), Bachelor of Commerce (BCom), Bachelor of Arts (BA), Bachelor of Engineering (BE), Bachelor of Business Administration (BBA), and Bachelor of Computer Applications (BCA) are the most sought-after graduate programs following the 12th grade.
Is there any 1 year course after graduation?
Postgraduate Diploma in Management, Digital Marketing, Data Science, Cloud Computing, Artificial Intelligence, and Cyber Security are some of the well-liked 1-year courses available after graduation.
Which course is valuable nowadays?
In the modern world, there are more jobs available in computer science. With numerous job opportunities for all majors, computer science degrees, especially those from prominent universities, continue to be in high demand.
Which stream has more scope?
Of all the streams, Humanities/Arts has been studied and embraced the most. Students might choose humanities and make the most of it for a successful career if they are passionate about learning about disciplines like psychology, sociology, anthropology, human resources, political science, history, geography, journalism, etc.