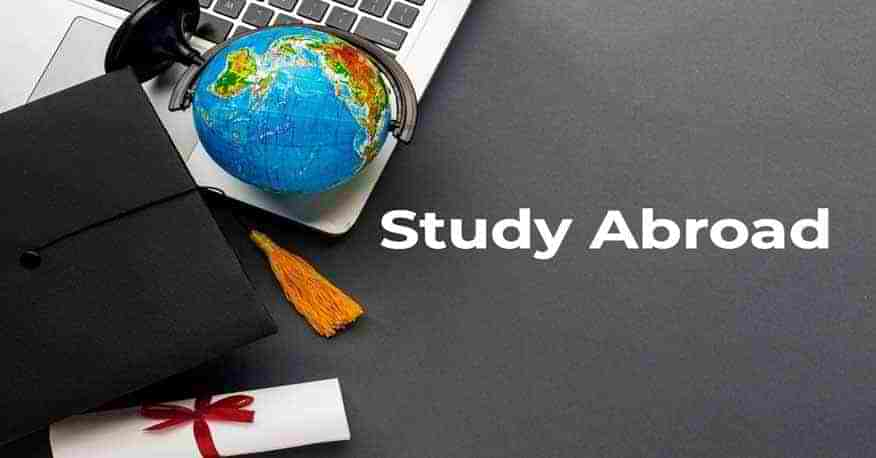 Applying a Student Loan
The lure of higher education abroad beckons numerous students, however, many are put off by the prohibitive costs of attaining such an education. If you look at inflation data alone, you will see that the cost of studying abroad in countries such as the USA, the UK, Canada, Australia, and others is rising exponentially. In such a scenario, many students are getting dissuaded from a quality education abroad due to a lack of sufficient funds. After all, not all of us are born with silver spoons in our mouths or have trust funds set up for us by wealthy grandparents. In such a scenario what can you do?
Well, there is no need to lose heart; you can take the help of a student loan to cover the cost of your education. If you want to know what a student loan is and learn more about the process of applying for a student loan, then read on.
What is a Student Loan?
A student loan is a loan that is offered to students at a special rate and more flexible terms for repayment that are different from other types of loans, to help students like you cover the cost of paying for a course abroad. In many cases, the student loan can cover tuition fees as well as other incidental expenses.
In many cases taking a student loan can be considered a positive step, as it is an investment in your future earning potential.
Salient Features of Student Loans
Following are some of the important features common to most student loans, irrespective of which loan you are applying for
Education loans are available for courses in many universities across the world as well as in India
The maximum loan amount that you can avail of under student loan is up to 1 crore
The general repayment tenure is up to 15 years
The Interest rates for student loans generally are upwards of 7.3 percent per annum
The student loan typically carries a moratorium period of up to 1 year after the completion of the course or 6 months after you successfully get a job
You can avail of a special concession on interest rates if you are a female students
You can obtain collateral-free loans or loans with no third-party guarantee of a maximum amount of 7.5 lakh INR
You can provide your residential property, commercial property, fixed deposits, shares, etc as collateral against the loans
The EMIS for student loans is designed to be easy on the budget for entry-level professionals who are just getting out of campus
You can get tax benefits on the interest that you pay on a student loan under Section 80-E of the Income Tax Act
[Read More: Check out the Interview tips to Crack Student Visa Interview]
Who is Eligible to Apply for a Student Loan?
Once you decide to apply for a student loan, it becomes important to see if you are applying for the loan. The following are the general eligibility criteria followed by most banks in India.
Eligibility with respect to Age and Citizenship
The most important criteria for establishing eligibility for getting a student loan are your age and citizenship
You will need to be a citizen of India to be able to apply for a student loan from an Indian bank
You will need to be at least 18 years old but not older than 35 years old to be eligible for a student loan in India for studying abroad
However, you could ask your parents to apply on your behalf, if you are less than 18 years of age
Eligibility with respect to academic qualifications
If you are planning to apply for a student loan, then you will need to have an impressive academic record starting from your time in high school
The bank will look at your 10th and 12th-grade marks as well as your Bachelor's Degree marks in case you, are applying for a student loan to pursue your post-graduation abroad
The amount of loan approved as well as the probability of approval will depend on your academic records.
The better your academic performance, the more likely you are to get a loan, and the higher the loan amount sanctioned.
However, there are no minimum criteria for percentage or GPA to be eligible to apply for a student loan to study abroad
Process for Applying for a Student Loan
You will need to take the following steps to apply for a student loan to study abroad
Check if the course that you are applying for is recognized to take a student loan
Get more information on the tuition costs of the course to determine the amount of loan you will need to take
Research all options among various banks offering a student loan
Compare all the options that are available to you and determine which is the best one for your case
Go through all the terms and conditions from the bank and understand them fully
Once you have determined the loan that you wish to take, then you should be completed and apply for the student loan
[Read More: Complete Guide to Fund Overseas Education]

Documents required for Student Loan Application
You will need the following documents to apply for a student loan
Your or your parent's bank statements
Your or your parent's Income Tax return for the past 2 years with the income computation
If you have a family business, then the audited balance sheet for the last 2 years as well as proof of turnover in the business
Collateral documents in case you have applied for a student loan against collateral
Top Education Loans for Studying Abroad in India
The following are the most popular student loan providers are given below with some of the loan schemes explained in detail
HDFC Bank
State Bank of India
Axis Bank
Punjab National Bank
Credila
Avanse
International Student Loan Program (ISLP)
Global Student Loan Corporation (GSLC)
SBI Student Loan
The SBI student loan is open to all students from India who have obtained admission to pursue a course in India or abroad.
The maximum loan amount which can be sanctioned is 20,00,000 INR
You can avail of the loan for a period of up to 15 years and at a nominal rate of interest
If you plan to borrow an amount exceeding 750000 INR, then you will need to furnish some collateral as security against the loan
You will need to start repaying the loan after one year has elapsed since the completion of the course
SBI Global ED-VANTAGE loan
This loan is open to all students who are Indian citizens and who plan to study abroad for a full-time course
The maximum loan amount that can be sanctioned through this scheme is 15000000 INR
The tenure of the loan is 15 years and you will need to provide collateral to obtain this student loan
You will need to start the repayment of your loan after 6 months of the completion of your course
HDFC Bank Education Loan for Foreign Education
The HDFC Bank Education Loan can be obtained if you are planning to study abroad
The maximum amount that you can borrow under this scheme is 2000000 INR
You can obtain the loan at a nominal interest rate and will need to repay it within 15 years of obtaining the loan
You can enjoy tax benefits when you opt for this loan for studying abroad
[Read More: Possible Financial Aids to Study Abroad]
Oriental Bank of Commerce Education Loan
This loan can be availed if you are planning to pursue your undergraduate or postgraduate either in India or abroad.
If you are planning to pursue your higher studies in the United States, then your sanctionable loan will differ as per the fee structure of the institute where you have obtained admission
You will be able to receive insurance coverage with this loan and there is no penalty for prepayment
You will need to pay a 15 percent margin on the loans over 400000 INR for studying abroad
Important Points to note before Applying for a Student Loan
There are a few terms you will need to be familiar with before you apply for a student loan
The Moratorium period is the duration of time that is allowed to you before you need to start the EMI payments on the loan
The Loan Margin is the percentage of the fee that will need to be borne by you. For example, if the loan margin is 15 percent, then you will need to arrange for 15 percent of the fees yourself, and the rest will be provided by the loan amount
Exchange Rate effect refers to the effect of fluctuations in the exchange rate on the loan amount and repayment terms
Tips on Successfully Applying for a Student Loan for Study Abroad
You can greatly enhance the probability of successfully obtaining a student loan by following the tips provided below
You should have an excellent academic record as well as perform well in all your entrance exams such as GRE, GMAT, IELTS, TOEFL, etc
You should get admission to a university or educational institute of international repute
Your parents or co-applicant should be financially stable
You should be able to prove that there is a good scope for career advancement through the path that you have chosen
If you want to get more information about student loans and learn about the best loan options available to you, then you should reach out to the nearest Global Tree branch and meet our overseas education advisors who will guide you on the same