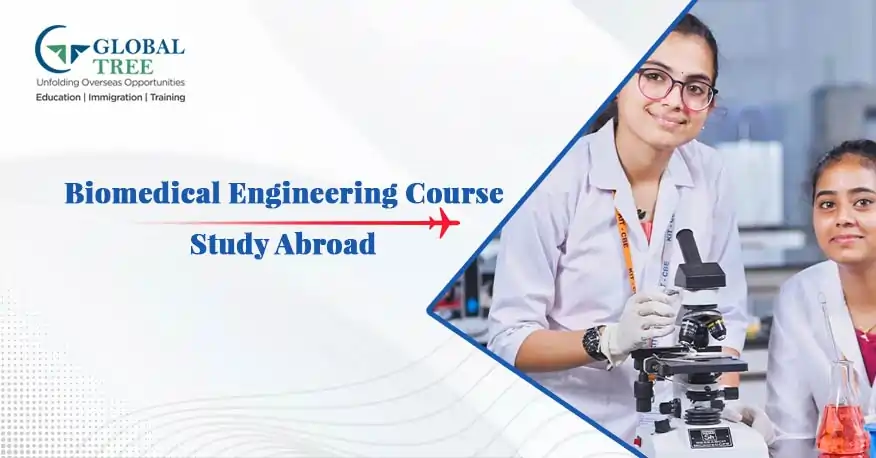 Introduction
The way that biomedical engineers approach their engineering design process differs from other engineering specialties that have an impact on human health. They employ and apply a solid understanding of contemporary biological principles.
Whether it's a cutting-edge prosthetic limb or a breakthrough in genetic modification technology, biomedical engineering combines mechanical, electrical, and chemical engineering, materials science, chemistry, mathematics, and computer science to improve human health.
Who is eligible to study Biomedical Engineering Course Abroad?
Because it is interdisciplinary, Biomedical Engineering requires strong foundations in both mathematics and the living sciences to be successful. Choose the Best Biomedical Engineering Course & Colleges to Study Abroad. All engineering occupations require the ability to solve problems, but biomedical engineering positions also call for in-depth knowledge of biological processes in order to create solutions that work.
A biomedical engineer typically collaborates with a wide range of specialists, including engineers from other disciplines, basic laboratory scientists, doctors, and nurses, therefore excellent communication skills are also necessary. Team efforts can be directed with laser-like precision towards a shared objective with the help of excellent communication skills.
How much does it cost to study Biomedical Engineering Course Abroad?
Courses in maths, biology, physics, and chemistry are required for applicants to study biomedical engineering course abroad. As part of a good pre-college program, most colleges also demand that potential biomedical engineers demonstrate competency in English as well as a variety of language and social studies courses.
Many biomedical engineering schools want their students to "track" into a particular topic, such as biomechanics or bioelectricity, where their interests are guided along both a conventional engineering field and the requisite biomedical applications.
In order to give Biomedical Engineering students enough laboratory experience, such as taking measurements and interpreting data from living systems, the engineering courses may follow a track with traditional engineering learning (e.g., electrical, chemical, mechanical).
This is essential because biomedical engineers need to be able to comprehend the difficulties that arise when living systems interact with objects and procedures that are not alive. Biomaterials, biomechanics, and bioelectricity courses are frequently offered in undergraduate biomedical engineering curricula.
Up to 66% of students majoring in biomedical engineering go on to earn advanced degrees like an MS or PhD. Undergraduate programmes at colleges that offer biomedical engineering studies typically cost $35,100, while graduate programs cost $28,821.
What is the Future Scope of Biomedical Engineering Course Abroad?
The baby-boomer generation is predicted to live longer and maintain their active lifestyles, which will increase the demand for bioengineers and biomedical gadgets and procedures like hip and knee replacements. The employment of bioengineers and biomedical engineers is predicted to grow by 6% between 2020 and 2030.
More people will also see their doctors for biological remedies to their health issues as public knowledge of medical advancements rises. In fact, there will be over 14,000 employment openings for bioengineers and biomedical engineers during the next ten years.
For those considering majoring in biomedical engineering, the combination of all these aspects offers a promising future and plenty of profitable work options.
Trending Career Options in Biomedical Engineering Course Abroad
Students who want to major in biomedical engineering have a variety of employment opportunities to select from.
(Read more: Tips for how to plan study abroad master's program in biotechnology)
Career as a Biomedical Engineer
Biomedical engineers research scientific and technological developments to provide new tools and apparatus that raise the standard of healthcare. For instance, they might develop computer simulations to assess novel medical therapies or software to control medical equipment.
Career as an Industrial Engineer
Manufacturing engineers may be in charge of cost-benefit evaluations, the design and manufacture of products and systems utilizing computer-aided design software, and the resolution of production issues. These engineers are in charge of manufacturing medical gear and equipment. Professionals in this field refer to one another as plant engineers and process engineers.
Career as a Developer of Biomaterials
Engineers that specialize in biomaterials study substances that are produced in the lab or arise naturally for use in implants or medical devices. Biomechanics engineers study thermodynamics and other systems to address biological or medical issues.