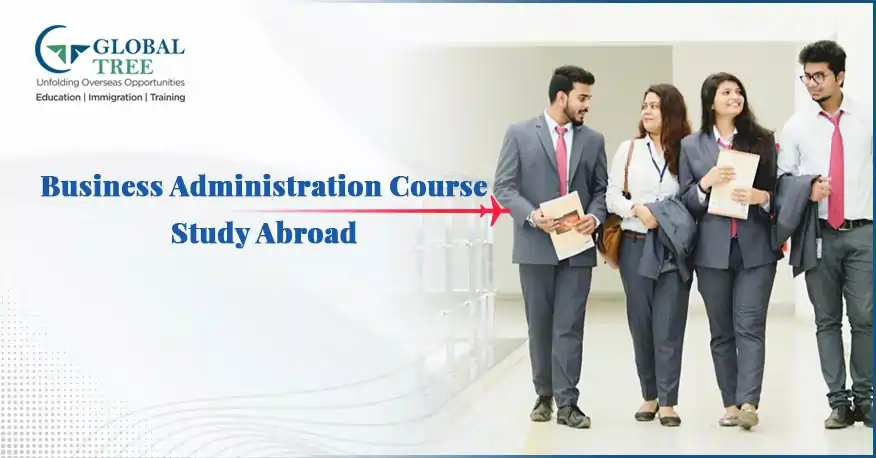 Introduction
Business administration focuses on the effective management of a firm with the ultimate objective of maximizing income. Business administration courses teach students how to improve an organization's internal productivity (such as worker output) so that it can compete successfully in the market.
Simply said, business administrators play a wide range of functions in a company to help it thrive. This can include daily operations management, such as maintaining excellent customer services, or high-value decisions, such as creating policies and quarterly targets. Choose the Best Business Administration Course & Colleges to Study Abroad.
Who is eligible to study Business Administration Course Abroad?
A person in a management position must balance many duties in any firm. You might need to meet with the sales team to address unmet sales targets, handle customer-related concerns, reply to emails, and plan marketing initiatives while also optimizing the business procedures to cut expenses. A business administration degree might be an excellent choice for you if you think you have the skills to manage numerous activities at once, perform well under pressure, readily adjust to changing circumstances, have an analytical mindset, and can easily cooperate and work with teams.
How much does it cost to study Business Administration Course Abroad?
The majority of universities offer both bachelor's and master's in business administration abraod, making it one of the most sought-after degrees. A business degree in the US typically costs $30–35k annually.
The average annual cost to study Master of Business Administration Abroad, which is normally a 2-year program, can range from $20,000 to $40,000. A bachelor's degree in business administration typically costs between £13,000 and £15,000 a year in the UK.
What is the Future Scope of Business Administration Course Abroad?
People with business management skills will always be in demand. Of course, having the necessary soft skills is just as important as having a business degree if you want to succeed in this endeavor. Over the next ten years, it is anticipated that the employment of business professionals will increase by 8% in the US alone. It is safe to state that those with a business degree have a promising future.
Trending Career Options in Business Administration Course Abroad
Students who want to pursue a career in business administration have a variety of options to consider. By choosing the best business schools to study MBA abroad. You can get more options to get the best jobs
Career as a Sales Manager
To ensure that a company's sales continue to increase and generate income, a sales executive is needed. This typically involves finding leads, getting in touch with customers, hitting sales goals, etc.
Career as a Human Resources Manager
A human resources executive is in charge of selecting and hiring new employees, handling the payroll for current employees, speaking with staff members to settle workplace conflicts, and developing tactics to increase productivity.
(Read more: top colleges and universities to study MBA Abroad)
Career as an Analyst for Market Research
In order to produce analytical reports for the business regarding market competition, potential threats, prospective opportunities, and performing surveys for firm products/services, a market research analyst is concerned with scanning the external environment.