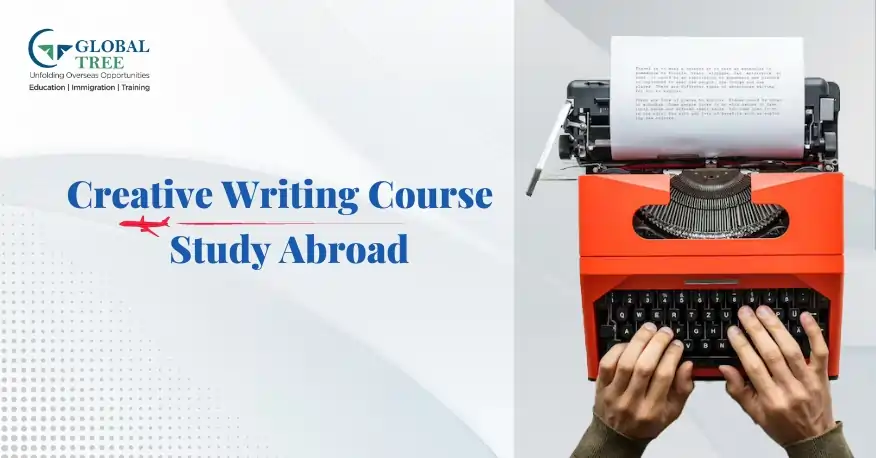 Introduction
Students who enroll in a creative writing program will learn how to craft appealing narratives. Students who enroll in creative writing courses will read books like novels and plays and take courses on how to improve their writing. Your employability in a variety of fields, particularly marketing and advertising will increase as a result of these talents.
Who is eligible to study Creative Writing Course Abroad?
The field of creative writing is the best fit for you if you enjoy writing and are talented with words. The need to create intriguing characters, stories, and ideas drives creative writers. They have extraordinary critical thinking abilities that allow them to comprehend other writers' works in great detail. To achieve several deadlines, they must be skilled time managers. They also have the ability to persuade others to feel a specific way about a service or product, which is very important in the media and advertising industries. Choose the Best Creative Writing Course & Colleges to Study Abroad.
They have a keen social perception, which helps them connect with their audience by understanding how readers respond to concepts. Last but not least, they are outstanding writers who can express feelings and emotions in their writing in a way that is both obvious and powerful. If you find this intriguing, earning a degree in creative writing can be a wise choice.
How much does it cost to study Creative Writing Course Abroad?
An undergraduate degree in creative writing can be earned in three to four years of full-time study for roughly $13,296 in the US and £9,250 in the UK. Graduate programs can be completed in one year full-time or two years part-time by students who want to further their careers. In the UK, a master's degree in creative writing costs between £9300 and £13,000. A master's degree can be earned in the US in about two years, with tuition typically costing between $30,000 and $40,000. You should know how much it cost of studying abroad for Indian students.
Trending Career Options in Creative Writing Studies Course Abroad
Students who want to pursue a bachelor's degree in creative writing course have a variety of job alternatives to pick from.
Career as a Writer of Advertising Copy
In the creative section of an advertising, media, or digital marketing business, you will work with an art director as an advertising copywriter. Based on customer briefs, you'll design, develop, and produce compelling advertising campaigns. An advertising copywriter's responsibilities include determining the target market as well as communicating with clients and deciphering their instructions. Additionally, they generate creative concepts and ideas, frequently in conjunction with the art director.
Career as a Lexicographer
As a lexicographer, you will search specialized databases with thousands of language samples from various sources (referred to as the "corpus") for evidence of a word or phrase's meanings and usages. These sources may include books, newspapers, online journals, blogs, discussion forums, and transcripts of radio and television shows. Based on this information and your own judgment, you will analyze submissions and look at prospective new entries.
(Read more: Best Universities for Mass Communication and Media To Study Abroad)
Career as a Newspaper Journalist
Magazine journalists analyze and write news pieces and features for a variety of consumer publications, including trade magazines and consumer titles that cover both general interests and specialized topics. In addition to writing, a magazine journalist may also be involved with the publication's production, such as sub-editing and design.