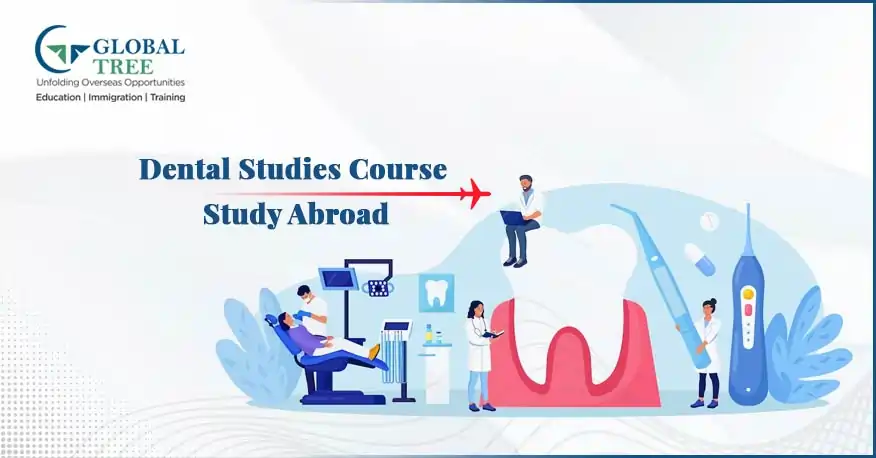 Introduction
Students who pursue dental degrees acquire both the interpersonal skills and critical practical abilities required to communicate with patients and other healthcare professionals throughout surgical operations. Choose the Best Dental Studies Course & Colleges to Study Abroad. Anatomy, physiology, and biochemistry are all covered in dental studies courses, as well as practical skills like taking medical histories, doing dental exams, doing orthodontics, and administering anesthesia.
Near the end of their degree, a student could be given the option to specialize in areas like pediatric dentistry, dental prosthetics, or dental radiography.
Who is eligible to study a Dental Studies Course Abroad?
Dental studies may be the appropriate decision for you if you are an empathic person driven by the desire to improve people's health, welfare, and quality of life. Healthcare enthusiasts will be drawn to dental studies. Students who want to work in this rapidly growing and changing business would benefit from having strong communication skills and a natural aptitude for science.
Each year of study in dental studies requires students to pass a variety of written exams. Essays assigned as part of the coursework and practice tests will also be used to help students understand the material.
How much does it cost to study Dental Studies Course Abroad?
The majority of programs work to equip students with the skills necessary to assess, identify, manage, and treat diseases that may affect dental health. An undergraduate program leading to a bachelor's degree abroad is designed to prepare students for a profession in dentistry. A combination of general lectures and courses focused on the chosen specialism makes up this four-year program. Depending on the school and region, the cost of a dentistry studies degree can range from $12,972 to $18,247 annually.
Students who earn a master's in dental studies are typically well-versed in dental and orthodontic procedures. In order to provide graduates with a thorough understanding of how to treat dental patients, courses frequently address molecular biology, oral anatomy, diagnosis, and treatment planning. Students frequently learn how to carry out surgical operations like tooth extractions through clinical work.
Students who join a master's program in dental studies acquire a variety of abilities that may help them succeed in their employment. Research and problem-solving skills can help in patient diagnosis, while communication skills enable students to connect with clients and build personal relationships.
What is the Future Scope of Dental Studies Course Abroad?
Dental graduates often have excellent rates of employability and find jobs quickly after completing their education. Employers seek applicants who can work well with other healthcare professionals and who are dedicated to both the organization and the patients. Graduates of dental studies develop these skills over the course of their four years of academic study and regular practical experience.
As more elderly individuals need dental care, the demand for dentists is anticipated to rise. Future generations will require more dental care because they are more likely to maintain their teeth than their parents were. In addition, more complex dental procedures like dental implants and bridges will be in demand.
(Read more: List of Cheapest Country to Study Abroad for Indian students)
The number of dentists working overall is expected to increase by 8% between 2020 and 2030. Additionally, this decade will see roughly 50,000 job openings for dentists. Dental studies are a popular choice for many people to pursue due to the quick expansion of work prospects and the excellent compensation packages.
Trending Career Options in Dental Studies Course Abroad
For those who want to pursue a profession in dental studies, there are numerous employment opportunities available.
Career as a Dental Professional
Dentists who have received extensive training in a particular area of dental healthcare are known as dental specialists. They receive training in addition to their dental education. These experts explain how accidents, illnesses, and heredity all call for the assistance of dental specialists. The specialty that dentists select will have a considerable impact on the duties they do. These people make an average yearly income of $159,576.
Career as an Orthodontist
Orthodontists generally deal with crowded mouths, crooked teeth, and mouth structure. Untreated patient biting difficulties and overstuffed mouths progressively get worse over time. Their goal is to offer remedies for the aforementioned dental issues. They earn about $173,948 a year on average.
(Read more: Check out the new rules and policies of abroad education)
Career as a Periodontist
Periodontists deal with acute periodontal disease, which causes gum and tooth infection and inflammation. Patients who require a specialist and have gum disease that is acute or advanced are treated by them. These specialists carry out a number of procedures, including root planning, scaling, and root debridement, which entails clearing out material from roots and deep inside the gums. A Periodontist makes an average of $199,250 a year.
Career as a Dentistry Anesthesia
These experts combine their knowledge of dentistry and anesthesia to control patient discomfort, fear, safety, and general health both before and after surgical procedures. Dental anesthesiologists give local and general aesthetics, modify dosage, and keep an eye on patients' reactions and recovery. Dental anesthesiologists make an average of $180,790 a year.