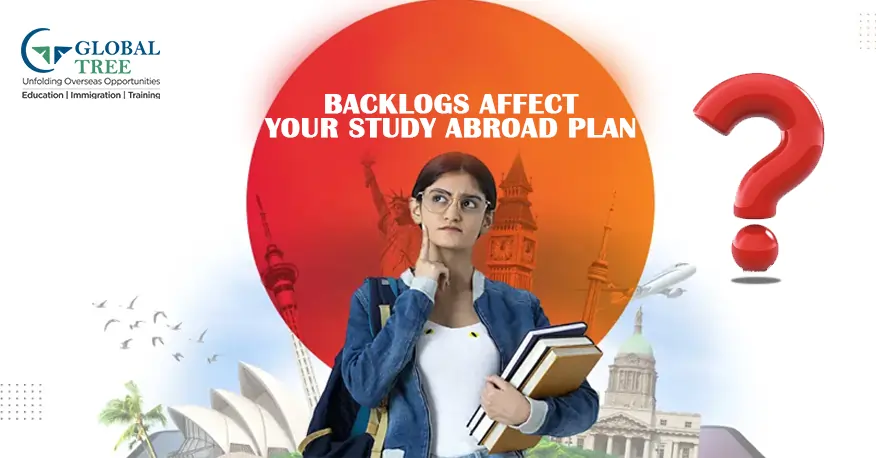 Introduction
If you have been hesitant to pursue your aspirations of studying abroad due to backlogs, we have some excellent news for you.
According to top international education experts, most international education institutions in nations such as Canada, Australia, Ireland, New Zealand, the United States, and the United Kingdom accept candidates with backlogs.
You must, however, complete your backlog before beginning your foreign studies program. So, let us delve deep into the subject to have a thorough grasp.
What do you know about Backlogs?
Exams in your study program that you failed to pass on your first try are considered backlogs. It may occur for a variety of reasons; perhaps you weren't adequately prepared to pass the test or couldn't make it to the testing location.
A backlog of assignments may appear to be a negative mark on your academic record, but it's not the end of the world.
A backlogged student receives a certificate from their academic institution that contains all the information about their backlog.
If your academic profile is clear, your university won't issue you a backlog certificate.
Even though you have a clear academic profile, it is possible that your chosen university overseas would want a backlog certificate with academic transcripts to authenticate your academic credentials.
How do universities determine backlogs?
For counting backlogs, different institutions use different techniques.
Some universities, for example, may calculate the number of efforts to clear your backlog, whereas others may evaluate the number of topics with backlogs.
But when we look from the point of view of the countries, two scenarios arise:
First instance: The number of failed subjects equals the number of backlogs. And That's it.
If you wish to study in nations like the United States or the United Kingdom, you should be aware that multiple failed subjects are considered backlogs regardless of how many attempts you made to clear them.
For example, if you were unable to pass one topic but attempted three times during various semesters to pass it, your backlog will be counted as one.
The number of attempts, which in this case is three, is irrelevant.
Second instance: When the number of efforts to resolve the unsuccessful subject equals the number of backlogs.
The number of efforts a student makes to clear a failed subject is considered the same as the number of backlogs in nations such as Australia.
For example, if you fail one course but attempt three times during successive semesters to pass that topic, your backlog will be counted as three times the number of attempts.
This is because these countries evaluate your dedication to that subject based on the number of attempts. With active backlogs, you can still apply for admission to your favorite university abroad.
If your application is accepted, the university will send you a conditional offer letter with the stipulation that you clear your backlogs before beginning your studies.
Now, a question may arise in your mind
What are Countries that accept applications with backlogs?
Even with active backlogs, you can realize your aspirations of studying abroad. But the standards vary from nation to nation. Here is a brief update on a few well-known study abroad locations:
United States of America - The Land of Opportunity
Students without backlogs are typically preferred by American universities. Some universities, however, only permit a maximum of five backlogs.
It's crucial to remember for US institutions that total academic performance continues to be the most significant factor, even with a better score on standardized tests.
Before applying to American universities, students with 10 or 12 backlogs should visit the study abroad experts in India. These students are only admitted at the universities' sole discretion.
US Universities Accepting Backlogs:
Clarkson University, New York
Gannon University, Pennsylvania
Kent State University, Ohio
Marist College, New York
Wichita State University, Kansas
Canada - The Great White North
With at least 70% in a bachelor's degree, several Canadian universities will accept applications with up to five backlogs.
Even individuals with seven or eight backlogs and a minimum GPA of 65% are accepted by several other universities.
Candidates may still apply for Canadian postgraduate diplomas even if they have more than 10 or 12 backlogs. However, admission is given to these pupils on a case-by-case basis.
Canada Universities Accepting Backlogs:
George Brown College
Conestoga College
Centennial College
Lambton College
Fanshawe College
United Kingdom - The Global Village
The student's academic performance as well as their results on English proficiency exams are the most important considerations for UK universities.
Students with 15 backlogs are still eligible to apply to various UK universities.
You must also take into account the necessity of achieving a high score on standardized exams like the GRE.
Even with a history of backlogs, getting outstanding test results can help you land the finest offers.
UK Universities Accepting Backlogs:
Bangor University
Brunel University
Cardiff Metropolitan University
Coventry University
Cranfield University
Australia – The Lovely Straya
As was already said, efforts to reduce backlogs are crucial in the case of Australian universities.
Additionally, Australian universities handle students on an individual basis.
The entry requirements differ greatly depending on the course.
Some Australian colleges might allow students with more backlogs, while others favor those with no more than four.
Australian Universities Accepting Backlogs:
University of Sydney
Monash University
Queensland University
University of Melbourne
Curtin University
New Zealand - The Nature Isle
Universities in New Zealand typically allow applications for students with less than five backlogs, however depending on the university and subject, it may go higher in some instances.
You need to get a decent IELTS score to enroll in school in New Zealand as a student with a backlog.
A student who has a band of 6.5 on the IELTS and has a sufficient number of extracurricular activities stated in the SOP might use these traits to make up for their backlogs.
New Zealand Universities Accepting Backlogs:
Massey University
University of Auckland
Auckland University of Technology
Lincoln University
Waikato University
Ireland - The Emerald Isle
Universities in Ireland will take on applicants with no more than four or five backlogs.
Irish universities, however, are frequently highly stringent; at some, only two or three backlogs are tolerated.
Ireland Universities Accepting Backlogs:
Technological University, Dublin
Trinity College Dublin
University College Cork
Maynooth University
NUI Galway
Conclusion
In conclusion, having some subjects left to clear (backlogs) doesn't necessarily mean you're not good at your studies. It shouldn't discourage your dream of studying abroad. Generally, having a few backlogs won't cause problems with your visa if the university you want to attend has already accepted you. If you need help with your study abroad plans, you can reach out to KC Overseas for free advice from experts in this field.
FAQs Frequently Asked Questions about Backlogs and their effects on Study Abroad
Will my visa get rejected if I have backlogs?
Active backlogs can lead to visa rejection while cleared backlogs do not have any impact on the visa process.
Does backlog affect future?
No, a single backlog cannot wreck your job prospects. In some highly competitive fields, such as engineering and medicine, backlogs are typical. Students have the choice to retake a test they failed in the next semester "to clear their backlog" rather than having to repeat the entire semester.
Do backlogs affect MS in USA?
In the US, the admission rate for MS programs with backlogs is comparable to that of all other programs and courses. If you have high GRE or GMAT scores, you have a great chance of getting accepted. Many US colleges would allow up to 15 backlogs for MS.