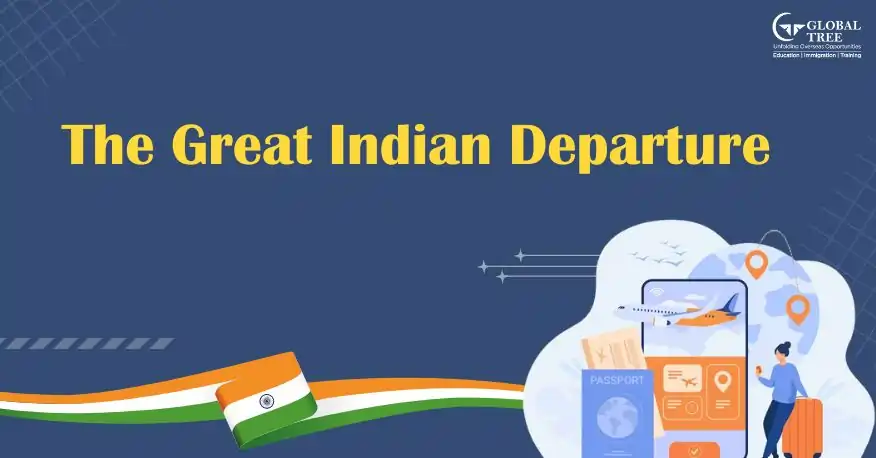 Immigrants All over the World
The Indian diaspora across the world is growing stronger by the numbers and is fast becoming one of the largest single community represented across the world. The OECD, a consortium of 35 countries, whose members include USA, Canada, Australia, New Zealand, Japan and certain European Countries has found in a recent study that India had the world's largest number of migrants to other countries, standing at a whopping 156 lakh migrants in the year 2015. The most favored countries for the migrants from India seemed to be USA, Canada, Australia and Germany. In 2015 the number of immigrants to these countries had grown to 2.68 lakhs from 2.45 lakhs in 2013. Most of the immigration s were to USA, however with the recent visa restrictions and emphasis on retaining local labor in USA these numbers are expected to tip more in favor of Canada and Australia in the near future. Even in the overseas education segment, India along with China continues to be the largest representative of the international student community in the OECD countries. So what makes Indians so fond of packing their bags and moving away from their homeland to embark on an adventure and find their destiny in a new land, with a new culture, a new language and a new lifestyle altogether. Let's look at some of the possibilities
Lifestyle
This is probably one of the most frequently cited reasons for any Indian who wishes to move abroad. The quality of life in India though undergoing tremendous improvement after liberalization still falls far behind the lifestyle enjoyed by the residents of most first world countries such as USA, UK, Canada, Australia and others. Whether it is wide and clean roads that make for easy driving, excellent sanitation facilities where you would never find trash littering the streets, 24 hours water and electricity supply, something most Indians can only dream of, and not to mention most first world countries have a vast and well planned green cover over their cities, it is not a matter of surprise that given a choice Indians would want to bring their families to a place which offers a superior quality of life.
[Read More: 10 Best Cities in USA for New Immigrants]
Population
Most of the first world countries have populations that are far lesser than in India, This would mean less over-crowding and more open spaces to be enjoyed by all. Less population also would lead to less load on the cities sanitation and other municipal facilities which in turn would lead to more efficient services provided by the local authorities.
Environment
Almost all of the first world countries such as USA, UK, Canada, Australia and others have better quality of air and far less pollution in the cities as compared to developing countries like India. An Indian in any of these countries, would definitely find a marked difference in the quality of air that he breathes in his new country and the one he breathes back in India
Health care
Although expensive at the private level, health care in most first world countries is relatively cheaper for Indians on account of the many insurance options that are available. Also some of the countries offer quality health care at rates which are highly subsidized by their respective governments. The quality of health care provided is far superior to the one found in most cities in India
Infrastructure
The infrastructure and transportation facilities in most cities in the OECD countries are far superior as compared to those in India. The average commute time for travelling to work is less than one third in these cities as compared to the commute time taken by office goers in India. The shorter commute time would mean more productivity in office as well as more time to spend with family and better work-life balance.
[Read More: Top Five Cities for New Immigrants in Australia]
Quality of education
For people with kids
the quality of education provided by schools
in the first world countries would be a major factor in the decision to move abroad. Any parent would want to provide the best environment and education facilities to their children given an opportunity to do so. The education system in these countries fosters independent thinking and entrepreneurial skills which is evidenced by the numerous success stories of the children of immigrants which can be seen in various articles in our blog. To know more about the Indian diaspora abroad and why immigration is the best option for you, get in touch with Global Tree one of the
most trusted immigration consultants in India
.