STUDY MBA IN UK - BENEFITS, REQUIREMENTS, TOP COLLEGES, SCHOLARSHIPS & MORE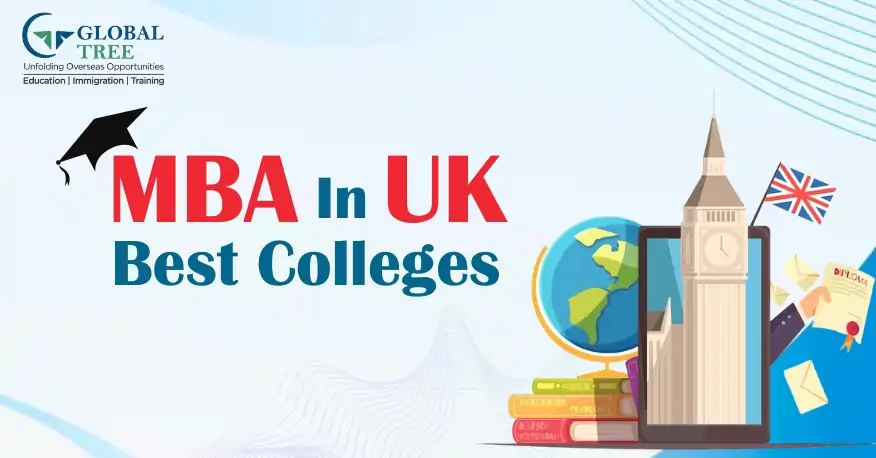 Study MBA in UK
The United Kingdom is one of the oldest and most reputed academic hubs and an epicenter of quality education for students from all over the world. The MBA programs in the UK are sought after not only for the high quality of educational material they provide but also for the career prospects they offer graduate students. If you are planning to pursue your higher studies in management in the United Kingdom, then this blog will answer all your questions.
Advantages of   MBA in the United Kingdom
The United Kingdom is counted among the wealthiest economies in the world
The Top universities and colleges in the UK focus on providing students with hands for skills and practical experience as well as in-depth knowledge related to a field of their choice
If you are planning to pursue your MBA in the United Kingdom you will have a plethora of options from courses ranging across various fields and diverse universities across the country
You will be able to pursue your MBA in a program that will combine research-backed theoretical learning and practical for-oriented internship programs and projects that will impart the key skills you will need to take your career to the next level
You will be able to learn and absorb management studies in a multi-format learning system, including,
Classroom lectures
Workshops
Internships
Projects
Presentations
Teaching Assistantships
You will be able to participate in seminars and guest lecturers from prominent business leaders in your field
You will be equipped with the required skills and knowledge for successfully managing a business
The MBA programs in the United Kingdom, provide a unique learning experience to equip you with key soft skills to lead and manage a company
Most of the MBA programs in the UK are of one-year duration, compared to the two-year MBA programs offered in other countries. This gives students in the UK an advantage as it allows them to join the job market early
You will be able to meet leading experts in your industry at various lectures and conferences, organized by your university
You will get many opportunities for applying for a scholarship to study an MBA, some of which are specially targeted toward students from India
Most Popular Majors for MBA in the United Kingdom
Following are the most lucrative and popular subjects chosen by students who pursue their MBA in the UK
Quality Management
Sports Management
International Business
Human Resource Management
Digital Marketing
Data Science
Project Management
Retail Management
Finance
Healthcare
Accounting
Pharmaceutical Management
Fashion Designing
Foreign Trade
Hotel Management
Healthcare Management
Popular Intakes for pursuing MBA in the United Kingdom
There are three popular intakes for pursuing an MBA in the UK
The Fall or Primary Intake starts in September,
You will need to apply by June or July of the same year in order to qualify for this intake
The Winter or Secondary Intake that starts in January or February
You will need to apply by August or September of the previous year to apply for this intake
The Summer or Least Intake which starts in April or May
You will need to apply by October of the previous year to January of the current year to be able to apply for this intake
[Read More: How to Study in the UK without IELTS?]
Best MBA colleges in UK to Apply for Latest Intake
Here is a detailed list of some of the best universities offering MBA in the UK, according to the QS World University Rankings: MBA rankings 2022.
London Business School
Said School of Business, University of Oxford
University of Cambridge, Judge Business School
Imperial College Business School
Warwick Business School
Alliance Manchester Business School, The University of Manchester
University of Edinburgh Business School, The University of Edinburgh
The Business School (formerly Cass), CITY, University of London
Cranfield School of Management, Cranfield University
School of Business and Management– Queen Mary University of London
School of Management – Anglia Ruskin University
Lancaster University Management School
Business School – Coventry University
Cardiff Business School – Cardiff University
University of Strathclyde Business School
Leeds University Business School – University of Leeds
Eligibility Criteria for Best MBA colleges in UK
Students will need to meet the basic minimum eligibility requirements as laid out below to apply for an MBA program in the United Kingdom:
You will need to complete of secondary education studies at a level comparable to that of the United Kingdom
You should be able to submit all necessary academic records, transcripts, and any other relevant certificates.
You should take and submit English language proficiency test scores such as IELTS / TOEFL
You should have written and obtained scores for your GMAT exams
You should have obtained a relevant three four year undergraduate degree from a recognized university
You may need to have at least two years of work experience for specific business schools.
Documents required for applying to MBA colleges in UK for this year's intake
You will generally need the following documents to apply for an MBA in the United Kingdom. Some colleges may require additional material. We recommend that you check out the website of the college you are applying for or reach out to our expert study in UK advisors to know more about your personalized document requirements
Completed application form
Statement of Purpose
Complete English essays
Recommendation letters or LORs
Completed Current professional resume
Student Visa
At least 2 Passport for sized photographs
Check out all the Documents Required for Applying to UK Universities!
Cost of Studying MBA in UK
You probably need to plan for incurring the following expenses while studying at the best MBA colleges in the UK
The cost of tuition can be between 31000 GBP to 88000 GBP depending on the university and course you choose for your MBA
The application fees for a student visa can set you back by 348 GBP
The cost of housing can be around 200for 250 GBP per week depending on what type of accommodation you choose
The cost of commute each month can be around 150 to 200 GBP
You can expect to spend around 150for200 GBP on food each month
You will need to set aside around 50 GBP each month for utility and mobile bills as well as another 50 GBP for your recreational expenses and any new clothes you purchase
Affordable MBA colleges in UK to apply for Indian Students
If you are worried about the high costs of pursuing your MBA in the UK, then you can think about the following universities where you can study at a more affordable cost compared to other business schools in the country
Bedfordshire University for 11,250 GBP
Canterbury Christ Church University for 12,900 GBP
University of Wolverhampton for 12,470 GBP
The University of Worcester for 11,400 GBP
University of Suffolk for 11,000 GBP
Leeds Beckett University for 11,300 GBP
University of Gloucestershire for 12,500 GBP
University of East London for 15,000 GBP
Cardiff Metropolitan University for 9,000 GBP
University of Bolton for 12,500 GBP
Anglia Ruskin University for 16,500 GBP
University of Northampton for 15,000 GBP
University of Leicester for 20,000 GBP
University of West London for 15,000 GBP
Buckinghamshire New University for 10,500 GBP
[Read More: Study in UK at Kings College Cambridge]
Application Process for MBA colleges in UK for the current year intake
You will need to take the following steps to apply to the best colleges for MBA in the UK
Determine the courses you will be interested in and explore the different universities offering MBA in your field of interest
Determine and check if you meet the eligibility criteria for your selected college for MBA
Check the required tests such as language proficiency tests and any other required tests and take them in advance of your application
Check and gather all the required documents, including test scores, SOPs and Letters of Recommendations
Fill and submit the application online along with all the required documents
For more information on the application process for MBA in UK you can reach out to our UK education experts at Global Tree
Top Scholarships to Best MBA Colleges in the UK 
If you are concerned about the high cost of pursuing your MBA in the United Kingdom, then you can consider offsetting the costs by applying for a scholarship. Some of the best scholarships for studying MBA in the UK are listed below. You can contact our overseas education advisors for details on how to apply for UK universities.
Charles Wallace India Trust Scholarships
Hornby Scholarship
Oxford & Cambridge Society of India Scholarship
Financial Sumo Educational Scholarship Program
Chevening Scholarship
Go Clean Scholarship
GREAT Scholarship
Commonwealth Scholarship
Inlaks Scholarships
GATE Scholarship
Rhodes Scholarship India
BrokerFish International Student Scholarship
What is the cost for pursuing an MBA in the UK?
The average cost for an MBA in the UK can range from 10000 GBP to 40000 GBP each year. You can contact our UK education advisors at Global Tree on the costs you will incur while pursuing your MBA in the United Kingdom
What are the eligibility conditions for applying for MBA in the UK?
You will need to fulfill the following conditions
Three years of work experience is required for some universities
An undergraduate degree or its equivalent.
A minimum IELTS score of 6.0 - r6.5.
GMAT or GRE scores.