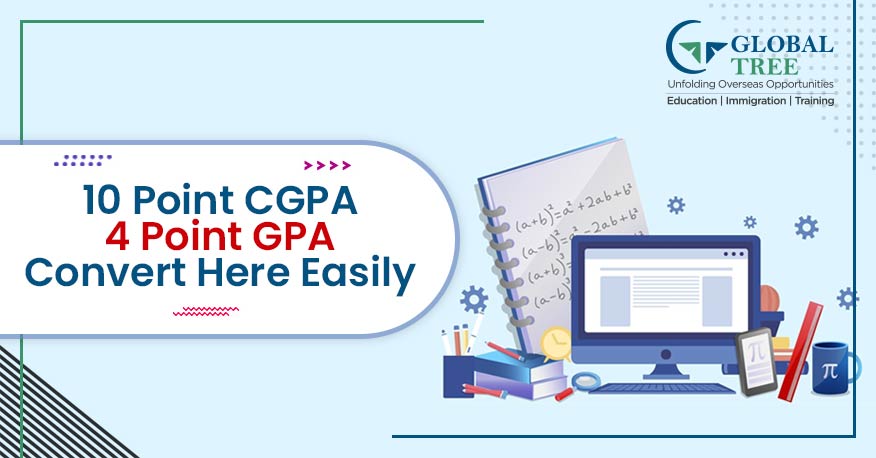 Convert CGPA to GPA
If you are planning to study abroad then your previous academic record will play a significant role in your admission process to study abroad. Your academic transcripts in the form of CGPA will be sent to universities where you are applying for admission.

While most universities follow their system of grading candidates, they will need you to provide a GPA that is in line with the standard grading system to enable the universities to correctly assess your academic qualifications for the admission process. As a consequence, you will need to have your credentials evaluated through a credential evaluation service such as World Education Services (WES) or Educational Perspectives (EP). The evaluation will help the universities to compare your grades with the other student applicants.
What is GPA?
The GPA or Grade Point Average is the computed average of the grades in all the subjects that you have scored for the term, semester, or year
The GPA for Study Abroad is generally used to showcase your academic performance to the college admissions committee
The GPA scale is measured in five distinct grades, A, B, C, D, and F, with A being the highest grade and F being the lowest.
What is CGPA?
The CGPA or Cumulative Grade Point Average is the average of all GPA grades that you would have earned for the entire duration of any course that you have studied
To compute the CGPA for a course, you will need to add the GPA for all the semesters you have studied the course and divide it by the total number of credit hours that you have spent on the course
You will need to have a high GPA to obtain a high CGPA score
How to Convert 10-point CGPA to 4-point GPA?
Even though most universities will accept scores on a 10-point CGPA scale, some of them may ask you to submit your scores in the four-point GPA format.
You will probably not need to convert the GPA in most cases as the university will be converting at their end, using their own conversion rules. However, in some cases, you may need to submit the converted scores
If you need to convert your 10-point CGPA score to a 4-point GPA score then you can use Candidates can use the following formula
If the transcript issued by the university states that you have scored a CGPA of 7.0 and the CGPA of the topper in your branch is 8.0, then your score can be calculated as follows
This formula and methodology can be used to estimate your prospects at the time of admission to universities. You would not generally be required to provide a converted score
[Read More: How to Study Abroad with Low GPA Score?]
Converting 10-point CGPA to 4-point GPA
The following table provides a comparison of the different GPA scales
| 10 Point CGPA | Equivalent 4-Point GPA | USA Grade Equivalent |
| --- | --- | --- |
| 10-6.9 | 4.0-3.0 | A |
| 6.9-4.8 | 3.9-1.94 | B |
| 4.8-3.2 | 1.94-1.0 | C |
| 3.1-1.0 | 1.0 -0.3 | F |
The table is an approximation of the conversion scale, and you should not rely on it for your admission application
The table is for illustrative purposes only and should not be used for submitting grades at the time of application, as the university will be doing the conversion at their end
You can however use this conversion table in case you do not know the GPA of the topper in your course and want to know about your chances of getting admission.
You can reach out to our overseas education advisors at Global Tree in case you have any doubts in this regard.
For more information about how to convert your scores and other questions related to the application process to study abroad, you can contact our overseas education advisors at Global Tree.