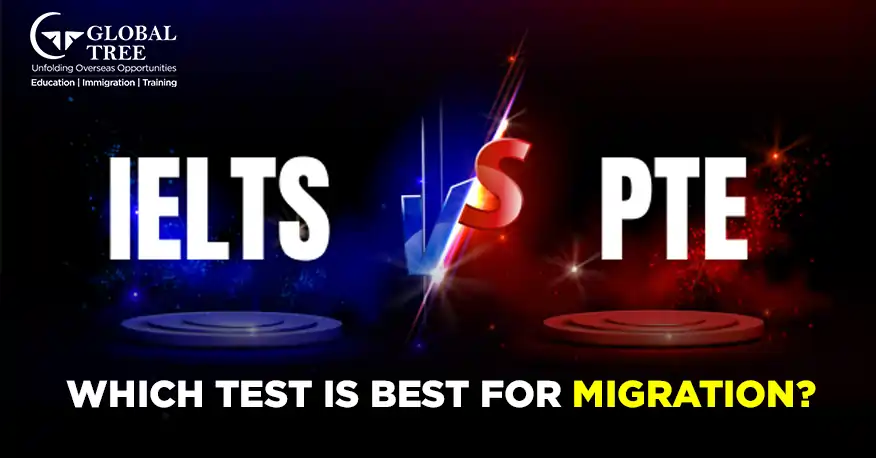 Introduction
Both IELTS and PTE are English Language tests that are used to language proficiency. IELTS enjoys higher acceptance and recognition in more countries across the world. This makes it the obvious choice for test takers worldwide. Now, let us try to understand the differences that make them unique in their own ways.
IELTS over PTE for migration: Understand the differences
Below are the key factors that you may use to plan according to your preferences, between PTE and IELTS:
1. Does Canada accept PTE-A for migration?
Canada is currently not accepting PTE Academic for immigration. When compared that with IELTS, which is recognised worldwide has been accepted by IRCC in Canada since 2005. It is one of the widely recognised English entrance exams.
(Read More: Tips to consider while preparing for PTE)
2. Why IELTS is considered the number one English test for migration?
IELTS is one of the most accepted English Language exams by all immigration departments that include countries like Australia, Canada, UK and New Zealand. Generally, PTE is used as a verification method for non-native speakers. It is largely accepted for academic applications and for obtaining Australian student visa also.
The IELTS results are recognised and accepted by more than 11,000 institutions around the world. This includes Professional businesses, universities, as well as government applications and Australian visa applications.
3. Is IELTS more flexible than PTE exam?
PTE exam is available only on computer, whereas with IELTS you can choose to take it on paper or computer in various locations across the world. There are 75 IELTS centres across India which makes it easy for students to attempt the exam.
4. Which exam is Fairer in testing?
IELTS follows a specific test format that is fairer and cordial for test takers. While attempting IELTS exam you are allowed to skip questions and come back to them later, so you don't waste time. But with PTE, you must answer the question before moving on to the next one.
5. Which exam is Fairer in marking?
When it comes to IELTS exam, English experts assess the speaking and Reading tests, following the global marking standards. This ensures to bring fairness to all test makers to give them the best chance of achieving their migration goals.
(Read More: Grammar for IELTS that you shouldn't miss!)
6. What are the chances of scoring on IELTS and PTE?
Many test takers who appeared for both tests say that PTE-A is much easier than IELTS. IELTS is a bit challenging as it requires a deeper understanding of the grammar and vocabulary. PTE Academic aims at the practical aspects of communicative English.
| Query | IELTS | PTE |
| --- | --- | --- |
| Which is the more popular test, IELTS or PTE? | The most popular English test worldwide with over 3 million tests taken annually. | Up to 828,000 tests taken in 2022* |
| What test types of tests are available for IELTS vs. PTE? | Available on paper and computer | Computer-based only |
| Are IELTS and PTE accepted by the Canadian Immigration Department? | Yes | No |
7. PTE vs. IELTS: Price Details
The one and only difference between IELTS and PTE is that PTE charges extra money for late slot bookings.
The IELTS charges up to USD 375 and does not take any extra charges for late bookings. PTE charges USD 375, and it might cost around USD 395 for late bookings.
8. PTE vs. IELTS: Test Format
PTE Academic analyses the student's ability based on tasks that have academic relevance. It helps in determining if they can use the English Language for abroad studies.
The IELTS General Training: This exam features conversational English and professional environment. It is useful for students who wish to apply for secondary education in any English-Speaking country.
The IELTS Academic Test: This exam features academic English, and is useful for those who want to pursue higher studies in English-speaking countries.
9. PTE vs. IELTS: Verbal or Speaking Test
The IELTS speaking test is a face-to-face session with the examiner. The examiner will conduct the exam in a private room with no other candidates. The candidate can request the examiner to repeat the question if not understood.
The PTE speaking test is conducted through a computer, where the candidates are requested to read their transcript aloud in a booth and if the student remains silent for more than 3 seconds, the microphone gets switched off.
10. PTE vs. IELTS: How are the Scores Calculated?
The PTE Scores are calculated using machines, which is an automated scoring system. In contrast, the IELTS writing and speaking scores are calculated by global experts. The only tests marked by an automated system are the Reading and Listening sections. The following information will give you an insight into how the IELTS scores are calculated.
For IELTS exam, they calculate the cumulative scores for all the tests and provide a total average band score. This band score rounded to the nearest number. The following example will make it easy for you to understand:
Reading 5 + Writing: 5.75 + Speaking: 5.75 + Listening: 4.5 = 21; 21/4 (components) = 5.25; Round: 5.5
The following table will give you an idea of IELTS reading and listening tests are marked:
IELTS Listening Test

IELTS Reading Test

Raw Score (of 40)

Band Score

Academic Reading

General Training Reading

Raw Score (of 40)

Band Score

Raw Score (of 40)

Band Score

16
5
15
5
15
4
23
6
23
6
23
5
30
7
30
7
30
6
35
8
35
8
34
7
38
8
11. IELTS vs. PTE Results
To complete IELTS test, it takes a total of 170 minutes (roughly 2.8 hours). It has four sections and the time taken by each section is mentioned below:
Writing and Reading section might take 60 minutes each.
The listening section - a total of 30-35 minutes
The speaking section- 15 minutes
The PTE test takes up to 145 and 190 minutes to complete. It is divided into three parts:
Part 1- It might take 70-90 minutes and this part include writing and speaking
Part 2- It might take 30-40 minutes and it only includes reading.
Part 3 – It might take 45-60 minutes
PTE results will be received within 5 days from the date of test taking. While IELTS results can be received within 2 days and with IELTS on computer you will receive your test results within just 3-5 days. This will ensure you with a peace of mind to help meet you meet your immigration application deadlines.
(Read More: How to achieve an assured success on IELTS?)
12. PTE to IELTS Conversion
The PTE and IELTS scores are equivalent, but as stated, IELTS gives more opportunities for students. PTE exam provides a high precision score than IELTS yet IELTS is the most accepted exam world-wide. If you are curious to know about the conversion of PTE score to IELTS Score, then the following table will give you all the insights.
| IELTS Band | PTE Scores |
| --- | --- |
| 9 | 86+ |
| 8.5 | 83 - 85 |
| 8 | 79 - 82 |
| 7.5 | 73 - 78 |
| 7 | 65 - 72 |
| 6.5 | 59 - 64 |
| 6 | 51 - 58 |
| 5.5 | 43 - 50 |
| 5 | 35 - 42 |
| 4.5 | 30 - 34 |
| 4 | 23 - 29 |
You can achieve a success on IELTS exam with extensive preparation. Take help from online courses, webinars and practice tests. This will help your confidence grow and make it easier to achieve your goals. Take IELTS coaching from the reputed institution to ace high score.
Conclusion
All in all, while choosing between important exams like IELTS and PTE, you have to take care about factors like flexibility, chances of scoring, fees, format, and how the scores are calculated. We hope this article helped you make a better decision. For more details talk to Global Tree today.