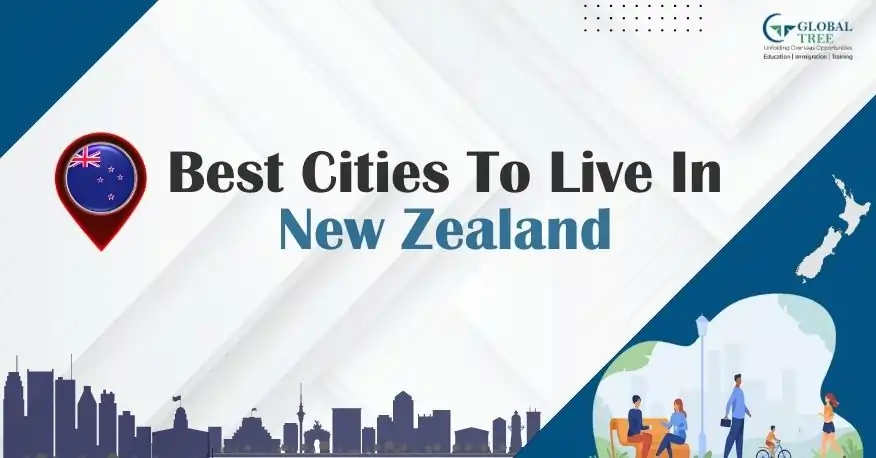 Beautiful Landscape, Best Jobs & Friendly People That Is New Zealand!
New Zealand is a popular destination for immigrants and is viewed as one of the best places in the world to immigrate with your family.
The country has excellent facilities, clean air, low pollution index and a quality education system, which makes it the best place to bring up healthy, active and intelligent children. In this post we take a look at some of the best and safest cities in the country where, immigrants can settle down with their families and raise their kids rest assured.
New Plymouth As A Booster City For Indian Immigrants To New Zealand!
New Plymouth is an excellent place for immigrants who live with families. The city boasts of a thriving economy on account of the local oil and gas industry. It also has low unemployment rates and is rated as one of the safest places on account of its low rates of crime. The homes are also affordable for immigrants with families.
On the education front, the children in the city perform well in University entrance exams as well as on national standards. The city also offers a lot of options for those who love an active lifestyle. The city is close to both the beach and the mountains, throwing open many weekend options.
[Read More: Immigration To New Zealand]
Wellington City For Immigrants To New Zealand Who Seek A Simple Life Style
Many Immigrants to New Zealand prefer to settle down in Wellington and enjoy its rural community and feel combined with the conveniences of living in a big city. The city offers a variety of activities on the art and culture scene ranging from the New Zealand Symphony Orchestra, to the Royal New Zealand Ballet.
Outdoor lovers can chill out at one of its many beautiful parks, beaches and reserves. The city ranks as the third best in the state of Oceania for quality of living and its homes are affordable. Education standards are high, with children from the city performing extremely well on the national level.
Nelson City Offers Best Climate For Those Who Desire Immigration To New Zealand!
Families prefer to live in Nelson to enjoy its sunny climate as well as all the parks and beaches that are nearby. The city boasts of low unemployment levels and low crime rates, thus making it a secure area where immigrants can raise their kids in a safe environment.
Students in Nelson, do extremely well on the National Standard Achievement Exam. The outdoor life combined with low rates of crime makes this an ideal location for immigrants who want to raise their families in the admiring nation.
Queenstown Lakes For The Adventurous Rides To Tour Around On Tourist Visa New Zealand
The city of Queenstown is known for its high quality of education, low rates of crime and spectacular natural beauty, making it an ideal destination for top Immigration Process to New Zealand with their families.
The children who grow up in Queenstown can enjoy the benefits of having access to mountain biking, many sports arenas as well as skill fields all through the year. Grownups too can enjoy the tourist attractions and multicultural aspect of this truly global city.
This city stands as a major tourist attraction because of the adventurous activities it offers outdoors along with many site seeing land scopes. Many sportive travelers visit this country on tourist visa during winter and spring to enjoy the beautiful nature and be a part of the sport.
[Read More: Best Cities To Live In New Zealand]
Dunedin Offers Best Environment For Families To Immigrate To New Zealand!
Dunedin has been ranked as one of the best places in New Zealand to live and raise a family. The city scored high on the parameters of community strength and social connections. The city boasts of a relaxing pace of life as well as wide variety of wildlife viewing options.
Kids especially love the place as they can spot penguins, seals as well as the Royal Albatross in the vicinity of the city, a rare feature a city can offer to its residents. The citys students do well in all academic parameters and immigrants need not worry about the quality of their childrens education if they choose to settle in Dunedin. Houses too are extremely affordable making Dunedin an ideal location for young immigrants to New Zealand.
To know more about the best cities in New Zealand, different visa processes, work permit visa, Study Visa to New Zealand, Tourist Visa to New Zealand, you can contact Global Tree, Overseas Education and Immigration Consultants, having 14 branches across India.
Global Tree certified immigration consultants have expert counseling team to guide in the visa process and provide best assistance throughout the application process. Log on to our website to block a slot for free consultation with our counsellor.