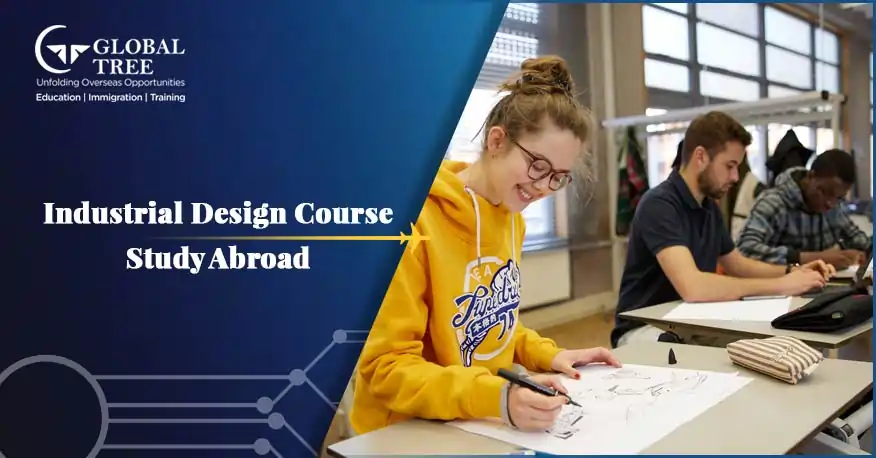 Introduction
You will get familiar with the foundational ideas of visual art, design, and modelling during your studies. To best meet the needs of the context, you will also examine how design and art evolved in relation to societal and historical developments. Additionally, you can count on spending a significant amount of credit hours in the studio honing your abilities in areas like 3D structure, prototyping, CAD rendering, 3D printing, and design management.
Let's Choose the Best Industrial Design Course & Colleges to Study Abroad. By the end of your studies, you will be able to express your opinions regarding a wide range of products, including furniture, electronic appliances, medical devices, and mobile apps. Industrial design teaches you not only how to build your concept and do market research, but also how to create a functional prototype and successfully market it.
Who is eligible to study Industrial Design Course Abroad?
Industrial design may be the right field for you if you are attracted to the aesthetics of the products you see, pay close attention to the placement of each individual component on the commonplace items you use every day, and consider how you would go about creating a product from scratch.
In contrast to other design disciplines, industrial design places a strong emphasis on problem-solving. You can use your creativity and aptitude for solving problems to build things that significantly improve the lives of others by pursuing this topic of study.
Being a product designer is in some ways more difficult than being any other kind of artist because you have to create goods that are both aesthetically pleasing and useful. So, if you're unsure whether this profession is suited for you, just ask yourself this question and you'll know the answer: Am I imaginative and adept at solving problems?
(Read more: Find top universities to study master's program abroad)
How much does it cost to study Industrial Design Course Abroad?
Any prospective candidates in the US will be required to pay an average of $35,000 per year for tuition and additional living expenses. The annual tuition at prestigious universities in this subject, such as Carnegie Mellon, is much higher at $58,000. The average cost per year for a graduate program specializing in industrial design is between $30 and $40,000.
For undergraduate programs, the annual cost averages out to between $30,000 and $40,000 in other nations like Australia or the UK.
What is the Future Scope of Industrial Design Course Abroad?
A bachelor's degree abroad in Industrial design holds promise for the future, as evidenced by the field's employment rate's 6% rise. Companies are now more eager than ever to spend funds on innovation and product design because, over the past ten years, they have become more aware of the need for an industrial designer. This resulted from a number of factors, including growing worldwide competitiveness and an emphasis on consumer happiness, among others.
In the US alone, it is projected that 3100 new job openings occur on a yearly basis! In addition, a lot of brand-new businesses around the world are redesigning their entire product strategy in order to develop products for mass consumption that tie in with maximum client happiness. Industrial designers can earn up to $118,000 after gaining expertise in the industry, which is a reflection of the increasing value placed on industrial designers according to the Bureau of Labour Statistics (BLS).
Trending Career Options in Industrial Design Course Abroad
With a degree in industrial design, you have a plethora of professional options. You can work in the furniture industry, as a product design manager, as a set designer for theatre or film, as a packaging designer, or even as an automotive designer.
Career as an Industrial Architect
Industrial designers employ a combination of their engineering and artistic talents to create products that satisfy the needs of the customer while also being aesthetically pleasing and user-friendly. This includes performing consumer behavior market research, testing various product concepts (3D design, graphics, and CAD drawings), and creating items that appeal to the client's target market. A professional industrial designer after completing their master's in industrial engineering course abroad makes USD 58,200 on average yearly.
Career as a Package Creator
The toy, electronics, hardware, and healthcare industries are just a few of the organizations that employ packaging designers. A package designer's job is to create and test various packaging options for his business. They accomplish this by investigating various materials that make superior packaging substitutes and developing standardized packaging designs for mass-produced commodities. A package designer typically makes USD 51,000 per year.
Career as a Furniture Designer
Furniture manufacturers or furniture manufacturing companies employ furniture designers. They create specialized furniture based on the unique requirements of their customers. As part of their duties, they had to stay in continual contact with their client while the furniture was being designed so they could customize it to suit their wants and preferences. They test out various components using computer-aided design software until they discover what works best. The price of the raw materials and the manufacturing process is also estimated. An average furniture designer makes $51,400 per year.
Career as an Automotive Designer
They work for vehicle manufacturers, as the name would imply. They rely on their knowledge of physics and inventiveness to develop comfortable automobiles that are also aerodynamic and aesthetically pleasing. Naturally, a large portion of their work involves sketching and modeling to determine the most effective design. They typically operate in teams, with each member responsible for a certain vehicle component. Automotive designers make an average of USD 80,700 per year.