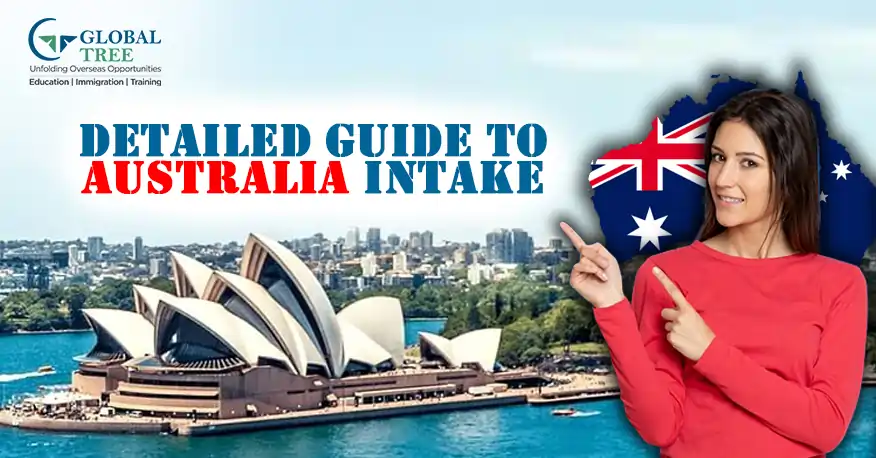 Introduction
Australia is one of the most popular study destinations and the third most preferred country every year. According to statistics, it has attracted a total of 469,248 international students from January to May 2023 period. The intakes in Australia are increasing year by year to pursue graduation courses. Australian Universities are recognised world-wide for their academic excellence and research.
There is a huge competition with the number of applicants trying to get enrolled into Australian Universities. This makes it compulsory for every student to know about the importance of Intakes in Australia 2023. There are only three Intakes i.e. February, November and July. Read the blog to know more about it.
Australian Universities Intakes: February vs. July vs. November Intakes
The intakes in Australia for foreign Nationals are categorised for 3 semesters which are Semester 1, Semester 2 and Semester 3. The semester 1 intake begins in February, semester 2 in July and semester 3 in November month.
(Read More: Why is University of Sydney the best choice to study in Australia?)
Semester 1 is one of the most chosen study intake in Australia among international students. The next option is 2nd Semester intake. Before we get going into the details, let's understand the differences between them:
| February Intake | July Intake | November Intake |
| --- | --- | --- |
| Also known as Semester 1 intake | Also known as Semester 2 intake | Semester 3 intake |
| Primary intake season | Secondary intake season | Limited universities are available less popular |
| All programs are available for admission | A majority of the programs are available including some February intakes programs | Minor, least popular with some selected programs |
| Large number of applications received | Number of applications received is lesser than February. Usually preferred by students missed the February intake | Very limited applications |
| | February. Usually preferred by students missed the February intake | |
| Various types of scholarships and financial aids are available | Limited number of scholarships and financial aid | Less than July intakes |
| Duration: February or Early March–Late May or Early June | Duration: Late July or Early August–November | Duration: Late November - January |
Now that we understood the differences, let us have a look about their deadlines.
What are the Intakes Deadlines in Australia?
It is suggested to submit the admission application as soon as possible before the Australia university intakes deadlines. Most of the universities do not accept applications after the deadlines. The deadlines differ from university to university. Here are the guidelines of intake deadlines:
February Intake: Between October and November of previous year
July Intake: Between April and May
November Intake: September
A master's degree in Australia follows various sets of deadlines such as Round 1, Round 2 and Round 3. A few universities have two specific deadlines:
Course Application Deadlines
Scholarship Application Deadlines
Top B-schools in Australia follows a round-based application. Make sure to check the official website before application. Also, if applying for B-Schools in Australia, apply before round 4 to save the extra time for other processes. The rounds may vary with each university but the common one is listed below:
Early Decision: Early August
Round 1: Early August
Round 2: Early October
Round 3: Early November
Round 4: Early February
Round 5: Early April
Round 6: Mid June
Top Universities Admission Deadlines in Australia
University Name
Bachelor Degree Deadline
Master's Degree Deadline

Australian National University

Semester 1: December 15, 2023

Semester 2: May 15, 2023

Semester 1: December 15, 2023

Semester 2: May 15, 2023

University of Melbourne

Semester 1: October 31, 2023

Semester 2: May 31, 2023

Semester 1: October 31, 2023

Semester 2: April 30, 2023

University of Sydney

Semester 1: January 30, 2023

Semester 2: July 17, 2023

Semester 1: January 31, 2023

Semester 2: July 15, 2023

University of New South Wales

Semester 2: March 31, 2023

Semester 3: July 31, 2023

Semester 2: March 31, 2023

Semester 3: July 31, 2023

The University of Queensland

Semester 1: November 30, 2023

Semester 2: May 31, 2023

Semester 1: November 30, 2023

Semester 2: May 31, 2023

Monash University

Rolling Based

Semester 1: January 15, 2023

Semester 2: July 31, 2023

The University of Western Australia

Semester 1: December 1, 2023

Semester 2: July 1, 2023

Semester 1: December 10, 2023

Semester 2: July 1, 2023

University of Adelaide

Semester 1: December 1, 2023

Semester 2: May 1, 2023

Semester 1: December 1, 2023

Semester 2: May 1, 2023

University of Technology Sydney

Semester 1: December 30, 2023

Semester 2: January 15, 2023

Semester 1: April 30, 2023

Semester 2: June 30, 2023
What is the Eligibility Criteria for Intakes in Australia?
Every student must fulfil certain eligibility criteria before applying to Australian universities intakes. Following are the eligibility requirements:
Academic qualifications
Language proficiency test
GRE or GMAT scores
Passport & Student Visa
1. Academic Qualifications
The academic qualifications depend on the level of your program. For example, if you are applying for bachelor' degree, you must complete your secondary education in order to be eligible.
2. Language Proficiency Test
If you are a non-native speaker, you must attempt the Language Proficiency test like IELTS or PTE. You must qualify in order to get admittance to Australian Universities. The cut-off score for both tests are
IELTS: 6.0
PTE: 65-70 points
3. GRE or GMAT Scores
The GMAT and GRE scores are not compulsory by some Australia intake 2023. It is because of the pandemic events, few of the universities have made it optional. However, some of the top universities in Australia require it as a part of evaluation. A GRE score of 280 and GMAT score of 650 is appreciable
4. Passport & Student Visa
Passport and student visa documents are important to apply for Australia intake 2023 for international students. Make sure to apply for passport before the application to avoid the delay in application submission.
Documents Checklists for Intakes Universities in Australia
There a set of documents which are an essential part of the admission process, and hence it is advised to avoid the last-minute hassle. Below is a list of documents which you must secure before the intake:
Previous academic transcripts
Language scorecards
Higher secondary certificate
Bachelor's degree certificate
GRE or GMAT scores
Statement of purpose
Letter of recommendation
Proof of financial resources
Resume or CV
Work experience certificate (if any)
Copy of your Passport
Photographs
What is the application Process of Australia Intakes?
The application process may vary with every university but a standard process is followed. Here are a few steps to follow for the Australian application process:
First, make a shortlist of the universities and gather the required information from their respective websites.
Prepare a well-defined SOP for Australia along the essential documents.
Fill the application form and pay the fees.
Check the website for regular updates about your acceptance letter.
Benefits of Intakes in Australia
Australian Universities are providing you with a plethora of opportunities in the intake 2023. Also the rate of acceptance is high in certain months. Some of the benefits during the Australian intakes are as follows:
Take Up Entrance Exams Faster
After completing your admission process, apply for the required entrance exams like GMAT or GRE. It is also important to give other English Language tests like IELTS or TOEFL. Make sure to secure the cut-off score for required university.
Submit Application before Deadlines
February intake is considered as the most competitive study intake. Start preparing for the application much before the deadlines. This will ensure in rectifying your missed requirements and mistakes. Create a strong SOP in before-hand and do not rush on the last minute.
(Read More: The Affordable Universities in Australia for Indian students 2023-2024)
Student Visa Preparation
Since you know the intake deadlines, now take some time to apply for Australian visa. The student visa is a crucial document for admission to any university/college. Put in all efforts to prepare for a visa interview as this can be the beginning for your new journey.
Myths about Different Intakes in Australia
The most relevant Australia university intakes for international students seeking admission is the February intake. It is much better than other intakes seasons. However, there are some myths of different intakes in Australia which are discussed below:
Different Intakes for Different Programs
This is the most common myth you may come across when applying for Australian Universities. Most of the universities gives invitations to the students on the same intake for both under-graduation and graduation courses. The standard intake starts in February and March for both levels. Few universities offer it in second and third intakes too.
(Read More: How to apply for a job in Australia for Indians?)
Not all Australian Intakes are best
If you are planning to study in Australia for the intake season 2023, February is the most chosen and many courses are offered during this intake by every university. You can also apply for July intake if you miss February intake. However, in the other two intakes, the numbers of courses available are limited. Also, the rate of acceptance is more in these intakes as limited applications are received.
Only Some Courses Are Offered
A common myth is that there are only some courses offered to international students while others do not. From the humanities and arts to medical streams, you can apply for any course of your choice in Australia.
Frequently Asked Questions about Intakes in Australia
Is Australia open for new international students?
Yes. The country is taking new international students who are wishing to get enrolled in the Australian Universities.
Can I get myself enrolled into Australian Institutions after 12th?
You can. Most of the foreign nationals come to Australia to pursue their graduation courses. The requirement includes your completion of higher education and language test.
How many intakes are possible for Australian Universities?
There are 3 Australian intakes i.e. semester 1, semester 2 and semester 3. They take place in the months of February, July and November.
Which intake is the best for the international students in Australia?
February intake is the most popular Australia intake for international students. Most of the courses are also available during this intake.
Now that you are clear with the Australia intake 2023 for international students, it's time for you to apply to Australian universities. Make sure to apply before meeting deadlines. Do approach Global Tree for any assistance or guidance.