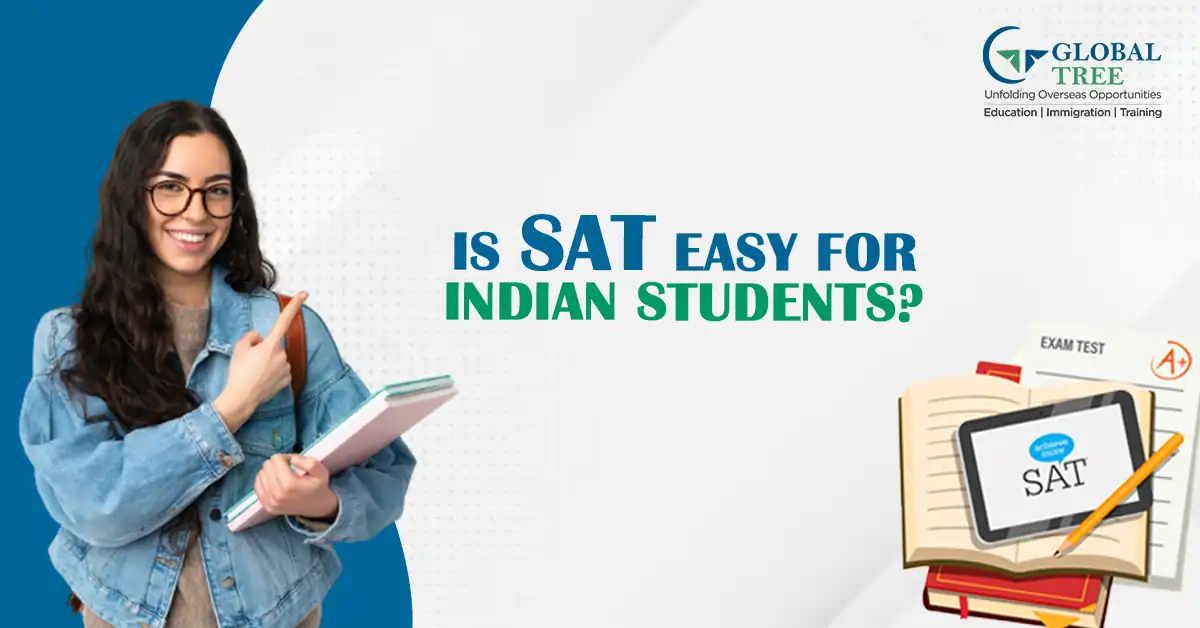 Introduction
Are you on your way to apply abroad? Find out what the SAT has in store for you.
Originally adapted from an Army IQ test, The SATs might feel quite scary, especially when you're a kid applying abroad! Maybe you're a professional looking to upskill with a master's degree.
The SATs have become a standard test for admissions, particularly in the US and Canada. However, worry not, we'll take you through the journey of the overseas.
Until that sets it pace, let's see if it's easy to crack the SATs, and what pointers can let you ace the SATs one-shot!
Let's understand how the SAT is easy for Indian Students.
Is SAT easy? - a Simple Analysis
An SAT intends to predict your capability and how you perform in your first year of college. It aims at testing your intelligence, based on which you score your admission.
Your question about the easiness of the SATs is valid. As an international candidate, your scores are directly related to your preparation.
Therefore, you have to research the content of the test and what it demands.
What does the SAT demand?
The following are some points to keep in mind:
The aim is to measure key skills like reading comprehension, computational ability, and clarity of expression.
The SAT has 4 sections: Reading, Maths, Writing, and Language Tests.
Out of 154 questions, an ideal score is above 1200 (max 1600). Check how the SAT scores are calculated.
Duration is 3 hours.
Unlimited attempts
Conducted five times a year.
What makes it hard to crack SAT? - Factors to plan accordingly
Plan out your routine and keep these points in mind:
1. Time Pressure
Applicants have a limited amount of time to take the test. This means that even if pupils know all of the answers, time constraints may cause them to make mistakes. Applicants, for example, have around 75 seconds per question in the reading phase and 48 seconds per question in the writing section.
2. Concepts new to you
The SAT exam consists primarily of questions on topics that students have already covered in high school. However, certain questions on the SAT exam go beyond the boundaries of high school understanding on occasion. This is especially common with mathematical notions.
Aside from learning new concepts, pupils must contend with the fading of old ones from memory. As a result, all students are advised to review all of the math principles covered in the Calculator and No Calculator part.
[Very Important: SATs are now Digital - How does it impact you?]
3. Reading Passages take Time
The SAT passage portion typically comprises passages from literature published in journals or books. At least one passage is taken from a historical source. This signifies the piece is written in a high-level language and may be difficult to read and understand.
Such portions' terminology may be too advanced for students who are not keen readers. As a result, students should practice reading outdated portions to avoid reading slowly during the exam.
Ace your SATs - Reasons that make it a Better Choice
These are some of the reasons that make your SATs a little easier to bare:
Straight Forward Answers - No more learning word-for-word
Many tests are known for requiring students to memorize a large number of ideas. The SAT, on the other hand, does not require kids to memorize concepts. The majority of formulas are discussed in the Math portions, and the Reading and Writing sections also focus on comprehension and language.
Multiple Choice Questions - Time Saver
The SAT requires students to use their brains more than their hands. There are no free-response questions on the main portion of the exam. Except for a few grid-in questions, all questions are multiple-choice. This means that the solutions to the questions are right in front of you. Almost no room for confusion.
Test Pattern - No Surprises!
Fortunately, this time no surprises are the good news! Every year, the sections of the SAT exam are in the same order: Reading, Writing & Language, Maths No-Calculator, and Maths Calculator. This consistent format benefits kids in test preparation.
4 Latest Tips to Prepare for the SAT Test - Get in the Top Leagues
Finally, these Tips will make sure
1. Chill out - Learn to reduce the Time Pressure
The secret to easing the time crunch is to create tactics that will increase productivity. For instance, pupils can use the extra time in other parts if they can read passages more quickly.
Algebra, trigonometry, and all other math courses come with time restrictions for the students.
The No Calculator segment gives students 25 minutes to complete 20 questions, and the Calculator section gives them 55 minutes to complete 38 questions. If a problem is taking too long to solve, it is wise to move on to the next one.
[Read on: How to ease the stress of SATs - A Smart Path ]
2. A Trick Age Old - Learn How to Eliminate
Knowing the right answers to every SAT question is extremely rare.
Students frequently run out of time before they can finish the problem they are stuck on. The elimination procedure is useful in these circumstances.
Students can mark out answers that are least likely and are not supported by the passage by critically examining all the possibilities.
Therefore, even if a student does not know how to finish with a correct answer, they can still achieve good results by learning how to eliminate incorrect responses.
3. Practice, Practice, and Practice - Mock Tests
The fact that students have never seen or practiced the test is the main cause of their confusion upon taking it. Even if they have acquired the principles in high school, they appear uneasy to unprepared kids.
Taking a lot of practice examinations is the only method to lessen this overwhelm. Students who take authentic SAT practice exams discover that they are very capable of discovering the solutions to the questions. Additionally, kids become more effective in the reading and writing sections.
4. Examining and Refining Mistakes - Makes a Better Man!
Taking practice SATs serves merely to become familiar with the format and identify common faults. Students who review the outcomes of their practice examinations, identify repeating errors, and then work to correct those errors are more likely to perform better than those who do not.
The Impact of Test Coaching - Does it increase your SAT Performance?
Since the start of SATs, it has been susceptible to coaching.
The format, content, and topics tested in SATs are straightforward and limited. With good test prep and coaching, you can significantly boost your scores by at least 100+ points (max score 1600).
The predictability and the narrow range of content make it easier to research and score top grades in one shot.
Lastly - Get Started With your Prep
Well, there's nothing much to wait for! You know everything you need to understand about how easy the SATs can be for you.
Additionally, if you are looking for specialized guidance, you can contact Global Tree. They treat you with the best experts and additional care. It may make a big difference in your life.
Good luck!
FAQs - Frequently Asked Questions to make SATs easier for Indian Students
How can an Indian student prepare for the SAT?
Understanding the SAT Syllabus.
a productive daily study plan.
Weekly goals based on actual test results.
Excellent Study material.
And lastly, cheerfulness and confidence. With good preparation, you will for sure crack the exam.
Is SAT worth it for Indian students?
The SAT is a crucial exam for all students applying to undergraduate or bachelor's programs in the US or Canada because most of those universities use SAT results to evaluate your profile. Your written, verbal, and mathematical abilities are the topics on the SAT exam.
Is SAT expensive in India?
The cost of the SAT exam is approximately 6200–7000 Indian Rupees.
What countries accept SATs?
It is accepted by countries - the United Kingdom, Canada, Australia, Germany, and Singapore. Students can use their SAT results to apply to undergraduate programs at over 800 universities worldwide.