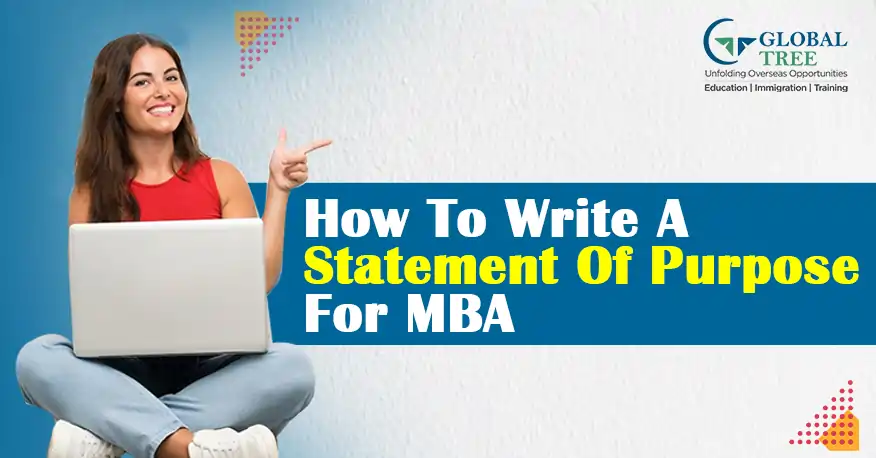 Introduction
A Master of Business Administration (MBA) is a key step for anyone who wants to do well in the fast-paced world of business and management. Your Statement of Purpose (SOP) is one of the most important parts of your MBA application. An SOP is more than just a piece of writing; it's a chance to talk about your goals, experiences, and the things that make you a good fit for the MBA program you want to go to. This detailed guide will go into the most important parts of an SOP that make it appealing for different MBA specializations.
Parts of an MBA SOP that we prefer you to not miss.
No matter what MBA specialization you choose, there are a few key things you must include in your SOP for it to be effective:
1. Introduction: The beginning of your SOP should grab the reader's attention right away. Introduce yourself and talk about what you've done in school and work that has led you to want to get an MBA.
2. Academic and Professional Background: In this section, you can talk about your academic achievements, relevant coursework, and professional experiences. Pay attention to experiences that show you can handle the challenges of an MBA.
3. Goals for your career: Write down both your short-term and long-term goals for your career. Explain how the MBA program will help you reach your goals and how it fits in with your plans.
4. Why This Programme: Show how much you care about the MBA program you're applying to. Talk about what drew you to the program, such as the expertise of the faculty, the unique resources, or the special opportunities it offers.
5. Relevance of Specialisation: For each MBA specialization you want, think about why you are interested in that particular field. Talk about how the things you've learned in school and the work you've done fit with the specialization.
SOPs for MBA Specialization-Wise:
You may cater your SOP according to the specialization that you are opting for, from the details down below:
1. SOP for MBA in Marketing
When writing a statement of purpose (SOP) for an MBA with a Marketing specialization, students are expected to show a high level of enthusiasm and a strong desire to lead in the competitive marketing field. The SOP needs to say:
Deep understanding of the dynamics of marketing: A firm grasp of how the different parts of marketing roles work together and how each part contributes to the overall success of a business.
Strategic Approach to Complex Business Processes: A strategic and methodical way of dealing with complicated business processes, showing an ability to come up with new marketing strategies that get results that can be measured.
Leadership and management skills: A clear ability to take on leadership roles and manage teams and projects with efficiency and foresight, which shows that the person is ready to take on top-level managerial responsibilities.
Versatility in Marketing Domains: A deep understanding of different marketing domains, from digital marketing to e-marketing, and a strong desire to explore and do well in areas like branding and market positioning.
Proficiency in Core Marketing Concepts: A thorough understanding of basic marketing ideas, such as how to use the "four P's" of marketing (Product, Price, Place, and Promotion), as well as a clear understanding of how to analyze consumer behavior and divide the market into different groups.
2. SOP for MBA in Finance
A strong statement of purpose (SOP) for getting an MBA with a focus on Finance needs a strong commitment to navigating the complex world of financial management and strategy. The SOP needs to have:
Strong financial savvy: A proven track record in financial analysis and the ability to make sense of complex financial data, which shows the ability to make strategic decisions based on accurate information.
Risk Management Proficiency: The person has shown they can evaluate and reduce financial risks, which shows they know how important risk management is to a business's success.
Leadership in Financial Strategy: A clear desire to take on a leadership role in shaping financial strategies, showing that you are ready to lead organizations through financial challenges and opportunities.
Understanding Market Trends: A strong understanding of global market trends and the ability to figure out how they might affect financial investment decisions. This shows that you plan your finances with an eye toward the future.
Ethical financial practices are a commitment to making financial decisions that follow ethical standards and stress the importance of honesty and openness in financial operations.
3. SOP for MBA in HR (Human Resources)
When writing an SOP for an MBA in Human Resources, it's important to show how much you care about making the workplace a good place to work and helping the organization grow. This is what the SOP should show:
Interpersonal Skills: Show how good you are at making and keeping relationships, and how you might be able to make the workplace more pleasant and productive.
Expertise in talent management: Talk about what you've done to find, develop, and keep talented people, and show that you understand how a skilled and motivated workforce helps a business succeed.
Strategies for Getting Employees Involved: Show that you can come up with plans to improve employee morale and engagement and that you are committed to maximizing organizational performance through human capital.
Leadership in HR means showing that you have the skills to lead HR projects, like resolving conflicts or managing employee performance, and that you are ready to take on senior HR roles.
4. SOP for MBA in Operations
For an MBA with a focus on Operations, your Statement of Purpose (SOP) should show that you have a strong analytical mind and a strong desire to improve business processes. Some important things to cover are:
Problem-Solving Skills: Showcase your strategic thinking and problem-solving skills by talking about your ability to analyze complicated situations and come up with good solutions.
Process Optimisation: Talk about how you have streamlined operations, cut down on waste, and increased productivity. This will show that you are committed to improving business performance.
Supply Chain Understanding: Show how well you understand the dynamics of the supply chain, how to manage inventory, and the logistics of moving goods and services.
Leadership in Operations: Show that you have the potential to be a leader in operations management and that you are ready to take charge of important business functions.
5. SOP for MBA in IT (Information Technology)
When writing an SOP for an MBA in Information Technology, you need to show that you understand how technology and business work together. Your SOP should have the following:
Technological savvy: Show how good you are with technology and how you can use it to make smart business decisions and come up with new ideas.
Project Management Skills: Talk about your experiences managing IT projects and show how well you can organize and lead people to get things done.
Business-Technology Integration: Show how you can bridge the gap between technical solutions and business needs, highlighting your ability to drive digital transformation.
Innovation and Disruption: Show how excited you are to use new technologies and how you might be able to lead organizations through changes in technology.
6. SOP for MBA in International Business
When writing a SOP for an MBA in International Business, show that you can think globally and adapt to different cultures. Your SOP should bring attention to:
Global Perspective: Talk about how your experiences have broadened your view of the world and shown you can work in a variety of business and cultural settings.
Cross-Cultural Competence: Show that you can communicate and work well with people from other cultures and that you are ready to work in an international setting.
International Experiences: Talk about any international internships or projects you've done that have helped you understand how business works around the world.
Global Business Strategies: Show that you want to learn about international market trends, trade rules, and global economic forces. This will show that you have the potential to drive growth in international business.
How to Write a Great SOP for MBA Application?
Writing a strong Statement of Purpose (SOP) for your MBA application is one of the most important ways to show that you are a good fit for the program. Different schools may have different requirements, such as open-ended SOPs or essays with word limits, but the admissions committee looks for the following things in an MBA SOP:
Step 1: Beginning
In the first part of your MBA Statement of Purpose, you should briefly describe your background. This needs to include:
Information about your past academic program and the school you went to.
The MBA program you're trying to get into.
where you are living right now.
Why you want an MBA and how you plan to get it.
Experiences in your life that were important and helped you decide.
Step 2: Background in school
After the introduction, talk about where you went to school and what you learned. Since MBA programs accept students from a wide range of academic backgrounds, you should focus on the parts of your education that are most relevant to business and management. Bring up:
Projects, extracurricular activities, and club memberships helped build skills useful for the MBA program.
Details about the classes you took or activities you did that were about business or management.
Step 3: Background on your work
This is a very important part, especially for MBA programs all over the world. It shows how much you've grown and changed as a professional. Think about how to answer these questions:
Promotions, awards, and commendations are all examples of important career accomplishments.
Show how important your work has been to organizations or industries.
Show off skills like working as a team, being flexible, understanding other cultures, and being a leader through your experiences.
Showcase soft skills like honesty, work ethic, and the ability to get along with other people.
Talk about any activities you've done outside of work, like volunteer work, that show your broader impact.
Step 4: Goals and vision for your career
In this part, talk about your goals for the future. Link your long-term goals to your educational and career path. Link your goals to how getting an MBA at your chosen school can help you reach your goals. Think about addressing:
Your long-term goals for your career.
The plans you have for how to reach these goals.
How the MBA program fits with your goals and prepares you for the career path you want.
Step 5: Coming to an end
At the end of your MBA Statement of Purpose, restate why you are a good fit for the program and the school. Focus on why you think you'd be a good fit by making connections between your background, your goals, and what makes the program unique. Show that you're sure you're ready to do well on the MBA path.
Remember that your MBA SOP should tell a story that shows you as a capable and motivated candidate. Make sure that your SOP fits the requirements of each school and is a true reflection of your journey, goals, and what you could bring to the field of business and management. Furthermore, if you wish to learn in detail, check out the Guidelines for writing your SOP. Or you can consult Global Tree for a free counseling session. Counselors make sure of taking the utmost care with the process of your application.
An MBA Statement of Purpose Sample
Here we have a statement of purpose mba example for the specialization of Marketing:
"In the beginning:
I have a deep appreciation for the art of marketing because of my time in school and the real world. At each step, I've seen how powerful strategic branding and good communication can be in changing how customers act. As I start my journey to get an MBA, I'm excited to improve my marketing skills and add to the ever-changing business world.
Background in school and work:
During my first year of college, I majored in Business Management and took a lot of classes that helped me learn about consumer psychology, market research, and marketing strategies. As a marketing intern at XYZ Company, I also worked with other people on product launch campaigns, which helped me improve my skills in market segmentation and analyzing competitors.
Goals for a career:
My immediate goal is to join a busy marketing team where I can use what I already know to make campaigns that have an impact. In the long term, I want to be in charge of marketing projects that not only help businesses grow but also bring brands and customers closer together.
Why [Name of the Programme]:
The best way for me to improve my marketing skills is through [Programme Name]. The respected faculty has a lot of experience in the field, which fits perfectly with my goal of learning more about new marketing strategies. The focus on hands-on learning, like case competitions and industry partnerships, gives me confidence that I will learn skills that I can use in the real world.
Importance of Specialisation in Marketing:
The Marketing specialization fits in perfectly with my goals. From digital marketing to branding, the course is a perfect fit for me because I want to improve my skills and learn about new marketing trends. I'm ready for the tough requirements of this specialization because I've already done consumer surveys and studied market trends."
For more Samples find here: Samples for your Statement of Purpose
Tips on How to Write a SOP
1. Start Early: Start your SOP early to give yourself enough time to think of ideas, write, revise, and edit.
2. Proofread carefully. Spelling and grammar mistakes can hurt your credibility. Do multiple rounds of proofreading or ask someone else to help.
3. Ask for feedback: Talk to mentors, professors, or professionals in your field to find out what they think. Helpful feedback can help you improve your SOP.
Conclusion
To make a great SOP, you have to work hard and think about yourself. This document tells the MBA program of your choice about your background, what drives you, and what you could bring to the program. By addressing the core elements, tailoring your SOP for each specialization, and following the tips given, you can create an SOP that gets the attention of admissions committees and sets you up for success in your chosen MBA path. Remember that your SOP is your story. It shows what you want to do and what you bring to the business and management worlds.
FAQs
Q1: What stands out about a SOP?
A: A great statement of purpose shows how well your past experiences, career goals, and the program's offerings fit together.
Q2: What kind of tone should I use?
A: Try to sound professional. Even though it should show who you are, it should also maintain a decent tone and language to stand out in a pool of applicants.
Q3: What should the length of my SOP be?
A: An SOP should be between 500 and 800 words long at most. Keeping to the word limit shows that you can say what you want to say quickly and clearly while still including all the important information. Keep in mind that admissions committees look at a lot of applications, so a well-written, short SOP can make a good impression.
Q4: Can I talk about my own life in my SOP?
A: Your personal experiences can give you important context, but it's important to make sure they are directly related to your academic and professional goals and journey. If a personal experience has had a big impact on your career goals or shows off important skills, you can include it. But don't include personal stories that have nothing to do with the main point of your application.
Q5: Is it okay to talk about my application's flaws or gaps in the SOP?
A: Yes, you can talk about any flaws or gaps in your application in a tactful way. But try to frame them positively and focus on what you've learned and how you've changed because of them. Use this chance to show that you are strong, can change, and want to improve yourself. Keep a positive tone and don't make excuses.