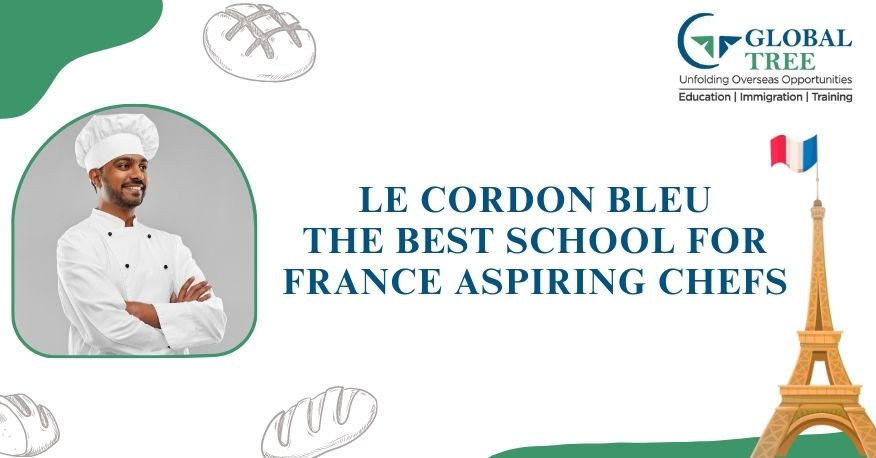 Study in Le Cordon Bleu
Do you find yourself, looking at the food at your favorite dining place and thinking, I can definitely do better than that? Do you when you stumble on the perfectly made dish and try to guess the ingredients? Is your idea of leisure cooking up exotic meals for friends and family? Are cooking shows your favorite genre of TV shows? Do you dream of being a Michelin starred chef, and opening your own one of a kind restaurant? And, Do the lab experiments you do in chemistry class, make you fantasize about owning your own molecular gastronomy kit?
Then le Cordon Bleu is the place you want to be! Le Cordon Bleu is the most prestigious and largest culinary and hospitality school in the world. It was established in Paris in 1895 as a cookery class offered by La Cuisiniere Cordon Bleu a magazine published by French journalist Martha Distelle. The name Ie Cordon Bleu translated as "The blue Ribbon" in English. The inspiration for the name came from the blue ribbon that symbolized the orders given by King Henry the Third in the 16th century for L ordre du Saint-Esprit. The members of the order were celebrated for their gastronomic pursuits, and hence the blue ribbon or Le Cordon Bleu came to symbolize the best in culinary arts. Le Cordon Bleu soon grew to fame as the ultimate destination for culinary enthusiasts all over the world.
[Read More: Best Courses To Study In France]
The famous Coronation Chicken recipe was formulated at the Le cordon Bleu school in Paris to commemorate the Coronation of Queen Elizabeth the Second. Famous TV personality Julia Child, and the Hollywood movie Sabrina, were instrumental in introducing the school to many American families and increasing the fame of the school worldwide. Today Le Cordon Bleu runs schools in Australia, Canada, China, France, Japan, India, Malaysia, Mexico, New Zealand, South Korea, Spain, Thailand, Taiwan, and USA. Alumni of Le Cordon Bleu have gone on to become Michelin starred chefs and have opened their own award winning restaurants and many have gone on to be famous TV personalities like Julia Child, and food writers like Kathleen Flinn Le cordon Bleu offers a range of programs for students interested in taking up culinary lessons at one of its many institutes to study in France. The schools focus on training students in the culinary arts, baking, hospitality and patisserie. The following programs are offered by Le Cordon Bleu. The flagship program offered by the school Le Grande Diploma is the most prestigious and popular qualification at Le cordon Bleu. It is awarded after nine months of study during which the student perfects the basic culinary techniques.
The students are trained by some of the most qualified and trained chefs in the world. Students undertaking this program can also opt to add an internship to their diploma. Students can also opt for an integrated course - Grande Diploma with Culinary management, which is a 13 month course and which combines the lessons of Le Grande Diploma with a course on management of restaurants. Other courses offered by Le Cordon Bleu include Bachelor of Business in Culinary Arts, Bachelor of Business in International Hospitality Management, Restaurant Management Diploma, Art, Science and Wine Management Diploma, Pastry Diploma amongst others. The Bachelor of Business in Culinary arts and the Bachelor of Business in International management are both three year integrated courses, costing 35000 euros for the three year course. The Restaurant management diploma is a 9 month course that covers all aspects of managing a restaurant, and is ideal for students who intend to start their own restaurants. It cost 19,500 euros. Students can avail of loans, scholarships and other forms of financial aid to Study in France.
For more information on the courses at Le Cordon Bleu and how you or your child can benefit from them, do contact Global Tree, one of the best overseas Education Consultants in India.
[Read More: Education Prospects For Indian Students Has Exploded In The Europe]