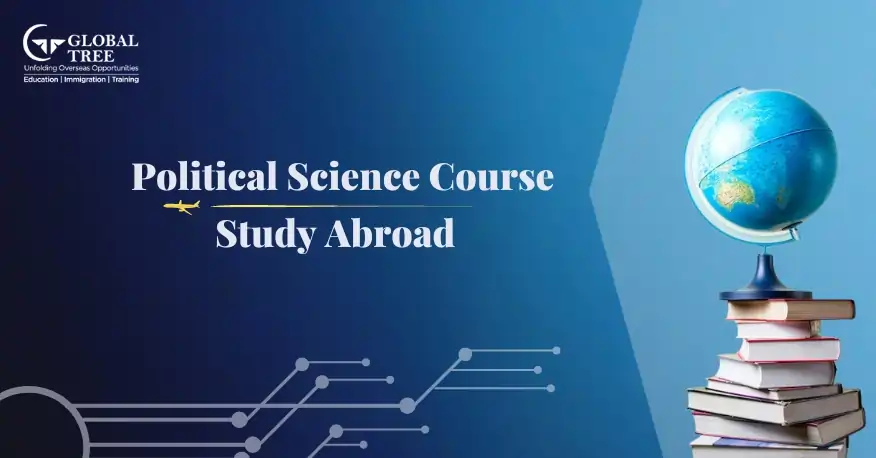 Introduction
There is no denying the importance of politics in our daily lives. Political science is the academic study of politics, which aids in our understanding of political activity, governance, and speech. Political theory, comparative politics, international relations, political history, public policy, and political methodology are only a few of the many subfields of political science. Choose the Best Political Science Course & Colleges to Study Abroad.
Political science gives us a comprehensive understanding of how society's power and resources are distributed, the development of political philosophy, the comparison of political regimes, and world politics. You can learn to analyse politics critically by majoring in political science. In order to address political issues, you will also learn about public policy and empirical techniques.
Political scientists have excellent prospects for job progress because of their sharp analytical skills. Government agencies, legislative bodies, political administration, non-governmental organisations, international organisations, public service organisations, think tanks, and media are all excellent career options for political science graduates.
Who is eligible to study Political Science Course Abroad?
You frequently reflect carefully about the state of the world and how it may be improved, which is one sign that you would do well in this profession. You might also consider issues like immigration, authoritarianism, free speech, legislation, populism, and globalization. Additionally, political science demands excellent analytical abilities.
To write novel and ground-breaking studies, political scientists need to be able to collect and analyse both qualitative and quantitative data. They also need to be very inventive. Political scientists can think about established political issues from fresh angles and arrive at fresh findings thanks to their creativity.
How much does it cost to study Political Science Course Abroad?
A four-year bachelor's degree abroad curriculum in political science is available to interested students. You will become familiar with the principles of politics, law, and government during your bachelor's degree. Public policy, populism, qualitative research techniques, identity politics, democracy and authoritarianism, and gender and politics are some of the course modules that students can anticipate studying. With this degree, you may be able to find work as a policy analyst, legislative assistant, political campaign worker, or public relations professional. For international students, the cost of a political science bachelor's degree in the US is approximately $29,457.
Students can choose to continue their education by earning a master's in political science, which will allow them to work as political scientists. Compared to a bachelor's degree, this degree will concentrate on research techniques and tend to be more focused. In the UK, a master's degree in political science costs between £23,000 and £30,000.
For political scientists with some experience under their belts, a PhD can be a fantastic acquisition that will help them develop in their professions. You can teach at the university level and apply for senior research positions with a PhD in political science.
What is the Future Scope of Political Science Course Abroad?
Public policy analysts are in more demand in the business sector in today's contentious political environment. Similarly, to this, governments are hiring an increasing number of political scientists to evaluate government initiatives and enhance public services. Political scientists should see a rise in employment of 9% between 2020 and 2030, according to the US Bureau of Labor Statistics. For better scope, you have to study Ph.D. abroad.
To traverse the political minefield, political parties, lobbying companies, labor unions, and other political institutions rely on the insights offered by political scientists. The need for graduates of political science is anticipated to increase as a result. To assess and provide advice on regulations relevant to their professions, such as food policies for fast food chains or medication policies for pharmaceutical companies, many multinational corporations are engaging political scientists.
Trending Career Options in Political Science Course Abroad
Students who want to pursue a profession in political science have a wide variety of possibilities to consider.
Analyst of Policy
To assess the effects of public policies, policy analysts employ their critical thinking and analytical abilities. They write in-depth papers to support their recommended policies and policy proposal draughts. They also recommend enhancing present regulations.
(Read more: list of top scholarships to study abroad)
Career as an Assistant in Legislation
Legislative assistants are employed by assembly members and other political representatives to assist them in carrying out their tasks. Legislative aides help legislators write and speak more effectively by utilizing their communication talents. Additionally, they evaluate the constituents' demands for political and developmental issues. Legislative aides will also monitor developments in the Senate or national assembly and policy problems.
Career as a Public Relations Professional
Politicians and political bodies frequently employ public relations experts to influence public opinion in their favour. Public relations professionals use the media and convincing news releases to highlight their clients 's successful initiatives. A PR expert may also be in charge of planning press conferences, attracting media attention, and campaign events.
Career as a Politics Expert
Political scientists investigate political phenomena and study political theory. They offer policymaking recommendations and examine the political environment at the moment. To forecast the future political environment and assist their clients in navigating difficult political situations, political scientists rely on qualitative research, historical trends, and their own expertise.