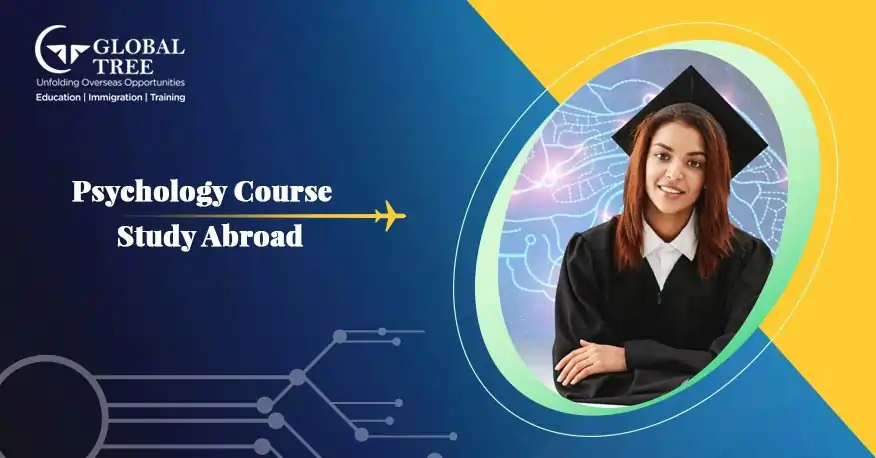 Introduction
The study of the mind includes how humans think, feel, and act. Psychology crosses both the natural and social sciences due to its vast breadth. Everything from memory loss and mental diseases to personality and brain architecture is taught to psychology students.
Psychologists study how people think, make decisions, learn, and alter their behaviour. They also look for ways to treat mental health problems.
Developmental psychology, cognition, learning and memory, sensation and perception, psychometrics, organisational psychology, personality, and health psychology are some of the topics that students can anticipate studying.
Graduates of psychology programmes gain critical thinking abilities, a research-based perspective, and excellent interpersonal skills, all of which are highly sought after by businesses and organisations. These qualities enable psychology graduates to work in a range of career paths. Choose the Best Psychology Course & Colleges to Study Abroad.
Who is eligible to study a Psychology Course Abroad?
In their daily lives, humans deal with several challenges, both internal and external. Internal conflicts are frequently the ones that are quickly dismissed as unimportant. However, they are harmful and, if ignored, can become oppressive.
A successful psychologist must possess empathy. People with high empathy levels are better able to comprehend the underlying challenges of others and, as a result, can treat them more successfully. Additionally, persons who are empathic find intrinsic satisfaction in providing assistance to others in need; this quality helps psychologists remain motivated even under trying circumstances. Last but not least, effective psychologists have patience because they are aware that it can take years for both treatment and research to show results.
A psychology degree can be a good fit for you if you're compassionate and love learning new things. Researchers in psychology contribute to the field's growing body of knowledge by developing more effective treatment plans.
How much does it cost to study Psychology Course Abroad?
One of the most popular degree options worldwide is a bachelor's in psychology. Typically, a bachelor's degree takes four years to complete. With only a bachelor's degree, you cannot become a registered psychologist, but you can get internships and positions as a research assistant. In the US, the cost of a psychology bachelor's degree can range from $25,000 to 60,000 per year.
Students can pursue a master's in psychology after receiving their bachelor's. The typical concentrations for master's degrees in psychology are counselling, organizational, educational, family, or forensic psychology. Choose the best countries & universities to study psychology abroad. Some nations just require a master's degree to practise medicine, whereas others demand a doctoral degree. A master's degree is the only degree most industrial-organizational psychologists possess. A master's degree normally lasts two years and can cost between £20,000 and $50,000 in the UK and AUD 32,000-54,000 in Australia annually.
A PhD in Psychology or a Doctor of Psychology (PsyD) are the two doctoral degree choices offered in psychology. Students pursuing a PhD are required to do original research and produce a dissertation. Experimental design and statistics are the main topics covered in the coursework for a PhD in psychology. A PsyD degree, on the other hand, is primarily focused on clinical practise: Students who acquire one will learn about it and most programmes call for a lengthy internship in a healthcare facility. The average time to earn both degrees is 4-6 years. It should be emphasised that applying for a PhD in psychology will be more difficult than applying for a PsyD.
What is the Future Scope of Psychology Course Abroad?
Over the past ten years, the awareness of mental health issues has grown, which has facilitated the quick development of psychology. The demand for psychologists in the fields of education, health, and social services has significantly increased. Additionally, the connection between learning and mental health will increase the number of jobs available for school psychologists. In a similar vein, businesses are increasingly hiring industrial-organizational psychologists to help them choose, keep, and motivate staff who will boost productivity.
In actuality, psychologists' overall employment has increased by 8% during the past ten years. The US Bureau of Labour Statistics projects that there will be 13,400 new employments for psychologists in the US alone each year!
(Read more: Future Opportunities for Cognitive Psychologists in foreign education)
Trending Career Options in Psychology Course Abroad
Career prospects for psychology graduates are plentiful in both clinical treatment and research. Graduates find employment in a variety of industries, including business, sports, mental health, marketing, and education.
Career as a Psychological Specialist
Clinical psychologists identify and handle behavioral and mental health problems. To effectively serve their clients, they customize their treatment strategy. Clinical psychologists build relationships with their patients and assist them in overcoming psychological difficulties like anxiety, depression, and poor self-esteem. In order to evaluate a patient's progress through the healing process, they also give psychometric tests. On average, clinical psychologists make $79,000 a year.
Notably, clinical psychologists cannot administer medication because they are not medical doctors like psychiatrists. Clinical psychologists treat patients instead through behavioral interventions and psychotherapy.
(Read more: Top Universities for Psychology to study abroad)
Career as a Criminal psychologist
These specialists help the legal and criminal justice systems by applying their psychological insights. They said the judiciary in understanding the psychological aspect of a particular case. They assess people's mental health, including witnesses, jurors, and convicts. They could also give expert witness testimony in court. On average, forensic psychologists earn $77,000 a year.
Career as an Organizational and Industrial Psychologist
One of the global occupations with the quickest growth is this one. To improve work life, these professionals integrate psychological ideas into the workplace. In order to maximize organizational effectiveness, they examine workplace productivity, management, employee morale, employee personality, and employee work style. They also assist in creating organisational policies and interviewing candidates. The average yearly salary for industrial-organization psychologists is $100,000.