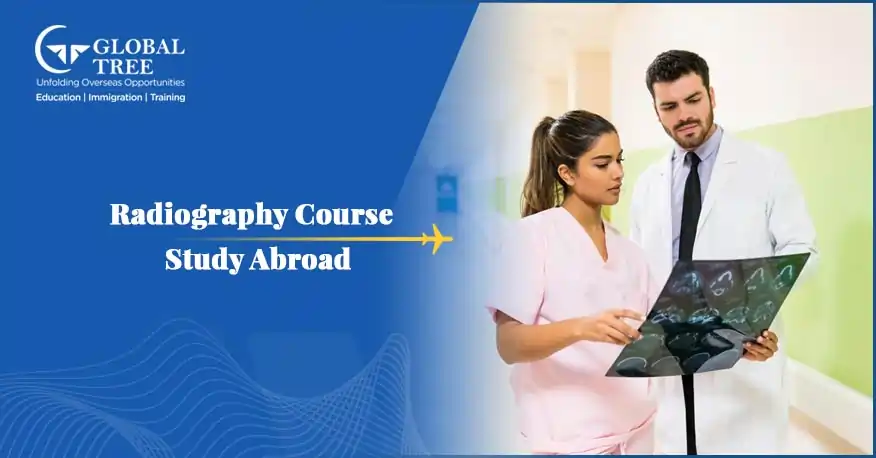 Introduction
Radiologists are medical experts who have received specialized training in image interpretation to help with patient diagnosis and care. You can acquire the knowledge and expertise necessary to register as a radiographer by earning a degree in radiography. You will learn how to use X-rays, CT scans, ultrasounds, and magnetic resonance imaging (MRI), among other medical imaging methods. You will have the chance to learn and use these approaches throughout your course, and once you graduate, you might elect to specialize in one or more of them.
Diagnostic radiologists play a crucial role in the healthcare industry. In order to diagnose diseases, doctors need precise radiography testing. Prior to receiving therapy, the majority of patients get a diagnostic evaluation, so you'll be crucial to enhancing their health and wellness.
Who is eligible to study a Radiography Course Abroad?
A degree in radiography may be an excellent alternative for you if you have an interest in human anatomy and technology and desire to use them for the sake of humanity. Choose the Best Radiography Course & Colleges to Study Abroad. You'll learn how to employ cutting-edge tools and integrate elements of biology, physics, and technology during the course of the degree. You'll be able to conduct and assess tests including MRIs, x-rays, CT scans, and angiographs using your knowledge of the medical sciences. You will receive practical experience working with the NHS and other clinical professionals because the majority of programs provide you with lots of time for clinical placements.
A radiography degree can be very demanding. The information is not particularly challenging to understand, but there is a lot of it to get through. A radiography degree may need you to attend classes and seminars for an average of 17 hours each week.
How much does it cost to study Radiography Course Abroad?
There are several different levels at which you can study radiography and get a variety of certifications. However, to work as a radiological technician, you often only need a bachelor's degree. A bachelor's degree abroad can be a stepping stone for some people to continue their education and enroll in a master's program.
Students in high school who are interested in radiography should enroll in math and science-focused courses. They can enroll in a Bachelor's in Radiography program after high school. In order to examine, identify, and treat injuries and illnesses, they will learn how to administer X-rays and use other medical imaging tools during the program.
The coursework for the radiography bachelor's program will include relevant medical topics including pathology, anatomy, and physiology as well as patient care topics like safe radiation exposure and patient placement. A four-year bachelor's degree can cost up to $48,510.
A master's degree in radiography will include coursework and practical experience. Participants in this program learn about the techniques and radiologic processes employed in the field of radiology imaging. Courses in pathophysiology, radiation biology, and patient assessment are possible. Two years and about $32,425 are required to complete this degree programs in the US.
(Read more: List of top MS courses to study abroad)
What is the Future Scope of Radiography Course Abroad?
The need for radiography specialists has expanded as a result of doctors' greater dependence on diagnostic imaging. In this line of work, there is a lot of on-the-job training, and as your career develops, you can assume more responsibility, such as managing or teaching.
Radiographers' overall employment is expected to increase 9% in this decade, and there are expected to be 20,800 job opportunities annually. These figures serve as significant evidence of the promising career opportunities for radiography graduates.
Trending Career Options in Radiography Course Abroad
Career as an Assistant Radiology Practitioner
Once certified, you are able to practice at the practitioner level as a registered radiographer. As a diagnostic radiographer, you typically collaborate with hospital departments to perform diagnostic procedures that aid in the identification of illnesses and wounds. A radiology practitioner assistant makes, on average, $85,923 per year.
Career as an Expert Practitioner
When it comes to providing treatment in radiotherapy or diagnostic imaging, these professionals are recognized as experts. They are able to assess and synthesize complicated issues in a variety of contexts, leading to the development of creative solutions. A practicing advanced practitioner earns $97,500 on average yearly.
(Read more: Top study abroad programs in top universities)
Career as a Consultant
You'll conduct a lot of research as a consultant to advance professional practice and highlight the need for ongoing radiography research. You will actively participate in putting clinical, educational, and research discoveries into practice. A consultant radiographer typically makes $90,490 per year.
Career as an Educator
As a lecturer in higher education, you will often assist in creating and delivering educational programs for future radiographers. A radiology educator can earn between $35,500 and $79,000 per year.