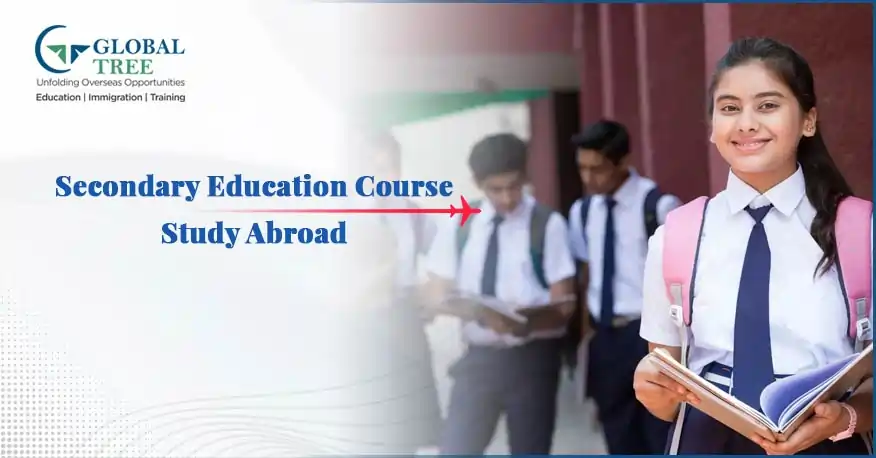 Introduction
Secondary education, or grades seven through twelve, consists of middle and high schools. The Secondary Education major offers a single Bachelor of Science (BS) in Secondary Education, which can be used to obtain a high school teaching degree or a middle school teaching degree.
Secondary education graduates will be qualified to work in a variety of educational settings, including middle and high schools. Students will specialise in one or more subject areas for their certification, such as language, mathematics, and science. Choose the Best Secondary Education Course & Colleges to Study Abroad.
Who is eligible to study Secondary Education Course Abroad?
Being socially active suggests that high school teachers are more likely to be sympathetic, caring, cooperative, patient, tactful, and friendly. They must also have excellent communication and creative skills. You can hone your talents by earning a degree in secondary education. You will learn in-depth information about your fieldwork throughout the program.
Following general education courses, you will take pre-professional courses, subject courses to establish a solid foundation of knowledge for your future classroom, and professional education courses to put theory into practice and develop your teaching skills. Programs for secondary education will involve rotations in nearby schools where you can gain practical experience teaching.
How much does it cost to study Secondary Education Course Abroad?
Degrees with an emphasis on secondary education are available at the majority of academic levels, including bachelor's, master's, and Ph.D. You must first complete high school to pursue this degree. After that, you can sign up for a secondary education bachelor's degree abroad. Over the course of four years, you can major or minor in Secondary Education as part of a bachelor's degree, giving you the chance to take modules in the subject you wish to teach. For overseas students, the four-year program might cost up to $56,512.
Depending on the field you desire to specialize in, postgraduate degrees might be either an MA (Master of Arts) or an MSc (Master of Science). In the US, the average yearly tuition cost is $18,548 for a two-year program.
Teachers who desire to perform additional education research typically study Ph.D. abroad. Another option is to pursue an EdD (Doctor of Education), which focuses more on administrative subjects like policy and curriculum.
What is the Future Scope of Secondary Education Course Abroad?
In this decade, it is expected that employment for secondary education teachers would increase by 8%, which is about as fast as the average for all occupations. For the next 10 years, there will likely be 77,400 new employment openings for high school teachers. Demand for secondary school instructors will rise along with rising student enrollment, but regional employment growth will vary. Teachers in secondary education make an average of $61,820 per year. These figures highlight the promising futures that Secondary Education graduates can look forward to.
Trending Career Options in Secondary Education Course Abroad
Use your knowledge or transferrable abilities to enter a variety of job choices in secondary education.
Career as a Teacher of High School
Teachers help pupils prepare for life after high school by teaching, counseling, and grading them. In addition to a bachelor's degree in secondary education or a closely related topic, several states also call for teachers to have a second area of focus, such as language or mathematics. High school teachers make an average of $62,870 a year.
(Read more: Tips to Get Admission into The Best Overseas Education Universities)
Career as a Coordinating Teacher Education
Curriculums, teacher standards, and instructional materials are developed and managed by instructional coordinators. In addition to training staff and instructors for new or amended programs, instructional coordinators review the current curricula and teaching techniques. A master's degree in education is typically required for instructional coordinators, along with relevant employment experience, such as teaching. A coordinator of teaching makes, on average, $61,603 per year.
Career as an Assistant Teacher
With the help of certified teachers, teaching assistants supervise, instruct, grade, and support students. Typically, these assistants need two years of college study or an associate's degree. A teacher assistant role gives people with a bachelor's degree in secondary education the chance to earn useful experience that they can use to advance to more senior teaching positions. A teaching assistant makes $28,900 on average yearly.