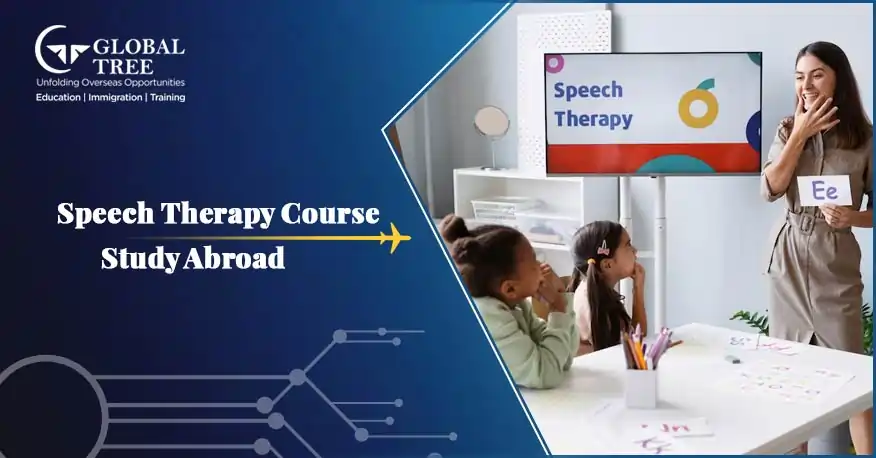 Introduction
Speech therapy, usually referred to as speech-language pathology, is most commonly associated with treating speech disorders. Speech therapy is much more than that, though. Speech therapists examine, identify, and treat problems with fluency, the ability to express ideas clearly, comprehension, and even swallowing issues.
A degree in speech therapy will enable you to succeed by expertly fusing the principles of counseling and therapy with the science of communication. Choose the Best Speech Therapy Course & Colleges to Study Abroad. It's also crucial to remember that a significant portion of your education and training will be clinical, which means you'll probably complete some kind of supervised internship or clinical rotations to obtain experience. This is typically included in your master's degree programs.
Who is eligible to study Speech Therapy Course Abroad?
This degree is a great option for you if you have strong interpersonal skills, are empathic, and want to work in the counselling or therapy fields. In your final year of training, you will have a wide range of possibilities to consider, and you'll probably land a position as the demand for speech therapists grows.
How much does it cost to study Speech Therapy Course Abroad?
A bachelor's degree abroad in speech therapy will provide you a thorough theoretical understanding of the profession once you graduate from high school. In the US, a four-year bachelor's degree in speech therapy can cost up to $39,000.
A master's degree abroad comes after an undergraduate one. Master's degrees are usually integrated with clinical or internship experiences to make sure that students have a well-rounded and useful learning experience. Two years and up to $75,000 can be spent on a master's degree.
What is the Future Scope of Speech Therapy Course Abroad?
In this decade, there should be more options for speech therapists to find work. The U.S. Bureau of Labour Statistics projects that the employment rate will be 27% over the next six years, much higher than the country as a whole.
Trending Career Options in Speech Therapy Course Abroad
Career as a Speech pathologist
Specialists known as speech therapists or speech-language pathologists (SLPs) work with people of all ages to improve communication skills and address swallowing problems, among other things. An average speech therapist makes $79,120 per year.
(Read more: Top benefits of higher education abroad)
Career as a Teacher of Special Education
Special education teachers work with kids who have physical, hearing, or visual impairments. They must also handle challenges with their behaviours, learning, and emotions. It is possible to use specialised teaching strategies and materials, like sign language and interactive games. These experts frequently have additional training in addition to a degree in speech therapy. A special education teacher can make up to $82,500 a year on average.
Career as a Children's Speech Therapist
Children frequently struggle with communication. Speech impairments including stuttering, lisping, muteness, or a delay might appear as youngsters get older. A paediatric speech pathologist supports kids' verbal and nonverbal communication skills development. Children with communication problems can benefit from the prevention, evaluation, diagnosis, and treatment provided by paediatric speech pathologists. A paediatric speech pathologist can earn up to $77,510 per year on average.