KNOW ABOUT THE STRONGEST PASSPORT IN THE WORLD: YOUR MIGHTIEST TRAVEL COMPANION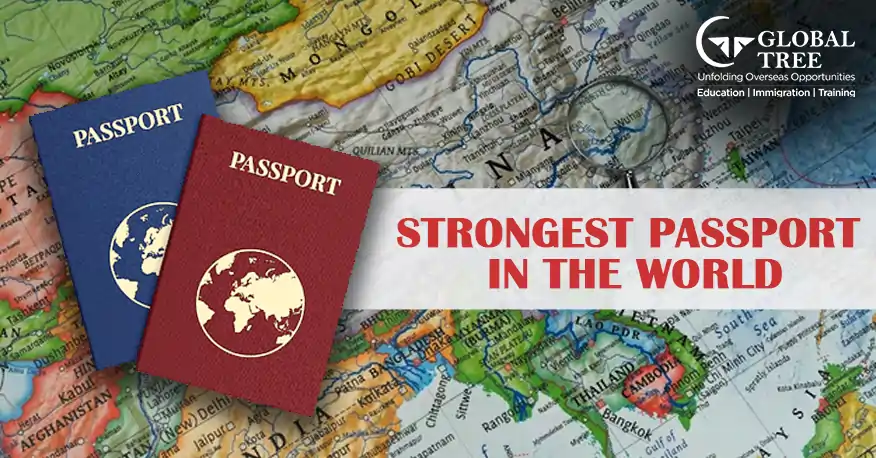 Introduction
In a world where distance and nationality are becoming less of a barrier, the passport has become more important than ever. It's not just about figuring out who you are; it's also about the power it gives you, the doors it opens, and the broader view of the world it gives you. This power is summed up in the idea of the "strongest passport in the world." In this deep dive, we'll look at how passport rankings are made, how international relations affect passport strength, how passports will be ranked in 2023, India's position, the problems people with the weakest passports face, the growing power of Asian passports, and much more.
How the Passport Rankings Are Made
Rankings of passports are more than just a list; they are the result of a careful method that takes into account many different factors. The number of countries a passport holder can visit without a visa or with a visa-on-arrival is the most important thing to look at when deciding how strong a passport is. The stronger a passport is, the more countries it lets you go to. But it's not as easy as just counting the countries.
The most important things are diplomatic agreements, historical alliances, and political ties. Countries can make reciprocal arrangements through bilateral and multilateral agreements, which raises the value of a passport. The strength of a passport also depends on how much trust and credibility a country has around the world. So, the ranking of a passport shows how international relations, diplomatic negotiations, and political strategies all work together.
What International Relations Have to Do with Passport Power
International relations are at the heart of a passport's power. The strength of a country's passport is directly related to how well it can make and keep diplomatic ties. Countries that have strong political ties and good relations with other countries tend to have passports with more power. Diplomatic initiatives, trade agreements, and global efforts to work together can have a big effect on the value of a passport.
On the other hand, countries with bad relations with other countries find that their passports don't have much power. Political fights, old disagreements, and problems that haven't been solved can make it hard for people to travel. So, the strength of a passport shows not only how stable a country is on the inside, but also how it acts in the world.
Most Powerful Passport in the World 2023 Passport Rankings
Germany, the United States, and the United Kingdom often have the best passports. People with these passports can move around the world with ease, doing business, learning about new cultures, and making memories that will last a lifetime. It shows how well diplomacy and working together across borders can work.
| S.No. | COUNTRY | Rank | Visa-Free Access to Countries |
| --- | --- | --- | --- |
| 1 | Singapore | 1 | 192 |
| 2 | Germany | 2 | 190 |
| 3 | Italy | 2 | 190 |
| 4 | Spain | 2 | 190 |
| 5 | Austria | 3 | 189 |
| 6 | Finland | 3 | 189 |
| 7 | France | 3 | 189 |
| 8 | Japan | 3 | 189 |
| 9 | Luxembourg | 3 | 189 |
| 10 | South Korea | 3 | 189 |
| 11 | Sweden | 3 | 189 |
| 12 | Denmark | 4 | 188 |
| 13 | Ireland | 4 | 188 |
| 14 | Netherlands | 4 | 188 |
| 15 | United Kingdom | 4 | 188 |
| 16 | Belgium | 5 | 187 |
| 17 | Czech Republic | 5 | 187 |
| 18 | Malta | 5 | 187 |
| 19 | New Zealand | 5 | 187 |
| 20 | Norway | 5 | 187 |
| 21 | Portugal | 5 | 187 |
| 22 | Switzerland | 5 | 187 |
| 23 | Australia | 6 | 186 |
| 24 | Hungary | 6 | 186 |
| 25 | Poland | 6 | 186 |
| 26 | Canada | 7 | 185 |
| 27 | Greece | 7 | 185 |
| 28 | Lithuania | 8 | 184 |
| 29 | United States | 8 | 184 |
| 30 | Latvia | 9 | 183 |
| 31 | Slovakia | 9 | 183 |
| 32 | Slovenia | 9 | 183 |
| 33 | Estonia | 10 | 182 |
| 34 | Iceland | 10 | 182 |
Complete Guide for USA Visitor Visa from India
Least Powerful Passport in the World. What does it mean for Afganistan?
There are passports that aren't as good as the world's best ones when it comes to getting around the world. Most of the time, these passports are issued by countries that are having trouble with their economy, their government, or their relationships with other countries.
Afghanistan remains at the bottom with a score of just 27, meaning its residents have visa-free access to 166 less than Japan's passport power.
The widest global mobility gap in the Index's 18 years documenting passport power.
This gives the Afghanistan passport visa-free access to just 12% of the world and less than 1% of global economic output.
When people with these passports try to travel abroad, they run into a lot of problems.
From the long time it takes to get a visa to the fact that they can't go to a lot of countries, these people have to go through a lot of trouble to travel and find opportunities. The difference in passport power is a powerful reminder of how unequal the world still is and how much work needs to be done to make it more equal.
Where Does India Stand in Passport Ranking?
India's Passport Ranking
India, a country with a long history of culture and a growing economy, ranks high in the global passport index. Even though India's passport isn't one of the best, its ranking has been steadily going up. This positive trend has been helped by the Indian government's efforts to improve international relations, boost tourism, and encourage business partnerships.
Indian passport holders now have easier access to more countries, which shows how the country's influence is growing around the world. It's a journey that shows how growth is possible even for countries that may not have had stronger passports in the past.
Visa free countries for Indians to Travel
What does it mean if a passport is weak?
Effects of Weak Passports:
The problems that people with the least powerful passports face are more than just annoyances; they stop them from growing and getting ahead. Simple things like going on vacation, going on a business trip, or getting an education become complicated and full of bureaucratic hurdles. People who want to expand their horizons may find these problems discouraging and limiting.
Also, the difference in passport power has a bigger effect on how people move around the world and get to opportunities. It shows how different countries are and how much work needs to be done by everyone to close the gaps. As the world moves towards a more connected future, addressing these differences is more important than ever to help people around the world understand each other and work together.
How Asian Passports Can Help: Japanese Passport on the Rise
One big change in the past few years is that Asian passports have become more valuable. Japan, Singapore, and South Korea have all steadily moved up in the passport rankings. This rise can be explained by strong economies, smart diplomacy, and efforts to improve relationships between countries.
This change shows how the balance of power in the world is changing. It shows that Asian countries are getting stronger economically and playing a bigger role in shaping the world. Asian passports are no longer limited by history. Instead, they are becoming symbols of a new era of global power.
Conclusion
The idea of the "strongest passport in the world" shows how the world works. It shows how diplomatic, stable, and respected a country is around the world. Passport rankings show how the world we live in is shaped by a complex web of international relations and geopolitical forces.
As time goes on, passport power will change even more. The search for a world where everyone has access to opportunities is still going on. The difference in the strength of passports is a wake-up call, a reminder that our efforts should go beyond national borders to make the world more connected, understanding, and united.
FAQs
Why are some passports stronger than others?
The power of a passport is based on a number of things, such as diplomatic ties, economic strength, political stability, and international agreements.
Can the scores on a passport change over time?
Yes, passport rankings change over time because of changes in international relations, visa policies, and other geopolitical events.
Are there passports that let you go anywhere in the world without a visa?
Even though no passport lets you into all countries without a visa, some come close and let you into the vast majority of them.