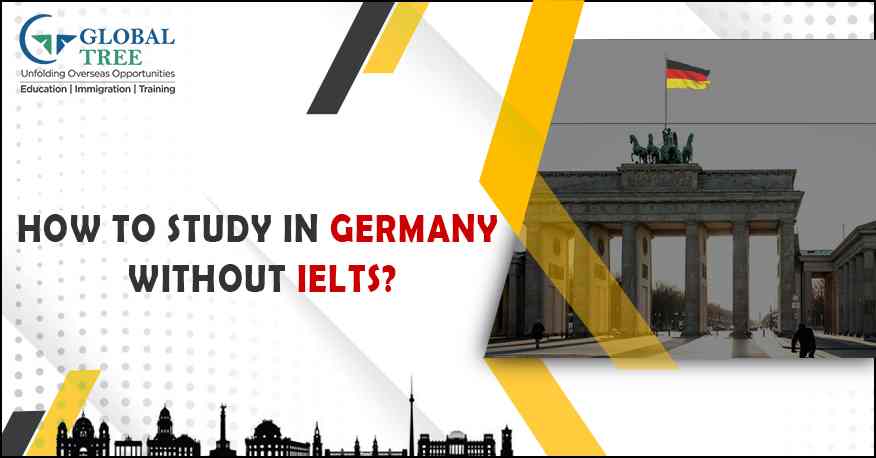 Study in Germany without IELTS
Germany is widely recognized for its strong economy and political influence, as well as its rich culture, which includes renowned football teams, traditional cuisine, and notable manufacturers such as Audi, BMW, Mercedes-Benz, and Volkswagen. The country is also home to iconic landmarks and cathedrals, the Cologne Carnival and Oktoberfest, and many other attractions.
Germany's advanced technology and world-class education system made up of top-ranked universities and colleges, make it a desirable destination for international students seeking to pursue their careers and goals. Notably, it is possible to study and work in Germany without the need for an English language proficiency test such as IELTS.
Why study in Germany?
Studying in Germany has numerous benefits. There are several top-notch universities in Germany with a diverse range of programs, many of which are taught in English. Many universities in Germany do not charge tuition fees, and the cost of living is relatively low, making it an accessible option for students. International students will find a lot of assistance and support available to them and will experience a warm and welcoming atmosphere in the country.
How to Study in Germany Without IELTS?
If you are unable to take the IELTS or do not meet the required score, an alternative option is to apply to a German university that does not require the IELTS test. To apply to an institution in Germany without the IELTS, it is important to keep in mind the following key factors:
You may be required to provide a "Language/Medium of Instruction Certificate" from the previous institution where you completed your education.
Students who hold a bachelor's degree where English was the language of instruction, or whose native language is English, may be eligible to apply without submitting English proficiency scores.
Students who have studied English as a discipline, such as a BA in English Literature, may also be able to apply without taking an English proficiency test.
Some universities also conduct audio-video interviews to assess an applicant's English language proficiency.
It is always recommended to check with the specific university regarding their language requirements, such as whether they require IELTS or any other language-related examination.
Admission Essentials without IELTS
When applying to a university, it is important to have all the necessary documents ready. To ensure that you get admittance to study in Germany without IELTS in your dream university, it may be helpful to make a checklist including the following items:
Medium of Instruction Certificate (MOI)
If you want to attend school in Germany and do not have an IELTS or other language certification, you will need to provide an MOI certificate from your previous school that confirms that English was the primary language used in your previous degree. The MOI certificate will act as proof of your English proficiency and assist you in the enrollment process.
Confirmation Letter
After being accepted by a German university, be sure to obtain a confirmation letter from the school verifying that your MOI certificate has been verified and that you are not required to submit TOEFL scores. This confirmation letter can be used at the nearest German embassy as a substitute for TOEFL or English proficiency scores and will assist you in the immigration process by demonstrating that your MOI has been accepted.
German language Course
Another option for studying in Germany without IELTS is to enroll in a German language program. This will require you to have a C1 to B1 level certification in German. If you wish to apply for programs taught in German, you will be able to provide German language test scores from TestDAF, DSH, GOETHE, etc.
(Read More: Top 10 Tips to Ace the IELTS Writing)
Student VISA
The final step in studying in Germany without IELTS is to apply for a German student visa and prepare to travel to your desired university.
German Student Visa without IELTS
The final step in studying in Germany without IELTS is to apply for a German student visa and prepare to travel to your desired university. The confirmation letter should clearly indicate that you have requested and been approved for a form of training certification by the institution for your research.
When applying for a student visa, submit your MOI certification and the confirmation letter from the German university along with all required documents. You are now closer to achieving your goal of studying in Germany without IELTS. We are available to assist you in making informed decisions and selecting the appropriate university to pursue your dreams.
Necessary steps to apply for a German student visa
Locate the nearest German Embassy or Consulate
Review the requirements and procedures
Schedule a visa appointment
Gather all necessary visa application documents
Begin preparing for the appointment with your passport
The process of applying for a German student visa involves obtaining acceptance from the institution and securing the necessary funds to live in Germany. There are several scholarships in Germany funded by organizations or universities to aid financially. This is a crucial requirement because if you are not receiving an official scholarship, you must provide evidence of substantial financial resources through methods such as placing funds in a blocked German bank account.
Types of Courses to Study in Germany Without IELTS
Two primary types of programs are available for international students who want to study in Germany without IELTS: English and German. The German education system categorizes university courses based on the language of instruction:
English Programs
International students who are not fluent in the languages spoken in Germany can choose to take courses taught in English. Many German universities offer a variety of English-taught programs to attract international students. Candidates from countries where English is the primary language can enroll in these programs without taking a language proficiency test, while other candidates will be required to take one.
German Programs
Another alternative for international students is to study programs with German as the language of instruction. However, students should make sure they are proficient in German before applying. The German language requirements may differ between universities. Most institutions accept certification at levels B1 to C1.
[Read More: Why Indian Students Prefer STEM Subjects to Study Abroad?]
Universities to Study in Germany without IELTS
IELTS is an assessment designed to evaluate the English language abilities of individuals seeking to study in a country where English is the primary language of instruction and communication. However, this test can be an obstacle for non-native English speakers who wish to study abroad. There are several colleges and universities in Germany that do not require IELTS for admission.
Some of the universities and schools in Germany that allow students to study without IELTS are:
University of Siegen
University of Kaiserslautern
University of Giessen
Free University of Berlin
University of Koblenz and Landau
Esslingen University of Applied Sciences (Hochschule Esslingen)
Braunschweig University of Technology (TU Braunschweig)
University of Kiel
University of Kassel
The University of Applied Sciences, Ingolstadt (Technische Hochschule Ingolstadt)
Flensburg University of Applied Sciences
Anhalt University of Applied Sciences
Nordhausen University of Applied Sciences
Frankfurt University of Applied Sciences
University of Koblenz Landau
Technische Hochschule Deggendorf
University of Passau
University of Hildesheim
Ruhr University Bochum
TH Köln
University of Freiburg
University of Siegen
University of Bayreuth
University of Bonn
Chemnitz University of Technology
Hochschule Stralsund
Mittweida University
If you wish to apply for DAAD scholarships and don't have IELTS scores, you can consider these universities as they admit international students who do not possess IELTS scores.