MASTER OF CHIRURGIAE (MCH) DEGREE: A COMPREHENSIVE GUIDE TO ADVANCED SURGICAL TRAINING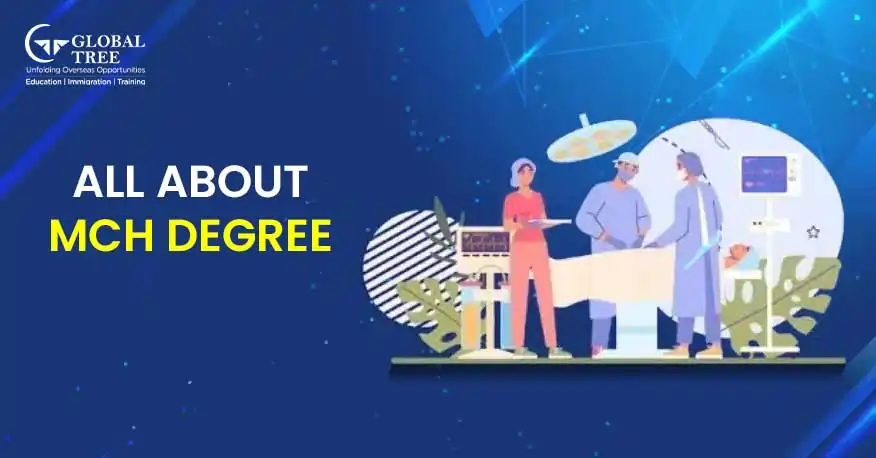 What is Full Form of MCh in Medical Degree?
MCh means Master of Chirurgiae, it is a advanced degree that trains students in advanced surgery training.
Surgery is a field that needs specialised knowledge, technical skills, and a strong desire to save lives. Getting a Master of Chirurgiae (MCh) degree is a great way to become a highly skilled surgeon and advance your job in a particular type of surgery. This comprehensive guide aims to give a full overview of the MCh degree, including its importance, types, admission process, curriculum, top colleges, fees, scholarships, average salary, future scope, job prospects abroad, and a comparison with similar courses. By learning about MCh, you will learn important things about the advanced surgery training you will get.
About the Master of Chirurgiae (MCH) Course
The Master of Chirurgiae (MCh) course is a postgraduate advanced programme that gives specific training in surgery. It is meant to give students the in-depth information, technical skills, and ability to think critically that they need to do complex surgical procedures. The MCh degree focuses on specific types of surgery, such as cardiovascular surgery, neurology, plastic surgery, orthopaedic surgery, urology, and more. By getting an MCh, students become experts in their chosen area and learn how to handle complicated surgical cases.
Who Should Take MCh Classes?
The MCh degree is perfect for people who are very interested in surgery, have good hand-eye coordination, and want to keep learning throughout their lives. It is good for people who have a Bachelor of Medicine abroad, Bachelor of Surgery (MBBS), or a degree that is similar to it. Those who want to become doctors and want to become experts in a certain type of surgery should think about getting an MCh degree.
Why Learn MCh?
Those who want to be doctors can get a lot out of studying MCh. It gives them the advanced information, technical skills, and hands-on experience they need to do complex surgeries. The MCh degree improves job prospects by giving people the chance to take on leadership roles, and academic positions, be involved in research, and specialise in their chosen surgical field. It lets surgeons make important additions to medicine and improve the lives of their patients by giving them advanced surgical care.
Quick Facts About MCh Course
An MCh is a postgraduate degree in surgery that provides additional training in certain types of surgery.
Depending on the specialisation, the MCh programme can take anywhere from three to five years.
MCh programmes include a mix of theoretical classes, clinical rotations, study projects, and training in the real world.
The MCh degree is well-known and respected all over the world, which opens up opportunities for job advancement in many countries.
Cardiovascular surgery, neurosurgery, plastic surgery, orthopaedic surgery, urology, and more are some of the specialities in MCh.
Master of Chirurgiae (MCH) Course Types & Duration
The Master of Chirurgiae (MCh) degree has different types of programmes for budding surgeons with different needs and interests. There are also classes that lead to a diploma.
Programmes for a full-time MCh
Full-time MCh programmes are thorough and intense, giving students a lot of training in a particular area of surgery. Depending on the specialisation, most full-time MCh programmes take between three and five years to finish. These programmes include a mix of classroom work, clinical rotations, study projects, and training in the real world. Full-time MCh students have the chance to focus on their chosen area and learn advanced surgical skills. It is one of the top master's Programs in health care.
Programmes for a part-time MCh
Part-time MCh programmes are made for doctors who are already working and want to improve their skills while keeping up with their jobs. These programmes are good for surgeons who can't study full-time and need a more flexible plan. Part-time MCh programmes may take longer to finish than full-time programmes, but they offer the
same amount of training and expertise in their field.
Diploma Programmes
Some schools offer diploma studies in certain surgical subspecialties in addition to full-time and part-time MCh programmes. These programmes give focused training in a certain area of surgery and are good for people who want to study for less time. Diploma programmes in areas like laparoscopic surgery, paediatric surgery, or hand surgery teach specialised knowledge and skills that can add to a surgeon's current expertise.
How to get into the Master of Chirurgiae (MCH) Course?
Most of the time, getting into an MCh school requires meeting certain requirements and going through a tough selection process. Here are the most important things to think about before going to an MCh programme:
Eligibility: To be able to take an MCh study, applicants must have an MBBS degree or something similar from a recognised medical school. Most institutions want applicants to have finished a rotating internship and have a valid medical licence. Some MCh programmes may also require that you have a certain number of years of clinical work or that you have a certain certification in a related field.
Tests to get in: Many institutes and universities make applicants take entrance exams to see how good they are and how much they know about their chosen surgical field. There may be a written test, a practical test, and an interview as part of these entrance tests. It is one of the hardest degree in the world. The All-India Institute of Medical Sciences (AIIMS) MCh Entrance Examination and the Postgraduate Institute of Medical Education and Research (PGIMER) MCh Entrance Examination are two examples of regular entrance exams for MCh programmes.
Tips for Admissions Tests
Start getting ready early so you have enough time to study thoroughly.
Find study materials and resources that are specific to the type of surgery picked.
Go over old test questions to get a feel for how the test is set up and to find out where you need to focus more.
Ask for help and advice from senior MCh students, staff members with a lot of experience, or practising surgeons.
Keep up with the latest research and changes in the area of surgery.
Master of Chirurgiae (MCH) Course Syllabus & Subject
The MCh training schedule is different for each type of surgery. But there are some core parts that are the same in most MCh programmes. Most of the time, the programme includes:
Advanced Anatomy is a more in-depth study of human anatomy that focuses on how anatomical elements are used in surgery.
Clinical Skills and Decision-Making: Training in clinical evaluation, patient assessment, diagnostic processes, and making surgical decisions.
Surgical methods: Full training in both open and minimally invasive advanced surgical methods that are specific to the chosen speciality.
Research Methodology: Teaching research methods, data analysis, and academic writing to improve research skills and encourage evidence-based practice.
Seminars and Case Presentations: Chances to talk with peers and faculty about complex cases, surgical challenges, and research results.
Clinical Rotations: Rotations in different surgical departments to get hands-on training with different surgical procedures and types of patients.
It is important to look at the course outlines of the MCh programmes given by different schools to understand what they cover and how they are organised.
Important books for the Master of Chirurgiae (MCH) Course
During their MCh studies, students are told to use guides and other resources that are specific to the type of surgery they want to study. Some popular books for the different types of MCh are:
Cardiovascular Surgery: "Cardiac Surgery in the Adult" by Lawrence H. Cohn and "Cardiac Surgery: Operative Technique" by Donald B. Doty.
Neurosurgery: H. Youmans and Winn's "Youmans and Winn Neurological Surgery" "Principles of Neurological Surgery" by Richard G. Ellenbogen, written by Richard Winn.
"Plastic Surgery: Volume 1 Principles" by Geoffrey C. Gurtner and "Aesthetic Plastic Surgery" by Sherrell J. Aston are both books about plastic surgery.
"Campbell's Operative Orthopaedic Surgery" by S. Terry Canale "Rockwood and Green's Fractures in Adults" by Charles M. Court-Brown, written by Terry Canale and James H. Beaty.
It is important to talk to professors, mentors, and top surgeons in your field to get advice on the best and most recent literature for your field.
Top Colleges for Chirurgiae (MCH) Course
When thinking about getting an MCh, it's important to pick a respected school that gives excellent classroom and clinical training. Here are some of the best MCh programmes at some of the best universities to study abroad:
Top Colleges for Bachelors to Study an MCh Course Abroad:
Harvard School of Medicine - United States
United States Johns Hopkins University School of Medicine
University of Oxford in the UK
Cambridge University - United Kingdom
United States Stanford University School of Medicine
University of Toronto Medical School - Canada
Australia's University of Melbourne
Japan's University of Tokyo
Karolinska Institute - Sweden
China -- Peking University Health Science Centre
Top Colleges Abroad for MCh Masters Courses:
Mayo Clinic College of Medicine and Science - USA
United States - Cleveland Clinic Lerner College of Medicine
King's College in London is in the UK.
University of California, San Francisco, USA
University College London is in the UK.
Canada McGill University School of Medicine
Singapore is home to the National University of Singapore.
Switzerland's University of Zurich
Australia's Monash University
South Korea's Seoul National University
These are the top colleges & universities in top countries to study medicine abroad. These schools are known for their excellent faculty, research chances, state-of-the-art facilities, and clinical experience, all of which add to a well-rounded MCh education.
How Much Does It Cost to Study MCh Course Abroad?
To make a good choice, you need to do study and compare the costs and financial effects of different MCh programmes. Some colleges help students who need it by giving them scholarships, grants, or other forms of financial aid. By looking into these options, you can lessen the financial stress of getting an MCh degree.
Fees for MCh courses vary a lot based on things like the school, country, specialisation, and length of the programme. Tuition for MCh programmes at some of the best universities to study abroad can cost anywhere from $30,000 to $100,000 per year. Living costs, housing costs, and other costs should also be taken into account.
Scholarships to Study a Master of Chirurgiae (MCH) Course Abroad
Scholarships can help a lot with the cost of getting an MCh degree abroad. Here are some scholarships that are open to students from other countries:
Fulbright Foreign Student Programme: This programme gives funds to students from different countries so they can study at the graduate level in the U.S., such as in MCh programmes.
Commonwealth funds: Citizens of Commonwealth countries can get funds to study in UK through the Commonwealth Scholarship Commission.
Erasmus+ Scholarships: Erasmus+ is a programme backed by the European Union that gives students who want to go to college in Europe a scholarship. It gives MCh students the chance to study in European universities that take part.
Government Scholarships: Many countries have scholarship programmes for foreign students that are funded by the government. These awards may be given to students from certain countries, in certain fields, or based on their grades.
Institutional Scholarships: Many colleges and universities offer top scholarships to study abroad, grants, or tuition waivers to foreign students who do well in school. These scholarships may be given to students based on their grades, their ability to study, or their financial need.
It is a good idea to look for a top scholarship to study abroad opportunities on the websites of each university, scholarship search engines, and government or group websites that are relevant. Also, call the university's office for international students or the admissions office.
can give you useful information about grants and how to apply for them.
Average Salaries After MCh Course
People with an MCh degree can make different amounts of money on average based on how they specialise, how long they've been working, where they work, and what they do for a living. MCh graduates, on the other hand, tend to have better job opportunities and more earning potential than those with a basic medical degree.
In places like the United States, doctors with an MCh degree can make between $300,000 and $500,000 per year on average. Surgeons who specialise in high-demand occupations to work abroad in areas like heart surgery or brain surgery may make even more money. MCh graduates' salaries can also be affected by things like whether they work in a private or public practice, whether they work in an academic setting and whether they have any extra certifications or fellowships.
It's important to remember that salaries can change a lot from one country and healthcare system to the next. If you look into pay trends and talk to professional organisations or surgeon associations in your chosen speciality, you can get more accurate and up-to-date information about what you can expect to make in the practice setting you to want.
Whats After for MCh Course?
After getting an MCh degree, people can choose from many different types of jobs. Here are some possible ways to go:
Specialisation and Fellowships: Many MCh grads choose to do fellowships to further specialise in their field of surgery. Fellowships give surgeons additional training in subspecialties and allow them to become experts in a certain area of interest, such as minimally invasive surgery, robotic surgery, or surgical oncology.
Clinical Practise: People with an MCh can work as surgeons in hospitals, clinics, or their own private practises. They might work in surgical offices or specialised centres, where they give surgical advice, do surgeries, and take care of patients in their chosen field.
Careers in Education and Study: MCh graduates who love to teach and study can go into academic fields. They can become teachers at medical schools or universities, where they can help teach students about surgery, guide them, and do research to learn more about their area.
Leadership Roles: MCh graduates can take on leadership roles in hospital organisations, surgical societies, or professional associations. In these jobs, people help guide and shape policies, advocate for better surgical care, and help make standards and guidelines for surgery.
Opportunities in other countries: MCh graduates can explore career options in other countries by looking for jobs or study partnerships in well-known medical institutions abroad. They can take part in exchange programmes, help with foreign healthcare projects, or help underserved areas with surgery.
Continuing medical education: In the area of surgery, it's important to keep learning and getting better at your job. MCh graduates can keep their skills and knowledge up-to-date by going to conferences, workshops, and specialised classes to learn about the latest techniques and developments in their surgical field.
After getting an MCh, your career path will rely on your interests, goals, and the opportunities offered in the surgical speciality you choose.
(Read More: All About Studying Internal Medicine Course Abroad)
Abroad Jobs for MCh Students Abroad
MCh graduates have great chances of getting jobs both at home and abroad. The need for skilled surgeons is great all over the world, and there are many places to work, including well-known hospitals, universities, research centres, and private practices. Here are some jobs that MCh graduates might be able to get abroad:
Hospital Surgeon: People with an MCh can work as surgeons in hospitals. They can provide specialised surgical care in different areas, like cardiothoracic surgery, neurosurgery, plastic surgery, orthopaedic surgery, and more. They might work on surgical teams, do surgeries, take care of patients, do clinical studies, or teach.
Academic Faculty: Many colleges around the world are looking for experienced MCh graduates to join their faculty and help with teaching and research in the field of surgery. As an academic surgeon, you can teach medical students, guide residents, do research, and take part in scholarly events.
Research Scientist: MCh graduates can work as scientists in research institutions or universities abroad that are known for their research. They can help improve surgical understanding, run clinical trials, and come up with new ways to do surgery or make medical tools. Researchers can work with people from different fields and share their results in scientific journals.
International Aid and Humanitarian Organisations: MCh graduates who are interested in global health can look into chances with international aid and humanitarian organisations. They can use their surgical skills to help people in underserved areas get the care they need, take part in medical missions, and teach local healthcare workers.
Consultant Surgeon: MCh graduates with a lot of experience and knowledge in their surgical speciality can become consultant surgeons for foreign health organisations or private practices. As consultants, they give specialised medical advice, do complicated surgeries, and help improve the health of their patients.
Roles in Industry: People with an MCh can work in the medical technology or pharmaceutical industries. They can work in product development, clinical study, or medical affairs to help improve surgical techniques and therapies.
Entrepreneurship: Some MCh graduates with an entrepreneurial spirit may choose to start their own surgical practises, hospitals, or healthcare startups. This gives them more power over how they do their jobs and lets them try out new ways to help people who need surgery.
If you have an MCh and want to work abroad, you should look into the country's standards, licencing processes, and overseas immigration policies. Making connections with professionals in your area, going to international conferences, and looking at job portals or recruitment agencies can all help you find jobs abroad.
Comparing the MCh Course with Other Similar Courses
The MCh is a specialised degree in surgery that focuses on advanced study in one area of surgery. Here's how MCh compares to other classes in the same field:
MCh vs. MS (Master of Surgery): Both the MCh and MS are advanced degrees in surgery. MCh, on the other hand, is considered more advanced and specialised than MS. MCh programmes usually take longer and focus on one type of surgery, while MS programmes give a more basic overview of surgical principles.
MCh vs. MD (Doctor of Medicine): MD programmes usually cover a wider number of medical specialities, including those that don't involve surgery. On the other hand, the MCh is only about medical training in a certain field. MCh programmes focus mostly on surgical skills and clinical training, while MD programmes often have a study component.
MCh vs. Fellowship: A fellowship is a specialised training programme that comes after a basic surgical degree like an MCh or MS. Fellowships give doctors in-depth training in a subspecialty, which helps them become more skilled. MCh can be thought of as a complete surgical programme that already includes specialised training. Fellowships, on the other hand, offer more specialised training than MCh.
MCh vs. Ph.D.: A Ph.D. is a research-based degree that focuses on doing original research and making important additions to scientific knowledge. MCh programmes might have a study component, but their main focus is on clinical training and surgical skills. People who want to work in academia or scientific study are more likely to benefit from study Ph.D. Abroad.
It is important to remember that the decision between MCh and other related courses depends on the career goals, interests, and amount of specialisation in surgery that each person wants.
FAQs for the MCh Course
Q1. Can I take an MCh course right away after I finish my MBBS?
A: No, an MCh study is a postgraduate speciality. Before you can get into MCh programmes, you have to get your basic medical degree, such as an MBBS.
Q2. Are there different ways to specialise an MCh?
A: Yes, there are MCh programmes in different types of surgery, such as cardiothoracic surgery, neurology, plastic surgery, orthopaedic surgery, surgery for children, and more. You can choose a speciality based on what interests you and what you want to do with your job.
Q3. How long does an MCh training last?
A: The length of an MCh programme depends on the country and the school. Most MCh programmes take between 3 and 5 years to finish. It has both academic classes and training in the real world.
Q4. Are there tests to get into MCh courses?
A: Yes, in order to get into MCh programmes at many universities and colleges, applicants must pass entrance tests. Depending on the country and the school, the entrance tests can be different. The NEET Super Specialty in India, the MRCS (Membership of the Royal Colleges of Surgeons), and the USMLE (United States Medical Licencing Examination) are all examples of entrance exams.
Q5. Can I get an MCh in another country?
A: Yes, international students can get an MCh in a lot of different places. Researching the unique requirements, eligibility requirements, and application processes for MCh courses in the country you want to study in is important.
(Read More: How to Study Biomedical Science Abroad for Indian Students?)
Q6. What kind of jobs can I get after I finish an MCh course?
A: MCh graduates have a lot of job options, including specialisation, academic careers, clinical practice, research, leadership roles, foreign opportunities, or starting their own business. Both in medicine and in businesses that work with it, there is a high demand for skilled surgeons.
Q7. After taking an MCh school, can I work as a surgeon?
A: Once you finish an MCh course and get the appropriate licences and certifications, you can work as a specialised surgeon in the field you choose. MCh gives you the advanced skills and information you need to be a surgeon.
It's important to remember that the specifics and standards can change from country to country and institution to institution. To get reliable and up-to-date information, it is best to talk to the universities or professional groups in question.
Conclusion
Getting an MCh degree opens up a wide range of options for people who want to specialise in surgery. The programme gives in-depth training, advanced nursing skills, and the chance to help improve surgical science and care for patients. An MCh degree gives you the skills and knowledge you need to become a famous surgeon, help with cutting-edge research, or make a change in healthcare around the world.
When starting an MCh, it's important to choose the right specialisation, go to a respected school, and think about how to pay for it. By learning about the admissions process, visiting top colleges, doing research on scholarships, and thinking about your future, you can make an informed choice and put yourself on the path to a rewarding and fulfilling job in surgery.