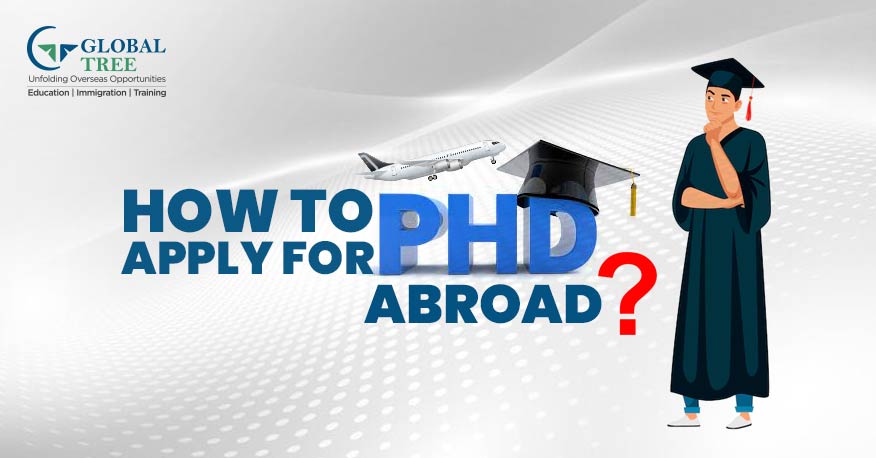 What is Ph.D.?
A PhD is a research degree that signifies the completion of a program of advanced study and is the highest level of academic qualification that can be obtained. PhD stands for Doctor of Philosophy. It typically takes between three and four years of full-time work to earn a PhD and involves the production of a thesis, which represents an original contribution to the field of study.
Why Do Your Ph.D. Abroad?
There are many benefits to studying abroad for a Ph.D. degree. For some students, the opportunity to learn a new language, immerse them in a different culture, and make new connections may be appealing. In other cases, pursuing a Ph.D. degree abroad may be necessary due to limited opportunities in the student's home country for their chosen area of research.
Studying abroad may also offer more favorable funding options, affordable tuition fees, access to advanced laboratory equipment, and experienced supervisors, which can enhance the overall Ph.D. experience and benefit the student's career.
How to apply for Ph.D. in foreign universities?
It is important to communicate your specific area of interest to the admissions committee, demonstrating your passion and readiness for a Ph.D. degree. It may also be helpful to have a specific topic in mind and to show that you have done your research on the subject.
To apply for a Ph.D. program at a foreign university, it is important to perform well on general GRE exam and the subject GRE with preparation tips.
Studying for a Ph.D. Program
To enroll in a Ph.D. program abroad, you will first be enrolled as a Ph.D. student. After completing the required coursework and passing qualifying exams, which may include written and oral components, you will become a Ph.D. candidate.
The majority of your time will be spent working on your dissertation, which will be overseen by a dissertation advisor.
It is typically expected that it will take 3 to 10 years to complete a Ph.D. program, depending on your field of study, previous experience, and training, and your progress in your studies.
In some fields, such as certain branches of physics, a doctoral degree is almost necessary for employment.
When applying for a Ph.D. program abroad, it is important to carefully consider your area of interest and to prepare for the GRE.
[ Read More: Know How to Book GRE Slot in 4 Simple Steps ]
The Teaching Assistantship
A Teaching Assistantship (TA) is a position assigned to Ph.D. candidates and some graduate students to teach undergraduate courses in their field at a university.
This type of position can provide practical experience that is useful for a future career in academia.
If being a TA is not desirable, there are other fellowships available, such as Research Assistantships (RA), where students can assist senior researchers and professors in a laboratory setting.
The Thesis and Dissertation
When considering a Ph.D. program, it is important to take into account various factors before choosing a university and mentor that you will work with to complete your dissertation.
Choosing a Mentor and University
Choosing the right mentor for your Ph.D. studies is crucial.
It is important to find a professor who is interested in your area of research and whose interests align with yours.
It is helpful to do your homework and thoroughly research professors and departments to find the best fit.
It is also important to make sure that the university or department you are applying to specializes in your field of study.
Obtaining a Ph.D. degree from a foreign university can greatly enhance your career prospects and allow you to make meaningful contributions to your field of study. Many Indian students seek Ph.D. programs at respected universities around the world. After completing a master's degree, a Ph.D. program allows students to delve deeper into their area of interest. Currently, numerous universities worldwide offer a wide range of Ph.D. programs.
Countries such as the US, UK, Canada, Germany, and Australia are among the leading destinations for international students seeking Ph.D. programs, provided they have good grades and research experience. However, before applying to a university, there are several steps to consider.
Research the Programs and Decide on Specialization
The journey of an overseas Ph.D. program starts with thorough research on the universities in a given nation that provide the specific course combined with their eligibility/entry requirements. You must also keep in mind the deadlines for applying to the degree of your choice and the topic or specialization in which you want to do the doctorate. Proper research of the universities, the facilities, the faculty (in the subject you've selected), and their areas of specialization must be done before deciding on the specialization.
Zero in on Your Supervisor and Start Networking
When selecting a supervisor for your research at a university, it is important to carefully consider the supervisor's knowledge and experience in the field of your chosen specialization and ensure that their research interests align with yours. Your potential supervisor should also have experience guiding similar thesis projects and be able to provide support throughout your Ph.D. program.
Keep in mind that established supervisors may receive numerous requests from Ph.D. applicants but can only accept a limited number of students each semester, so it is important to reach out to them formally (via email) to express your interest and reserve a spot.
[ Read More: Indians to benefit from visa cap removal for PhDs in UK ]
It is advisable to research the supervisor's academic and research background, the number of students they typically work with, and the level of support they can provide. It is also advisable to follow up with the supervisor regularly and ask relevant questions about your Ph.D. program to help you prepare a strong university application.
Complete the Application and Plan Ahead
Your university application is a crucial document that can determine whether or not you are accepted into the program of your choice. It is important to carefully craft your application to highlight your background, strengths, passions, and aspirations.
In addition to considering the curriculum and your academic accomplishments, you should also think about your future goals and consider what you hope to do after earning your Ph.D. degree. Whether you want to pursue a career in academia, research, or another field, it is important to prepare yourself to meet the requirements of your desired role to succeed in the industry you hope to join.
Is It Difficult to Apply to PhDs Abroad?
There are generally some similarities in the process of applying for a Ph.D. program at universities in different countries. However, there may be some differences between the specific documents required and the language proficiency tests that you need to take. For example, some universities may require you to provide transcripts, letters of recommendation, and a personal statement, while others may have additional or different requirements.
It is important to carefully review the requirements for each university you are considering and ensure that you have all the necessary documents and meet any language requirements before submitting your application. Similarly, you may need to take a language proficiency test, such as the TOEFL or IELTS, to demonstrate your ability to communicate in the language of instruction at the university.
Will I Need a Student Visa?
Whether you need a student visa to study abroad for a Ph.D. program will depend on the country to which you are applying. In some countries, such as the United Kingdom, non-EU students may need to apply for a Tier 4 Visa to pursue a full-time Ph.D. program. In Germany, students may need a residence permit rather than a student visa. In the United States, students typically need to apply for an F-1 student visa.
The requirements for obtaining a student visa in Asian countries may vary. For example, in China, you may need an X1 Student Visa, while in Singapore, you may need a Student Pass. It is recommended to check the government website of the specific country you are interested in studying in to learn about the specific requirements for obtaining a student visa or other documentation needed for studying abroad.
Ph.D. in Different Countries
If you are thinking about applying for a Ph.D. program abroad from India, it is important to research the specific requirements of the country and university you are applying to ensure that you have a clear understanding of the procedure and what you have to do.
[Read More: Best Places For Pursuing Your Higher Education]
Doctoral candidates are typically required to submit a thesis or project that includes their original research as part of their final course requirements. However, universities in different countries may have slightly different requirements for the admission process and criteria for passing. For example, in New Zealand, students may need to participate in an oral examination based on their thesis.
In the United Kingdom, Ph.D. candidates do not typically need to take written exams but must produce an externally examined thesis. In the United States, universities may require letters of recommendation and an essay outlining the purpose of the Ph.D. program. In Australia, students may need to provide a review of relevant research literature and an original research project in addition to their thesis to be awarded a Ph.D. degree.
How to Apply for Ph.D. Abroad from India in EU Countries
There are typically two ways to apply to universities in the United Kingdom: by applying directly through the university's website or by using the UCAS Postgraduate system. In Spain, Italy, and Germany, you may need to complete a pre-application process before you can apply for a Ph.D. program. This process is intended to ensure that your qualifications meet the eligibility requirements to study in the UK.
It may be helpful to consult with your government before beginning this process to get guidance on how your country's qualification system compares to the host country's system. Once you have completed the pre-application process, the university will review your application and contact you if you are approved to move forward. EU institutions may also interview you via Skype or phone.
How to Apply for Ph.D. Abroad from India in the USA
International students who are applying for Ph.D. programs in the United States may need to take additional exams beyond language proficiency tests, such as the GRE General Exam and the GRE Subject Exam. Studying in the United States can be competitive, so it is advisable to apply to a variety of institutions to increase your chances of being accepted. Applying to at least nine different institutions is generally recommended as part of your Ph.D. application process.
How to Apply for Ph.D. Abroad from India in Asia
The application process for Ph.D. programs in Asian countries, such as China, Hong Kong, Singapore, South Korea, the United Arab Emirates, and India, may vary from one university to another. To ensure that you have the most accurate information, it is important to carefully review the specific application process for each university you are interested in applying to. This will help you understand the requirements and steps you need to follow to apply successfully.
How to Apply for Ph.D. Abroad from India to Australia
You must first find and email an appropriate supervisor if you intend to apply for a Ph.D. in a foreign nation like Australia. If you apply to the school as an international student without taking this action, your prospects of Studying in Australia would be reduced.
After reviewing the proposal with them, the supervisor will provide you with instructions on how to submit a formal application. Similar to EU institutions, if an Australian university believes you're a strong candidate, they'll probably invite you to a Skype or phone interview.
Ph.D. Abroad: Eligibility Criteria
Eligibility criteria for pursuing a Ph.D. degree in a foreign country:
A high GPA score
Academic Transcripts
Undertaken Ventures
Scores of tests like the GRE, TOEFL, etc.
Papers Posted, if any,
If submitted, dissertations
Participation in co-curricular activities related to the research subject you have selected
Letters for Recommendation
Ph.D. in Abroad with Scholarship
If you are interested in applying for a Ph.D. program abroad with scholarship funding, there are several options available to international students. Some common types of Ph.D. scholarships include:
Full scholarships: Full scholarships typically cover all costs associated with the Ph.D. program, including tuition, housing, and food.
Partial scholarships: Partial scholarships provide partial financial aid for specific expenses, such as tuition, housing, or other designated costs.
It is worth noting that scholarship opportunities may vary based on the country and university you are applying to. Scholarship opportunities are provided to students by some universities and organizations, while others may have more general funding opportunities available. It is recommended to research and apply for as many scholarship options as possible to increase your chances of securing funding for your Ph.D. program.
Name of the Scholarship
Country
Amount

International Fellowships for Women AAUW

US

INR 1,467,586.83

The University of Nottingham

UK

The entire tuition fee is covered by the scholarship, monthly stipend allowance of £1,015.

Australian Government Research Training Program (AGRTP) International Scholarships at Flinders University

Australia

AU$28,092 with an establishment allowance of AU$1,485.

Gates Cambridge Scholarships

UK

This scholarship covers the full cost of studying at Cambridge, including tuition fees, travel expenses, visas, and other costs.

Additional funding, such as academic funding, fieldwork expenses, and family allowances, may also be available at the discretion of the award provider.

Vanier Canada Graduate Scholarships

Canada

$50,000 per year
Ph.D. Abroad: Top Countries
Here are some of the top countries for Indian students to study Ph.D. abroad:
France
Hong Kong
United Kingdom
United States of America
Australia
Germany
Canada
Japan
Singapore
Ph.D. Abroad: Top US Universities
Here are some top universities for Ph.D. Abroad:
| US Rankings | University Name |
| --- | --- |
| 1 | Stanford University |
| 2 | Massachusetts Institute of Technology |
| 3 | California Institute of Technology |
| 4 | Harvard University |
| 5 | Princeton University |
| 6 | Yale University |
| 7 | University of Chicago |
| 8 | John Hopkins University |
| 9 | University of Pennsylvania |
| 10 | University of California, Berkeley |
Ph.D. Abroad: Top Australian Universities
| QS World University Rankings 2022 | University |
| --- | --- |
| 31 | Australian National University |
| 40 | University of Sydney |
| 41 | University of Melbourne |
Ph.D. Abroad: Top European Universities
| World University Rankings 2022 | University |
| --- | --- |
| 1 | University of Oxford |
| 6 | University of Cambridge |
| 11 | Imperial College London |
| 14 | ETH Zurich |
| 16 | UCL |
Ph.D. Abroad: Top German Universities
| THE Rankings 2020 | University |
| --- | --- |
| 32 | LMU Munich |
| 43 | Technical University of Munich |
| 44 | Heidelberg University |
| 74 | Humboldt University of Berlin |
| 89 | University of Freiburg |
| 99 | Rwth Aachen University |
| 117 | Free University of Berlin |
| 123 | University of Gottingen |
| 175 | Karlsruhe Institute of Technology |
Ph.D. Abroad: Top Careers
Public Sector and Science
Medical Research Centers
College Professor
Analysts
Government Sectors
Geological Sectors
Science Writing
Scientific Advisor
Patent Lawyer
Medical Research and Development Centers
Frequently Asked Questions
The common notion is that foreign universities are expensive, although with scholarships this is an exaggerated issue. What many fail to consider are time and effort. Studying in an Indian college leads to a lower average salary than earned by our western counterparts. This salary sets the tone for all future promotions since companies often look at your previous salaries during compensation appraisals. Additionally, most senior positions tend to be scooped up by individuals who have an international outlook through global exposure. Finally, studying in a foreign country is an incredible learning experience helping students get a better academic as well as soft skill development.
Canada has been one of the market leaders in education for decades. However, what currently sets Maple Country apart is immigration. Canada is wholeheartedly inviting students to study in their universities to fill job vacancies that are always growing in the country. Students who study in Canada (especially a Master's Degree) are practically assured of a Permanent Residency Visa.
A good score doesn't automatically qualify a candidate for a scholarship, however, it is one of the primary factors that the admissions department looks for in a scholarship application. There are other attributes such as a candidate's academics, extra-curricular, financial background, and application essays (SOPs).
We get this question a lot. Many candidates know which career path they want to take, but are at a loss for how to take that journey. Understanding the job role and the industry that you want to get into is the first step to picking the right university.
Carefully consider the immigration options of the country that the university that you are considering is in. This is more important when you intend to stay back in the country after the completion of your course.
Also, review the placement history of the university as well.
The first step is to list your preferences. By listing your preferences and strengths, describe your course of preference. Extensive research on the modules, software and its length for your preferred subject is necessary.
---
Recent Posts
---
---
Reach Our Study Abroad & Immigration Experts!
Get a FREE consultation & profile assessment at nearest branch now!
© 2023 Global Tree Careers Pvt Ltd, All Rights Reserved.
To Top