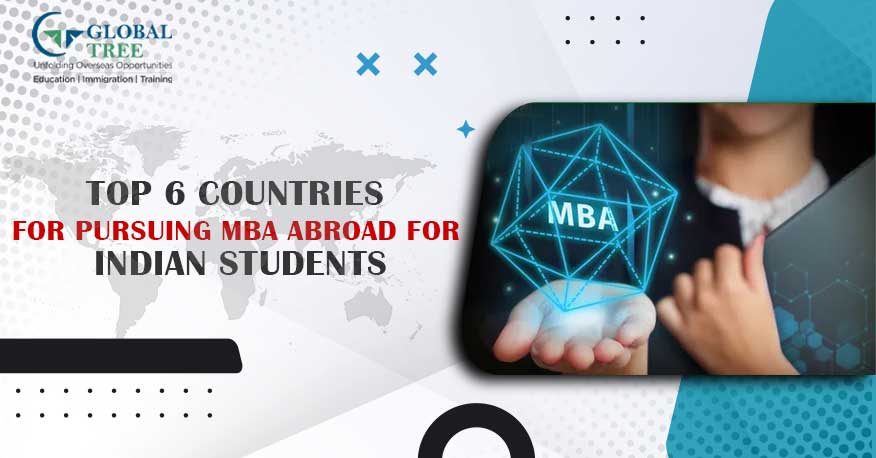 Best Countries To Study MBA Abroad
Choosing to pursue your MBA abroad can open up a number of opportunities for you. The MBA of Master of Business Administration is one of the most popular courses in the modern world.
Many graduates get plum placements on the campus itself, based on the reputation of their university and country from where you complete your MBA can have a strong impact on your future career and therefore is very important to consider carefully where you pursue your MBA program.
In this post, we take a look at some of the best countries for studying MBA for students from India.
6 Best Countries To Study MBA For Indian Students
Predominantly among the students penchant to complete their MBA, it is the desire to complete the MBA from a place, which would add value to their resume in the future years. As such, we have collated a list of countries for students to complete their MBA abroad
1. United States of America
The US is one of the most popular business school destinations, with the highest number of reputed B-schools in the world. Pursuing a management course from the top universities in USA can be a major advantage in itself, but students also get the added bonus of strong alumni to support great internship opportunities and exposure to the latest research and technology.
Gaining exposure to the business world during the course of internships in top MNCs can give you insights into becoming entrepreneurs and top business executives in the future. You will need to clear your GMAT as well as the English proficiency tests which include TOEFL and IELTS to be eligible to apply.
[Read More: A Primer On Different English Language Tests For Overseas Education]
It can cost you anywhere between 60 lakhs to 1 crore INR to complete your MBA in the United States of America. Once you complete your MBA program, you can stay in the country for 60 days.
Some of the Top Management Schools in the USA
Harvard Business School
Stanford Graduate School of Business
Booth School of Business
Wharton School of Business
Kellogg School of Management
2. United Kingdom
The United Kingdom has long been one of the favorite study abroad destinations for students from India. London is one of the top banking and financial centers in the world, while other cities provide great opportunities in many of the services sectors.
Management programs in the UK have known for their outstanding academics as well as the quality of placements after graduation and attractive scholarships to study in UK
Moreover, the country has a strong Indian diaspora, making it an attractive study abroad destination for MBA students from India. You can expect to spend around 40 to 65 lakhs INR to complete your MBA from the UK.
You will be allowed to stay in the UK for a maximum period of 2 years after you complete your MBA degree.
The top Business-Schools in the UK are
London Business School
Said Business School
Cambridge Judge Business School
Warwick Business School
Manchester Business School
Strathclyde Business School
Lancaster University Management School
Imperial College London
Business School at the University of Edinburgh
Cranfield School of Management
3. Canada
Canada is a popular favorite among students who plan to pursue their MBA abroad. The country offers a good education along with future job opportunities in various sectors such as manufacturing, IT, mining, Healthcare, agriculture, forestry, and many others.
Completing your MBA in Canada can cost you anywhere around 27 lakhs to 60 lakhs INR for the entire course. You will be able to live for a maximum duration of 3 years after you successfully complete your MBA program in Canada.
Some of the best MBA schools to Study in Canada for Indian students are,
Schulich School Of Business
Rotman School of Management
Sauder Business School
Queens School Of Business
UNB Saint John Faculty of Business
Desautels Faculty of Management
Ivey Business School
Alberta School of Business
4. Australia
Australia is yet another highly popular study abroad destination for MBA aspirants from India. The reason for this is that the country provides high-quality education at an affordable cost.
Some more factors are considered in favor of Australia such as the pleasant weather conditions, which are very similar to the ones we are experiencing in India. Completing your MBA in Australia can cost you about 16 to 50 lakhs INR.
You will be able to live in the country for 15 to 24 months if you complete a two-year full-time MBA program. Some of the business schools to Study in Australia are
Melbourne Business School
AGSM UNSW Business School
Sydney Business School
Macquarie Graduate School of Management
Faculty of Business and Economics
QUT Business School
Curtin Business School
[Read More: Top 6 Benefits of Higher Education In Australia]
5. Singapore
Singapore is a well-known destination for abroad education in the entire Asia-Pacific Region. It is one of the most affordable options for students from India, who plan to complete their education abroad.
The total cost of fees to study MBA in most business schools in Singapore can range from between 15 lakh to 20 lakh INR. Once you graduate you will be allowed to stay back in the country for a maximum period of 4 months.
Some of the best business management schools in Singapore are
INSEAD Singapore
Nanyang Institute of Management
The Liverpool Management School
The National University of Singapore (NUS)
[Read More: Why Choose to Study in Singapore for Higher Education?]
6. Germany
Germany is famous for being home to some of the best business management schools across the globe.
No wonder, then that it is a popular destination among students from India, studying at a private university in Germany can cost you approximately 9 lakhs INR each year, whereas, in some public universities, you will be able to study free of cost as public education is heavily funded by the government.
Once you graduate from your MBA program in Germany you will be allowed to stay in the country for a maximum period of 18 months. Some of the top MBA schools in Germany are
EU Business School, Munich
Munich Business School (MBS)
Frankfurt School of Finance and Management (FS)
Technical University of Munich (TUM) 5. Reutlingen University