UNLOCKING THE SECRETS OF UK STUDENT VISA REJECTIONS: WHY APPLICATIONS GET DENIED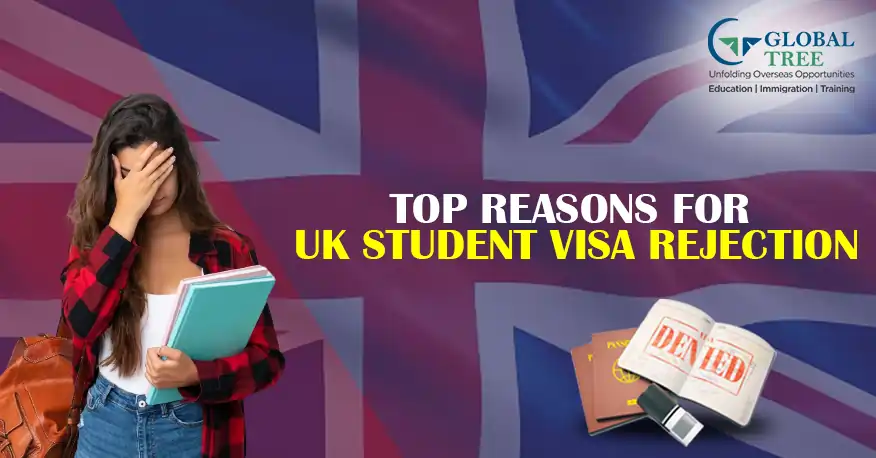 Introduction
Are you thinking about furthering your education in the United Kingdom? Its prestigious institutions offer an exceptional academic experience.
However, the first essential step towards UK education is obtaining a student visa.
Securing a UK student visa involves a thorough and precise process because the embassy expects students to adhere to the rigorous standards set by UK universities. Failing to meet these visa requirements can lead to a rejection.
On the bright side, by carefully reviewing the information in this article, you can align yourself with these standards and significantly minimize the chances of facing a UK student visa refusal.
What is the UK Visa Rejection Rate for Student Visas?
It's been reported that the rejection rate of UK visa applications is around 15%, with some visa categories witnessing even higher denial rates. For instance, the Tier 1 (entrepreneur) visa has a rejection rate of a staggering 50%.
Leading Causes of UK Student Visa Rejection
1. Submitting Incorrect Details
The UK Student Visa Application Form is a critical document for prospective students. However, it's common for applicants to provide incorrect information, which can result in visa denials.
This form can be quite complicated, particularly for first-time applicants, increasing the likelihood of misunderstandings and mistakes. Therefore, it's essential to exercise great care to prevent inaccuracies and ensure a successful visa application process.
2. Inadequate Academic Qualifications
To get into well-respected UK universities, you need to have academic qualifications that match the high standards. If your qualifications fall short, your UK student visa could be denied.
Your visa might also be rejected if officials think you might find it hard to handle the UK's education system or have trouble with the language when you arrive. This mainly depends on your IELTS score performance.
3. Insufficient Finances
People who want to study in the UK need to prove they have enough money to pay for their school fees, living costs, and other important expenses while residing in UK. The rules say that you have to show enough money or monetary proof to cover your school and living costs for at least a year or for as long as your course lasts, whichever is longer.
Also, this money should have been in your bank account for at least 28 days.
Sometimes, applicants miss these detailed financial requirements, and that's why their visa applications get turned down.
4. Improper Documentation
Many times, applicants underestimate the significance of supporting documents. In addition to the Visa Application form, applicants are required to provide supporting documents to strengthen their application.
It's crucial for candidates to be extremely diligent in ensuring that they submit all the necessary documents in the correct order and, if needed, properly authenticated.
These documents must be in English and meet international standards.
5. Poor Interview Skills
The interview stage of the UK Student Visa application is highly significant, and it plays a vital role in determining whether you'll be granted the visa.
During the interview, it's crucial for candidates to convey confidence and charm.Those who are ill-prepared or provide uncertain responses often miss the opportunity to secure their student visa.
Candidates should be well-informed about the country, state, city, university, and study programs because the interviewer expects them to have this knowledge.
(Read More: Do add on these tips for your visa interview)
6. Gaps in Your Educational or Work History
Having periods when you're not doing anything productive or can't demonstrate tangible achievements could increase the chances of your visa application being rejected.
Even if you haven't been formally employed or studying during these gaps, it's advisable to engage in activities related to your field, such as internships or other relevant experiences that can be valuable for your future career.
7. Proficiency in English Language
Individuals applying for a Tier 4 Student Visa to pursue higher education must meet the English language standards specified by the university or college where they intend to enroll.
How to Reapply for a UK Student Visa after a Rejection?
Here is the UK Student Visa Refusal Reapplying Procedure for International Students:
How many times can I apply for the UK Student Visa after Rejection?
There is no strict limit on how many times you can apply for a UK student visa if your previous application is rejected according to UK immigration rules.
Applicants have the option to reapply multiple times, but it's NOT advisable to do so without addressing the reasons for the rejection.
There is no practice of permanently blacklisting an applicant unless they have a criminal record.
In case of a visa rejection, you have several options:
Reapply: You can submit a new application after your initial one is rejected.
Appeal: If you have the right to appeal, you can do so.
Reconsideration: Reconsideration is only possible for certain types of applications.
Administrative Review: You can request an administrative review if you meet these conditions:
You are currently in the UK.
You applied for the visa within the UK.
You received a rejection, and you disagree with the terms of your leave.
It's essential to thoroughly understand the grounds for your visa rejection and address them before reapplying.
Procedure of Application for a UK Student Visa
When applying for a UK student visa, you will typically need to prepare the following documents:
1. Valid Passport: Ensure your passport is valid for the duration of your intended stay in the UK.
2. Confirmation of Acceptance for Studies (CAS): This is a unique reference number provided by your UK educational institution. You'll need this document to prove that you have an offer to study in the UK.
3. Proof of Financial Capability: You must demonstrate that you have enough money to cover your course fees and living expenses while in the UK. This can include bank statements, a letter from a financial sponsor, or scholarship documents.
4. Proof of English Language Proficiency: Depending on your course and nationality, you may need to provide evidence of your English language skills, often through tests like IELTS or TOEFL.
5. Tuberculosis (TB) Test Results: If you are from a country where a TB test is required, you'll need to provide the results of a TB test from an approved clinic.
6. Academic Certificates and Transcripts: Copies of your educational certificates and transcripts, which may be required for the visa application.
7. Passport-sized Photographs: Recent passport-sized photographs that meet the UK visa photo requirements.
8. Maintenance Funds Proof: Bank statements or letters from financial institutions showing you have enough money to support yourself during your studies.
9.Visa Application Form: You will need to complete the online visa application form and pay the associated visa fee.
10. Biometric Information: You may need to provide your biometric information, including fingerprints and a digital photograph.
Please note that the specific requirements can vary depending on your nationality, the type of course you're applying for, and your individual circumstances.
It's essential to check the latest guidance on the official UK government website or consult with the nearest UK embassy or consulate for the most up-to-date and accurate information regarding your student visa application.
Frequently Asked Questions
Is it possible to request an administrative review if I am currently outside the UK?
A: No, an administrative review for a visa decision can only be requested if you are within the UK. You must submit your application for administrative review within 14 days of receiving the decision.
However, if you were detained on the day the decision was received, you have a 7-day window to apply.
Please note that there is an £80 fee for this process. Currently, administrative review results may take up to six months or longer to be issued. If you haven't received a response within six months, the Home Office will contact you regarding the status of your review.
Is there a restriction on how many times I can apply for a student visa?
A: No, there's no limit to the number of times you can apply for a UK student visa. However, submitting multiple applications may not be in your best interest. If your visa is rejected repeatedly, it's advisable to reconsider your decision to study in the UK.
Each time you reapply, you'll need to pay the application fee again. Ensure that your new application is thoroughly prepared to address the reasons for previous rejections, giving the Immigration Executive a compelling reason to approve your visa application this time.
What all countries should I consider if my UK student visa is rejected?
A. If your UK student visa is rejected, you can consider countries like US, Finland, Canada, Ireland, Australia, etc. as your study abroad destinations.
What can I do to expedite the processing of my UK student visa?
A: To expedite your UK student visa application process, you have the option to choose either the Priority Visa Service or the Super Priority Visa Service, both of which require an additional fee. Here are the details:
1. Priority Visa Service: By selecting this option, you can expect a visa decision within 5 working days. For Indian students, the cost is INR 25,557 approx.
2. Super Priority Visa Service: This service offers the fastest processing time, with a decision within 24 hours. Indian students can avail this service by paying INR 97,730 approx.
Keep in mind that these services are available for an extra cost, and the availability may vary based on your location and circumstances. Ensure that you meet all the requirements and have all the necessary documents prepared to facilitate a smooth and swift application process.
Why is there a delay in the decision for my UK student visa application?
If your UK student visa application decision is taking longer than expected, it could be due to several factors, including:
Document Verification: Immigration authorities may take extra time to thoroughly verify the authenticity of the documents you've submitted, such as academic transcripts, financial statements, or sponsorship letters.
Interview Requirement: Some applicants, based on their specific circumstances or the discretion of the immigration authorities, may be asked to attend an interview as part of the visa application process. Scheduling and conducting interviews can contribute to delays.
Administrative Backlog: High volumes of visa applications, especially during peak admission periods, can lead to administrative backlogs. Processing a large number of applications takes time and may result in delays.
Security Checks: Stringent security checks and background verifications are conducted for visa applicants. If your application triggers security concerns, additional time may be needed to complete these checks.
Incomplete or Incorrect Information: Errors or omissions in your application or supporting documents can cause delays. Immigration officials may request clarification or additional information, which can extend the processing time.
It's important to ensure that your application is complete, accurate, and well-documented to minimize the risk of delays. Additionally, staying informed about the status of your application and following up with the relevant authorities if necessary can help address any issues that may be causing delays.
Is it possible to cancel my UK student visa application?
Yes, you can cancel or withdraw your UK student visa application. However, you can receive a refund of your application fee only if UKVI (UK Visas and Immigration) has NOT commenced processing your application. Furthermore, if you cancel your application before a decision is made, you may also be eligible for a refund of the immigration health surcharge.