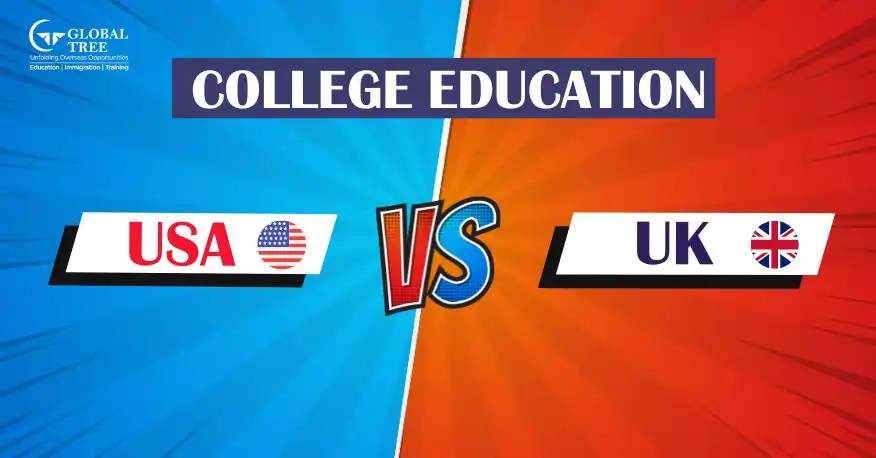 Difference is between studying in UK and studying in US
Have you been contemplating adding an overseas degree to your resume and are you trying to decide between UK and US for your university choice? Have you often wondered what the real difference is between studying in UK and studying in US for higher education? Well, although both UK and USA boast of excellent education systems with the world's top ranked universities, there are many differences between studying in UK and studying in USA and it is advisable to take a look at them to know which will be better for you and to help you make an informed choice. We take a look at some of the most common differences.
Cost of education in UK & USA
Although the cost of higher education is expensive in both US and UK, tuition cost in the United States is comparatively higher. Both UK and WE universities have different fee structures for their resident students and international students. The government of UK places some restrictions on the fees that can be charged to UK and EU residents. These restrictions however are not applicable for international students. There are also difference in fees for private and public universities in the USA.
[Read More: UK Visa: No Job Offer Needed for International Graduates Now]
Duration of the Course for Study in USA & UK
One of the most significant distinctions between the US, and UK education system is the length of time taken to obtain your degree. The undergraduate and post graduate degree programs in US generally require an additional year of study, when compared to similar programs in UK. Both countries give students the option of moving directly to doing a PhD after under graduation. However in UK a student would normally complete post graduate studies before doing a PhD. Also courses in UK are shorter and more focused than the ones in USA.
Academic year
Many universities in America use the semester system
and start their academic year in the middle of or around the ending weeks of August. Some liberal arts colleges opt to start their academic calendar later in the year. Most universities in USA break for a winter vacation which extends from second week of December to second week of January. Some universities also prefer to start their winter break earlier in the month of November around Thanksgiving. The academic calendar in UK also uses the semester system. Many universities have a longer academic year than in USA as they start in September or October. The academic calendar in UK is not as standardized as the one in USA and many universities follow their own calendar and can have either a semester, trimester or quarterly systems.
University Structure
The UK education system uses the collegiate structure of universities, wherein the universities are comprised of different colleges each of which is dedicated to a specific subject. Each college is governed by its parent university, but at the same time retain a lot of autonomy in its day to day business. A student applying for a course of study in UK will apply to the college he intends to study in directly. He would have very little interaction with the parent university, living, studying and eating within the college and interacting with students from his own college. In contrast, Universities in USA are comprised of different departments or schools such as school of medicine and school of arts which teach various related courses. A student applying to study in USA, would apply to the university rather than to the individual department. Another distinction is that in USA you are expected to take classes which are outside your chosen field of study, which is not the case in UK. The emphasis in USA is on the breadth of education where a student is expected to gain knowledge on a variety of subjects, whereas in UK, the emphasis is on gaining a thorough understanding of a single subject.
[Read More: Time to Get Ready for Applying to Colleges in USA for Fall 2022]
Accommodation
Although universities in both USA and UK have residence halls where students can live, there are subtle differences between the two. Students in UK, generally have a room to themselves whereas in the US, it is more common to share a room with others. Many students in USA have other housing options open to them after their first year. These options take the form of renting an apartment. Another difference is that students in UK are provided with a maid service, although they have to pay for the services out of their own pockets. For more information about Universities in UK and USA and for guidance on how to apply, contact Global Tree, the
most trusted overseas education consultant in India
.