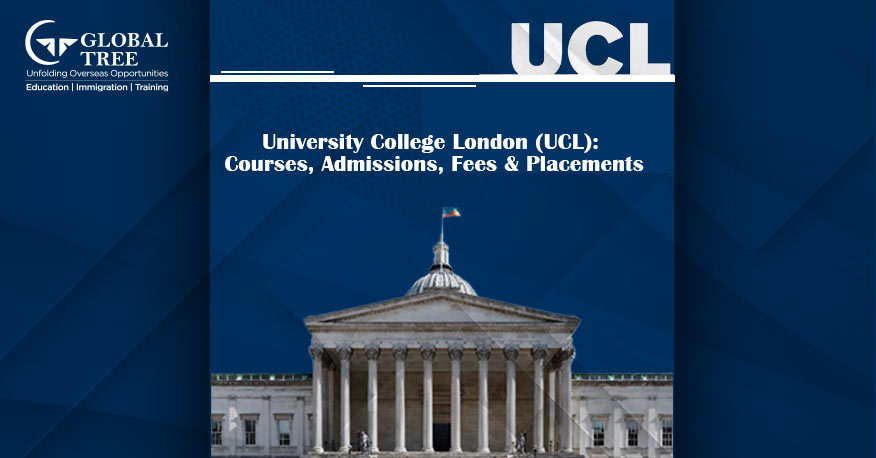 Introduction
University College London, also known simply as UCL, is a public research institution that can be found in London, in the United Kingdom. It first opened its doors in 1826 and is now consistently regarded as one of the most prestigious educational institutions in the entire globe.
UCL provides a learning environment that is diverse and inclusive, with students hailing from more than 150 countries, and it is designed to enable students to reach their full potential. The university has over 40,000 students.
This article will provide an overview of University College London, including its programmes, entrance requirements, tuition rates, placement opportunities, and services for international students, rankings, accommodations, geographic location, and alumni.
University College London (UCL)
University College London (UCL) is a prestigious educational institution in UK, London that is well-known throughout the world for its outstanding research and scholarly accomplishments. It has a long and illustrious history of producing people who went on to win the Nobel Prize, become world leaders, and pioneer in their respective industries. The institution is broken up into 11 different faculties and it provides more than 400 different undergraduate, graduates, and doctorate degree programmes in a wide variety of subject areas.
Courses offered in the UK at UCL
UCL provides instruction in a wide variety of fields, including as the arts and humanities, engineering, law, life sciences, mathematics and physical sciences, medical sciences, social and historical sciences, and urban planning, among others. The following are some of the well-attended classes that UCL has to offer:-
Architecture
Biomedical sciences
Business management
The study of computers
Economics\ Engineering
History\Law\Medicine
Neuroscience\Philosophy
Psychology
(Read More: How to study in the UK after 12th for Indians?)
Students in the academic programmes at UCL are exposed to world-class academics who are leaders in their respective professions, and these programmes are designed to both challenge and excite students. Students have the opportunity to explore several fields of study and build a diverse set of abilities by participating in the university's numerous interdepartmental programmes, which are also available.
Overview
UCL is a university that places a strong emphasis on research and is dedicated to promoting the expansion of human knowledge and having a constructive effect on society. Research is one of the university's strengths, particularly in the areas of health and welfare, global governance, sustainable cities, and cultural comprehension. The student body at UCL is very active, and the university provides a diverse selection of extracurricular opportunities and student organisations to get involved with.
In addition to the academic programmes that it offers, University College London (UCL) is also the location of a variety of research centres and institutes that are committed to expanding knowledge in particular fields. Among these are the University College London Cancer Institute, the University College London Institute of Education, the University College London Institute for Sustainable Heritage, and the University College London Institute for Global Health.
The University of California, Los Angeles (UCL) is dedicated to providing its students with an education that is not just demanding but also forward-thinking. Teaching and learning strategies at the university are backed by facilities and resources that are on the cutting edge of technology, and these strategies are geared to encourage critical thinking, problem solving, and teamwork.
Admission process in the UK
Admission Applicants must meet stringent academic and English language standards in order to be considered for admission to UCL, which has a very selective admissions process. Prospective students who wish to enrol in an undergraduate programme are required to submit their applications through the UCAS system, whereas prospective students who wish to enrol in a postgraduate programme may submit their applications directly to the university.
In order to be considered for admission, students must follow the admission process in the UK. Applicants are required to submit an application form, academic transcripts, a personal statement, and letters of recommendation.
In addition, UCL provides financial assistance in the form of scholarships and bursaries to students who need it.
The requirements for enrolling at UCL change from program to program and level to level of study. Students whose first language is not English are required to have a minimum IELTS score of 6.5 or an equivalent if they wish to enrol in undergraduate programmes at the university. The university also requires a minimum of three A-levels or the equivalent. Students whose first language is not English must have an IELTS score of at least 7.0 in order to be accepted into postgraduate programmes at the university. Additionally, they must have earned a minimum grade of 2:1 or its equivalent in their undergraduate degree.
(Read More: How to score high on the IELTS?)
Fees at University College of London
The prices of UCL's courses and levels of study are different for each individual programme. The tuition fees for international students attending an undergraduate programme will range from £20,200 to £32,000 per year as of the year 2023. The tuition fees for international students attending an advanced study programme will range from £16,000 to £35,600 per year. Students from the United Kingdom and other European Union countries pay cheaper tuition rates than students from other countries.
Students at UCL are required to factor in not just the cost of tuition but also the cost of housing, food, and any other necessary living expenditure. The university provides students with a variety of housing choices to meet their individual eligibility requirements in the UK and financial constraints. These options include self-catered and catered halls of residence, shared flats, and private accommodations. The cost of housing at University College London (UCL) ranges from £150 to £350 a week, with prices varying depending on the type of accommodation and location of the housing.
In addition, UCL makes available to students a wide variety of financial aid options in the form of scholarships and bursaries in the UK. They include, amongst others, the University College London Access Opportunity Scholarship, the University College London Undergraduate Scholarship, and the University College London Graduate Scholarship. Also, students have the opportunity to apply for external financing and scholarship options.
Services for Foreign Students University
College London (UCL) is recognised as one of the world's most international universities, with students coming from over 150 different countries. UCL provides international students with a variety of support services to assist them in adjusting to life in the United Kingdom and making the most of their time spent at UCL. These services include advises on visas and immigration, an airport pick-up service, assistance with finding lodging, assistance with language learning, and cultural events and activities.
Additionally, there is a team at UCL that is solely devoted to the support of international students. This team offers guidance and advice on a wide variety of topics, such as academic, personal, and financial concerns. In addition, the team plans orientation programmes and social events in order to assist international students in integrating into the UCL community and developing a sense of belonging there.
Job Opportunities in the UK
The University College London has a proven track record of churning out graduates who are in great demand by various employers. Students have access to a wide variety of support and resources through the university's specialised careers service, which enables them to better prepare for their professional lives after graduation. This includes career counselling on a one-to-one basis, participation in workshops and other activities, and access to internet resources and openings in the workforce.
In addition to classroom instruction, students at UCL have access to a variety of internship and work placement programs in the UK. Students are given the opportunity to obtain significant job experience and to enhance their skills in a situation that more closely resembles the real world. The institution maintains partnerships with a diverse range of organisations operating in a variety of industries and provides students with opportunity to complete internships in a variety of professions, including engineering, law, the media, and healthcare, among others.
Ranking
UCL is frequently ranked among the best universities in the world, earning the number one spot this year. It was placed 10th in the world by the QS Global University Rankings for 2022, making University College London the third-highest ranked university in the United Kingdom. In addition, the Times Higher Education Global University Rankings for 2021 placed University College London in eighth place among all universities worldwide.
Students and researchers from all over the world flock to the University College of London (UCL) because of its stellar reputation in the fields of education and research. The university has gained a reputation as a premier institution for research and innovation thanks to its strengths in research in areas such as health and wellness, sustainable cities, and global
Governance.
(Read More: Top places to study and work abroad for International students)
Accommodation in the UK
UCL provides a diverse selection of housing alternatives to meet the requirements and financial constraints of its students. In addition to a variety of private housing options that can be found through the university's accommodation service, the university possesses a number of residence halls that are situated in close proximity to the primary campus. These halls of residence are also available to students.
UCL's halls of residence provide students with a wide variety of housing options to choose from, including as single and twin rooms, rooms with en suite bathrooms, and studios. The residence halls come completely furnished and stocked with a variety of amenities, such as shared kitchens, laundry rooms, and study places, among other amenities. A staff member is present in each of the hallways around the clock to assure the residents' safety and security.
Students who would rather live off campus have access to a variety of housing alternatives through the UCL private accommodation programme. Students who are looking for private housing are eligible for guidance and support from this programme, as well as assistance in locating options that are suitable and fall within their financial constraints.
(Read More: What is the cost of living in the UK?)
Location
The University College London is situated in the middle of London, which is often regarded as one of the liveliest and most culturally diverse cities in the entire world. The primary campus of the university can be found in the Bloomsbury neighbourhood of central London. This location places it in close proximity to a variety of cultural, entertainment, and shopping hotspots. The campus is also well-connected to the rest of the city, and it has good transportation connections to all areas of London and even further afield.
Because London is a truly global city, it provides students with a cultural experience that is both distinctive and interesting. The city is home to a large number of museums, art galleries, theatres, and concert halls, in addition to a diversified selection of restaurants, cafes, and pubs. There is a thriving tech and start up scene in London, as well as a wide variety of opportunities for internships and full-time jobs. London is also a centre for commerce and technological advancement. Studying in the UK is one of the best ways to build a great career.
Conclusion
University College London (UCL) is an institution of world-class standing that provides its students with a comprehensive curriculum, outstanding facilities, and an active and diverse community. Because of the university's dedication to scholarly achievement, advancements in research, and active participation in the community, it has emerged as a preeminent institution not just in the United Kingdom but also across the globe. If you are thinking of attending University College London, you can be confident that you will receive an education of the highest calibre and have an experience that you will never forget while living in one of the most fascinating and vibrant cities in the world.
If you are looking forward to study in the UK, approach the best consultancy in Hyderabad for professional assistance on admission process and best colleges.