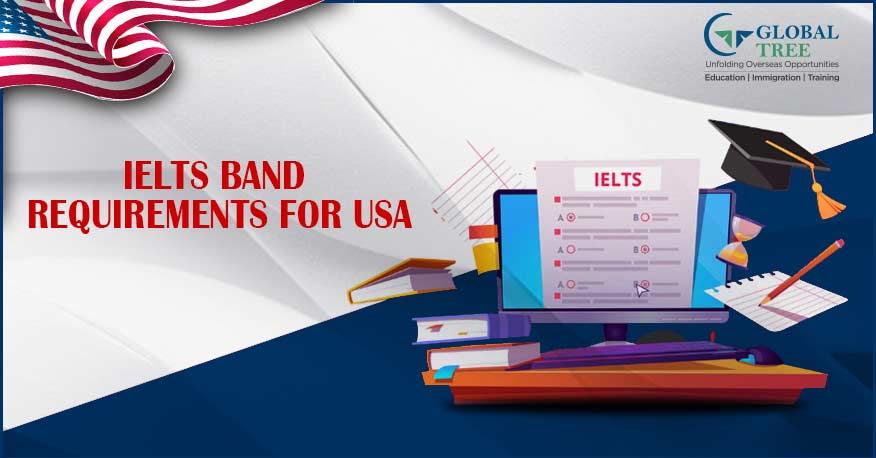 Introduction
IELTS refers to International English Language Testing System that assesses skills across four various modules namely:
Reading
Speaking
Listening
Writing
Every university in the USA has its own IELTS band requirement and one must meet those requirements in order to get admittance. We have come up with a blog that will explain to you the importance of the IELTS exam and the IELTS Band requirement to get into the top universities in the USA.
English Language Proficiency tests that are accepted in the USA
International students must prove their English skills by clearing the standard tests before beginning the admission process at US universities and colleges. Some of the popular tests that are accepted by the majority of US academic institutes are:
IELTS: International English Language Testing System
TOEFL: Test of English as a Foreign Language
CAE: Cambridge Assessment English
Why should you prepare for the IELTS test to study in the USA?
Attempting a language test like IELTS is important as it examines a candidate's proficiency in English across four various skills namely Listening, Reading, Writing, and speaking. It is mandatory to give in the test to Study in the USA.
USA IELTS Band Requirement 2023
The IELTS score ranges from 0-9. The score is designated as a band. Depending on the Level of performance, the score is classified into different categories. The highest IELTS band is 9 and the lowest IELTS band is 1.
| The Level of Excellence | IELTS Band |
| --- | --- |
| Expert user | 9 |
| Very Good User | 8 |
| Good User | 7 |
| Competent User | 6 |
| Modest User | 5 |
| Limited User | 4 |
| Extremely Limited User | 3 |
| Intermittent User | 2 |
| Non-User | 1 |
| Did not attempt | 0 |
IELTS Band Requirement for America after 12th
The IELTS Band requirement is based on the type of course that a student chooses to study. Students can find the course-based requirements on the official website of the institute from the study-abroad consultant.
(Read More: How to study in the USA after 12th for Indian students?)
IELTS Band Requirement for America after Graduation
Most universities accept an IELTS Score of 6 to 6.5 which can also increase up to 7 bands depending on the chosen course.
IELTS Requirement for USA for Master's
The IELTS requirement to pursue a post-graduation course in the USA varies from institute to institute; however, the minimum requirement for most universities is a 7.0 band.
Required IELTS Score to study in the USA:
The USA is home to the top-reputed institutions across the globe. Every college and university in the USA has certain IELTS band requirements to provide admission for foreign nationals. Below is the list of US colleges and their IELTS score requirement:
| Institute Name | Province | Minimum IELTS Score for Undergraduate Courses | Minimum IELTS score for Postgraduate Courses |
| --- | --- | --- | --- |
| North-eastern University | Massachusetts | 6.5 | 7.0 |
| Wright State University | Ohio | 6.5 | 7.0 |
| West Cliff University | California | 6.5 | 7.0 |
| Concordia University, St. Paul | Minnesota | 6.5 | 7.0 |
| Golden Gate University | California | 6.5 | 7.0 |
| Grand Valley State University | Michigan | 6.5 | 7.0 |
| New York Institute of Technology | New York | 6.5 | 7.0 |
| California Lutheran University | California | 6.5 | 7.0 |
| Clark University | Massachusetts | 6.5 | 7.0 |
| Atlantis University | Florida | 6.5 | 7.0 |
| Devry University | Illinois | 6.5 | 7.0 |
| North-eastern Illinois University | Illinois | 6.5 | 7.0 |
| University of New Haven | Connecticut | 6.5 | 7.0 |
| State University of New York | New York | 6.5 | 7.0 |
| San Jose State University | California | 6.5 | 7.0 |
| Troy University | Alabama | 6.5 | 7.0 |
| Tiffin University | Ohio | 6.5 | 7.0 |
| Academy of Art university | California | 6.5 | 7.0 |
| Pittsburgh State University | Kansas | 6.5 | 7.0 |
| Rowan University | New Jersey | 6.5 | 7.0 |
| South Dakota State University | South Dakota | 6.5 | 7.0 |
IELTS tips for scoring high on the exam day
1. Be well acquainted with the IELTS exam format: The first step is to be aware of the IELTS exam syllabus, its modules, types of questions, etc.
2. Practice with a timer: IELTS is a time-based test. Practice as per the time allotted for each section.
3. Focus on the reading: Candidates can improve their reading skills by reading news, website articles, and previous question papers.
4. Improve listening skills: The listening module is a scoring area for those who spend time Listening to English Podcasts, news, movies, songs, radio, etc.
(Read More: Know these IELTS section-wise tips)
5. Build vocabulary skills: Students aspiring to score a band of 7 in IELTS must focus on improving their vocabulary, word choice, synonyms, etc. This helps in improving the Writing section along with the speaking section.
6. Work on Writing skills: Writing is the most important section of the IELTS Exam yet a challenging one. To gain a high score on Writing requires a lot of practice. Read articles, editorials, and other segments to strengthen your writing skills.
7. Practice Speaking: Candidates are advised to communicate in English with peers, friends, and relatives to gain confidence and fluency to score high in the speaking section.
8. Seek assistance from an expert coaching center: Candidates can get advice for the exam by taking the IELTS coaching. They will not only help students to understand the test requirements but also will assist you with IELTS preparation tips and tricks.
What can be done if you have an insufficient IELTS band score?
If you achieve a low band than the required score, contact the admission office of the respective university and seek information on whether your profile will be accepted on the current score or not.
Conclusion:
Clearing the IELTS exam is not as complicated as you think. With proper strategical preparation, and expert IELTS coaching and guidance, scoring 6.0 or above is easy.
FAQs:
What is the minimum IELTS band requirement for the USA?
International students require a minimum score of 6.0 band in every module with an overall score of 6.5 band to acquire a study visa in the United States.
Is 6 band on IELTS accepted in the USA?
Many universities in the USA accept admission if the student acquires a band of 6 on IELTS but it is always suggested to aim for a high score to improve the chances of admission prospects into top-notch Universities.
What are the countries that accept 5.5 bands?
Students can apply to study in the following countries with 5.5 bands:
Singapore
Dubai
New Zealand
Canada
Poland
Greece
Do USA universities accept 5.5 bands?
The majority of US universities and colleges require a score of a minimum of 6 bands in every IELTS module. However, a few universities accept applications from candidates having a 5.5 IELTS band.
Can I migrate to the USA with only IELTS?
IELTS is a language test that assesses English Proficiency. It is one of the crucial documents to apply for study in the USA. Students should also submit other documents like academic mark sheets, Statement of Purpose (SOP), and Letter of Recommendation for US educational purposes.
What is the required IELTS score to get a scholarship in the USA?
A 6.5 band is the ideal score to get admittance to study in the USA. Students must try to aim a little higher for better career prospects.
Frequently Asked Questions
Yes, some universities don't make IELTS scores mandatory and some universities have waivers during admissions through which you can enter the US without IELTS.
It depends on the course you are taking up. For English language proficiency, the best tests to choose from are IELTS, PTE, and TOEFL.
A minimum of 60% is mandatory to be eligible to go abroad. For studying abroad, you may need to submit scores of IELTS, TOEFL, SAT, PTE, GMAT, or GRE.
---
Recent Posts
---
---