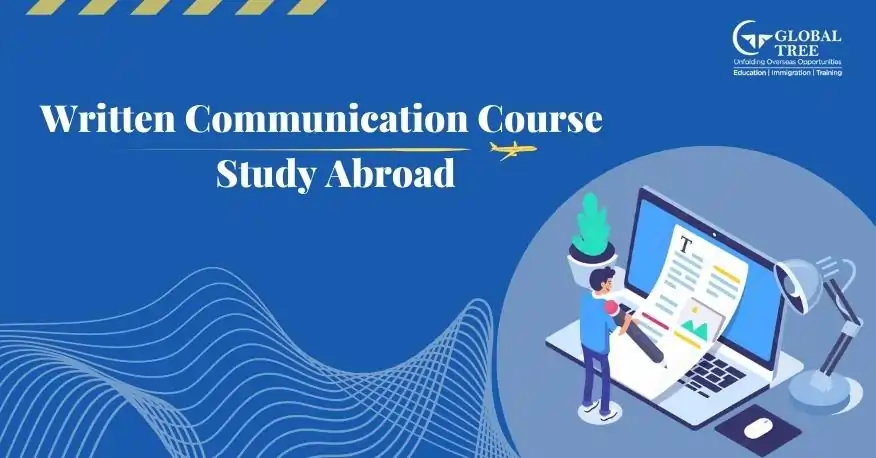 Introduction
You learn a number of skills in Written Communication that will help you become a writer, communicator, and storyteller in the workplace. The degree is useful in a variety of industries, including corporate communications, technical writing, and marketing. You not only learn how to write well, but you also learn the "back end" of writing—the principles of effective communication, information design, rhetoric, and other helpful ideas and techniques most people aren't familiar with.
Being successful in explaining difficult or unfamiliar concepts to others through written communication. Additionally, it entails making those concepts appealing to others.
Who is eligible to study Written Communication Course Abroad?
You can pursue jobs in marketing, technical writing, content specialization, procurement, technical analysis, and document design by studying written communication. You will learn the value of rhetoric in both reading and writing approaches through the Written Communication curriculum. Choose the Best Written Communication Course & Colleges to Study Abroad.
Students will gain writing skills for a variety of audiences, including customers, clients, and everyone from management to coworkers. In departmental courses, students will produce a variety of written communications, such as business proposals, reports, memos, research papers, and case studies. Students will have the chance to write both on their own and in groups.
Specific writing communication abilities will be examined in students. The standards that the student will be expected to meet as well as the requirements for written communication tasks will be made very clear by the instructor. This degree is a good fit for you if you enjoy writing, research, critical thinking, and design.
How much does it cost to study Written Communication Course Abroad?
An undergraduate degree in written communication gives students important abilities for writing and presenting in the public and private sectors. According to the college, coursework typically takes four years to complete and costs between $14,842 and $28,741 per year.
A master's degree in written communication gives students enhanced writing, research, and presentation abilities. The majority of the time, students will look into issues that relate to a wide range of course material and their future employment. Two years are needed to finish all of the curriculum for this advanced degree. A master's degree abroad in written communication typically costs $42,672.
What is the Future Scope of Written Communication Course Abroad?
The demand for supporting guides that can properly express technical instructions to consumers is growing as technology and electronics become more complex. For writing journal articles, how-to guides, and instruction manuals, written communication professionals are employed by the pharmaceutical, electronic, automotive, scientific research, and related sectors. In this ten-year period, written communication professionals are expected to see a 12% increase in employment, adding more than 55,000 new positions.
Trending Career Options in Written Communication Course Abroad
Students who want to pursue a profession in written communication have a wide range of abroad job opportunities to consider.
Career as an Editor
An editor's responsibility is to see a piece of writing through to publication. This may involve refining the thesis, framing, and organization, depending on the style of work they are editing. Editors must have a thorough command of grammar, style, narrative, and organization, among other writing-related concepts. Editors make $53,520 a year on average.
Career as a Manager of Content Marketing
When it comes to creating and implementing content for a firm, content marketing managers are in charge. While some content marketing managers adopt a generalist strategy, many focus on producing and managing a particular kind of content. About $68,395 is the average amount they earn annually.
Career as a Managed Communications
Managers of communications are in charge of all communications within and outside of a corporation. The company's communication strategy may need to be defined, developed, and managed, and providing internal resources and guidelines may be among the responsibilities. An effective communication manager earns $65,852 on average annually.
(Read more: List of highest paying jobs in the world for Indians)
Career as an Education Developer
It is the responsibility of curriculum developers to do research, write academic, educational, and/or training resources, such as textbooks, digital content, and college course materials. Curriculum developers may work for universities, research organizations, NGOs, or businesses, depending on the type of curriculum they specialize in. Curriculum developers make $63,750 on average yearly.